I don't normally go putting weird things in my cookies but look what happened here. These are just full of chickpeas. And they're sweetened with honey and have no added fat like oil or butter. They're my very favorite healthy cookie so far! I don't know if they really classify as cookies so I'll go with cookie dough bites. And as a bonus, they're grain-free and gluten-free. Just in case that matters to anyone out there! And if you're worried about the chickpeas, don't be. I don't like chickpeas and won't eat them but that didn't prevent me from inhaling these.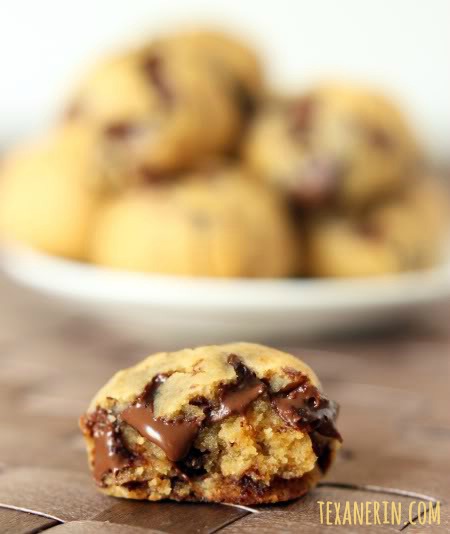 These need the chocolate. Don't go making them without the chocolate and then tell me that they weren't sweet or gooey enough! These would be incredibly boring without the chocolate. And for some weird reason, these do not taste yummy in dough form. Baking them somehow brings out the sweetness and peanut butter flavor. Or maybe it's just all that melted chocolate.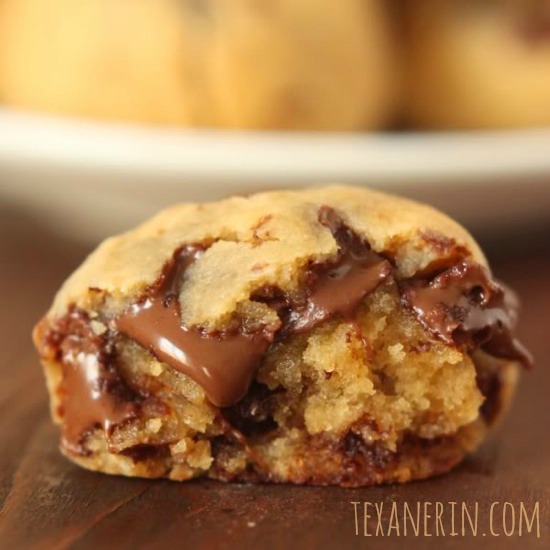 One thing I've learned since starting this blog is that people really love closeups of melted stuff. So there you go. :)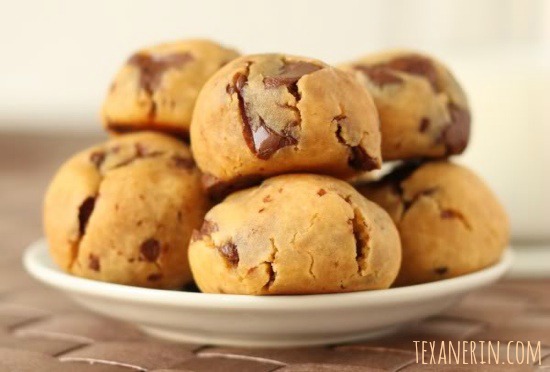 These aren't the most beautiful cookie dough bites, but fresh out of the oven, with all that gooey chocolate, I bet you can't tell that these are made with chickpeas. Or are grain-free. But cold? Yuck. These need to be warm! You can either freeze the balls and pop a few in the oven whenever it's on, or simply put them in the microwave until they're warm and gooey again.
2/18/13 Update: Tons of people have posted the nutritional analysis for these. Click "older comments" at the bottom of the page to view more comments and then hit ctrl + f and type "calories" or "nutrition." I'm not going to post the analysis here because they seem to differ wildly.
A few other answers to questions that have come up several times:
Chickpea flour won't work.
Doing this in a blender (unless it's a Blendtec or something) won't work and might kill it.
Adding random stuff like eggs… probably won't work either. ;) Experimenting is great but I think this is a bad recipe to experiment with. But thanks to the experimenters who left feedback, I've been able to update the recipe with alternatives to honey and peanut butter. Thanks everyone! And someone has also adapted these to be totally sugar-free. See that comment here.
And thanks for everyone who has pinned and left feedback. I really appreciate it. :)
Grain-free Peanut Butter Chocolate Chip Cookie Dough Bites
Prep Time:
Cook Time:
Ready in:
Yield:

14 1" cookies
Ingredients
1¼ cups canned chickpeas, well-rinsed and patted dry with a paper towel
2 teaspoons vanilla extract
½ cup + 2 tablespoons (165 grams) natural peanut butter, SunButter or almond butter
¼ cup (80 grams) honey (commenters have used agave and maple syrup with success!)
1 teaspoon baking powder
a pinch of salt if your peanut butter doesn't have salt in it
½ cup (90 grams) chocolate chips
Directions
Preheat your oven to 350°F / 175°C. Combine all the ingredients, except for the chocolate chips, in a food processor and process until very smooth. Make sure to scrape the sides and the top to get the little chunks of chickpeas and process again until they're combined.
Put in the chocolate chips and stir it if you can, or pulse it once or twice. The mixture will be very thick and sticky.
With wet hands, form into 1½" balls. Place onto a Silpat or a piece of parchment paper. If you want them to look more like normal cookies, press down slightly on the balls. They don't do much rising. Bake for about 10 minutes.
Notes
My can of chickpeas was 400 grams, 240 grams without the water, and I used all but a few tablespoons.
Don't even try with regular peanut butter! They'll come out oily. You MUST use natural peanut butter. :)
If you need grain-free baking powder, you can use 1 part cream of tartar + 1 part baking soda + 2 parts arrowroot.
http://www.texanerin.com/2012/04/grain-free-peanut-butter-chocolate-chip-cookie-dough-bites.html