Gluten-free and grain-free, these double chocolate cookies also have fresh mint and are super rich and gooey!
Sonia, the creator of these grain-free chocolate mint cookies, is a genius. I actually made her recipe less healthy (added 2 tbsp of honey + an extra tbsp of coconut oil + waaay more chocolate) and added fresh mint. And After Eights in the middle. Each cookie is like an individual brownie. And not just any brownie, but a totally fudgy, decadent and sinful one. Healthy tasting? No way.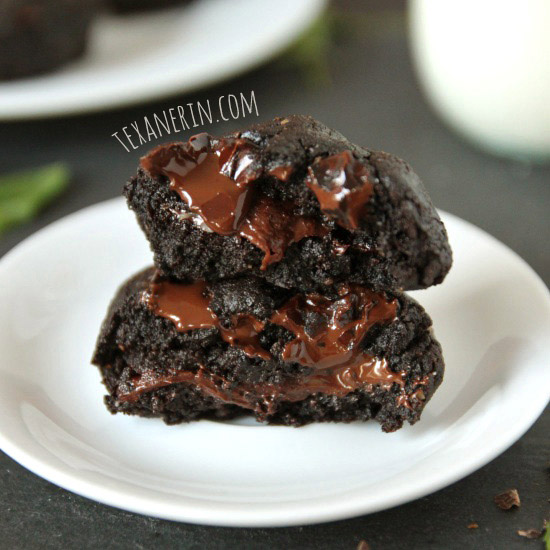 Although, I do have to admit, they lose their ooey gooey magic when they're not warm. When they're not warm, you can indeed tell that they're not "normal" cookies. Just pop one in the microwave for a few seconds and all will be solved. But they're still pretty flippin' awesome at room temp!
And even with my changes, they're still super healthy. There's a whole avocado in there! Dates to sweeten (and the little honey I added) and hazelnut meal. But you can't taste any hazelnut flavor.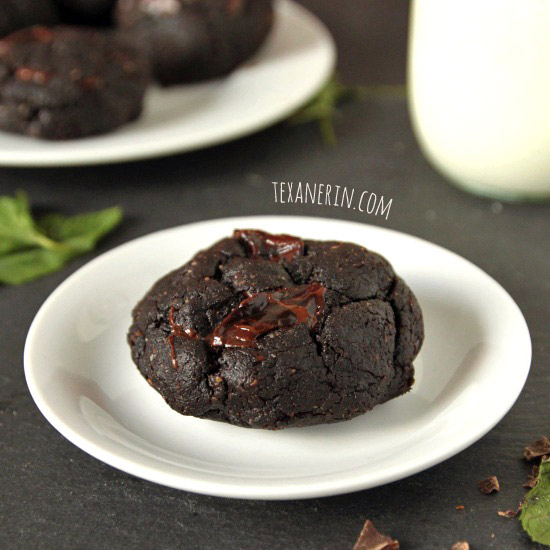 When I bit into one, I almost cried. They are glorious. One thing to note is that you have to use the chocolate chips and eat them warm if you want them to taste like normal cookies. And I know you do!
I figured out last year that I don't like fresh mint, but because mint extract doesn't exist here, I thought I'd try these anyway using the fresh stuff. And I thought it made the batter taste like dish soap (not that I've ever tried eating dish soap). I stuffed the cookies with After Eights and everything turned out dandy.
I left some of the dough plain, meaning no chocolate and no After Eights and I highly recommend not doing that. Lots of chocolate, okay?! And if you prefer using extract, that's no problem. Use about 1 teaspoon. Or just leave out the mint entirely.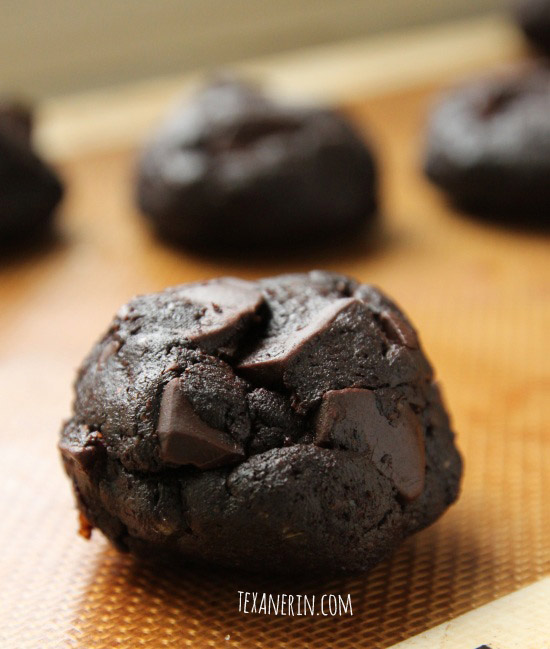 People who have baked grain-free cookies before – I dare you to try these and tell me of a better recipe. The texture… oh man. I don't really know what to say. Make these, okay?! Even if you don't do the whole gluten-free or grain-free thing. And to all the people who are here for the whole wheat stuff – they'll come back soon, plus I have stuff like healthier fudge and candy that's perfect for everyone so please don't run away because of all the gluten-free recipes. :)
Grain- and Gluten-Free Fresh Mint Double Chocolate Cookies
Prep Time:
Cook Time:
Ready in:
Yield:

14 large cookies
Ingredients
1 1/2 cup (168 grams) hazelnut meal
1 cup (104 grams) extra dark or Dutch-process Dutch-process cocoa powder
1 1/2 teaspoons baking soda
1/4 teaspoon kosher salt
the meat of 1 ripe avocado (about 160 grams of meat, my whole avocado was 260 grams)
1/4 cup (56 grams) coconut oil, melted
1 cup (150g) dates
1 large egg
1 teaspoon vanilla extract
2 tablespoons (40 grams) honey
7 grams (~ 1/4 cup loosely packed) fresh mint leaves, cleaned and patted dry
2/3 cup (120 grams) semi-sweet chocolate chips
12 - 15 After Eights or Peppermint Patties or something similar
Directions
Preheat your oven to 350°F (176°C). Mix the first four ingredients in a medium bowl and set aside.
In the bowl of your food processor, add the rest of the ingredients except for the chocolate chips and After Eights. Process until very well combined. It should be smooth and creamy, but there will still be little specks of dates. Add the dry mixture and pulse until combined. Take out the blade and stir in the chocolate chips with a spoon. Chill in the refrigerator for at least one hour.
Form the dough into about 30 balls and place half of them on a Silpat or piece of parchment paper. Flatten the balls and then break each After Eight in two so that it'll fit in the center of the cookie. Place each After Eight centered on top of each dough disc. Flatten the remaining balls of dough and place on top of the After Eights. Seal the edges so that the After Eights won't ooze out.
Bake for 8 minutes and then immediately remove the Silpat or parchment paper from the cookie sheet (with the cookies still on there). I did this to make sure that they didn't bake even longer.
Adapted from The Healthy Foodie - Double Dark Chocolate Cookies