These cookie muffins are as gooey and delicious as they look, if not more so! I borrowed this idea directly from Amanda's ganache stuffed banana pudding cookie muffins (which are awesome, by the way).
I don't really think there's much to say here, is there? The one important thing (and kind of annoying) is that if you make these with natural peanut butter, they don't taste nearly as good. I tried them both ways. With the natural stuff, they didn't taste that good. So please use Skippy, Jif, Peter Pan of whatever you have that's not the natural kind.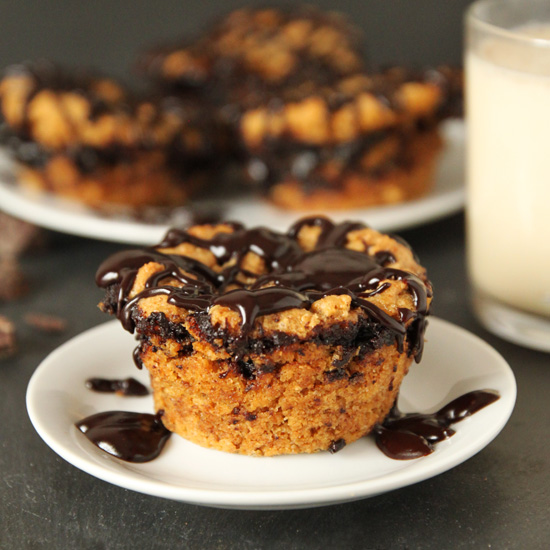 I was paired up with Antonia from Health Inspirations for the Great Food Blogger Cookie Swap 2012 hosted by Lindsay and Julie. Antonia sent me some awesome Austrian crescent cookies and I sent her some of these. Unfortunately, the post office people couldn't find her address (which is just ridiculous… I looked at Google Maps! It's clearly marked) so I'm sending out another package of cookies today.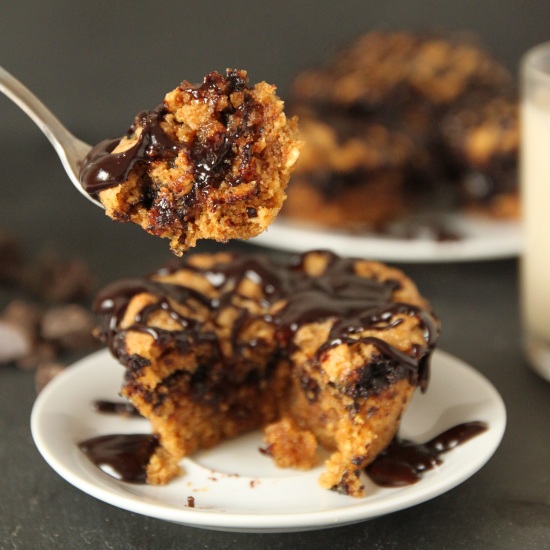 I kept these stored in the fridge and they'll stay good for at least a week. Remember to heat them up a little as they taste way better when warm.
Mr. Texanerin and I are heading off to Prague tomorrow for a long weekend. Any suggestions on things to do / see / buy /eat?
Ganache Stuffed 100% Whole Grain Peanut Butter Cookie Muffins
Prep Time:
Cook Time:
Ready in:
Yield:

10 cookie muffins
Ingredients
Cookie Muffins:

½ cup (67 grams) whole wheat flour
½ cup - 1 tbsp (50 grams) quick oats
1 teaspoon baking soda
1¼ cup (192 grams) peanut butter
¾ cup (167 grams) coconut / unrefined / brown sugar
2 eggs
1 tablespoon vanilla
pinch of salt

Ganache:

80 grams (¼ cup) honey
50 grams (3½ tablespoons) coconut oil
½ teaspoon vanilla
¼ cup (30 grams) Dutch-process cocoa powder
2-4 tablespoons Greek yogurt
Directions
Preheat your oven to 350°F (176°C) and spray at least 10 muffin cups with baking spray. In a small bowl, combine the first three ingredients and set aside.
In a large bowl with an electric mixer, mix together the the peanut butter and sugar until well combined. Add the eggs, vanilla and the pinch of salt. Add the dry ingredients to this and mix until thoroughly combined. Chill in the refrigerator while making the ganache.
For the ganache: Over low heat, melt the honey and coconut oil in a medium saucepan or pot. When melted, add the vanilla and then the cocoa powder. Stir until thoroughly combined. It might look weird, like it isn't combining but just keep stirring.
Place in the fridge for 5 minutes. Take out and add a tablespoon of Greek yogurt at a time, stirring after every one. For me, just under three tablespoons was enough. It should be pourable at this point. Not too hot and not too cold.
Put about 2 tablespoons of dough into the bottom of each muffin cup. Flatten and make sure that the dough goes to the edge of the muffin cup so that the ganache doesn't ooze out too much. Spoon about 1 tablespoon of ganache over the dough, and then top with about 1½ tablespoons of dough (which has been flattened). Repeat until all the dough is gone. There will be leftover ganache for drizzling on top.
Bake for 15 - 18 minutes or until the edges are slightly browned. The cookie muffins will still be soft but they'll continue to cook even after you take them out. Immediately run a knife around the edges of the muffin cups to make removing the muffins easier later. Let cool completely before removing. If they're still warm, they'll fall apart, so be patient!