These coconut cupcakes are made with coconut and almond flour and have an amazing texture! And as a bonus, they're gluten-free, grain-free and dairy-free.
These are really coconutty. That's because they're made mostly from coconut. You'd think that they'd be crumbly or somehow unpleasant, what with all the dried coconut, but the texture was great. I'm not normally a fan of coconut but there was something about these that I couldn't resist. It reminded me of my mother's coconut bundt cake which is full of white flour, several cups of white sugar and Crisco. It's a tasty cake, sure, perhaps a little unhealthy? ;)
These cupcakes aren't fluffy at all, but dense, although in a nice way!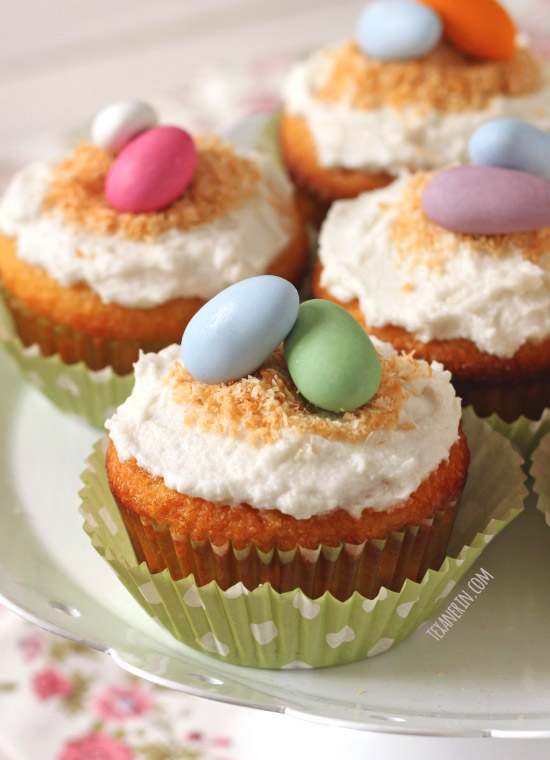 For the coconut frosting, you just take a can of coconut milk, let it sit overnight in the fridge, whip it and add a tiny bit of powdered sugar. It sounds unspectacular but it just works. You could also try my vegan cream cheese frosting, which would go really well on these cupcakes! That frosting basically consists of a bunch of coconut ingredients and maple syrup – nothing funky!
I'm sure some of you are appalled by my little sugar Easter egg candies and I totally get it. I may be guilty of using them as decoration and not actually eating them. ;) So here! Here's a candy-free cupcake.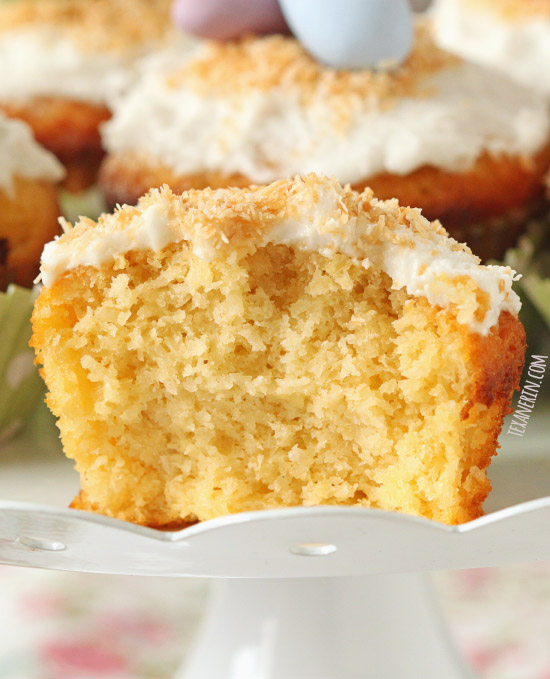 Something neat about these is that they taste even better than whole grain versions. It's true! It sounds crazy but when it's made mostly of coconut and not grainy flour that tastes healthy, it kind of does make sense. Not only did Mr. T and friends not realize that these were healthy, but they had no idea that they were grain-free. But you know, they're not very schooled on baking, so perhaps that doesn't mean much.
I do realize that this uses a ridiculously small amount of coconut flour, but you can't leave it out or try to sub it with something else. It is expensive but I use mine quite often and have had my little container for about a year now. So really, it's not that expensive when you consider how little you use at a time!
Grain-free Coconut Cupcakes with Coconut Whipped Cream
Prep Time:
Cook Time:
Ready in:
Yield:

8 cupcakes
Ingredients
Coconut Cupcakes:

1 1/2 cups (120 grams) unsweetened desiccated coconut or unsweetened coconut flakes
45 grams (~about 1/2 cup but weigh it!) blanched almond flour
2 teaspoons (6 grams) coconut flour
3/4 teaspoon baking powder1
1/4 teaspoon salt
3 large eggs, room temperature
1/3 cup (106 grams) honey
1/3 cup (80ml) canned, full-fat shaken coconut milk
3 tablespoons (42 grams) coconut oil, melted
1 1/2 teaspoons coconut or vanilla extract

Coconut Whipped Cream:

1 13.5 ounce (400ml) can of full-fat coconut milk
1 - 3 tablespoons powdered sugar

Garnish:

1/3 cup toasted coconut
Easter egg candies
Directions
Preheat the oven to 350°F (175°C). Line 8 muffin cups with liners.
In a large bowl, mix together the dry ingredients and set aside.
In a medium bowl, mix together the wet ingredients (eggs through extract) and combine this with the dry ingredients. Mix just until combined!
Fill the cupcake liners so that they're almost full and bake for 20 minutes or until a toothpick inserted in the middle comes out clean.
Remove from the oven, let the cupcakes cool for 2 minutes in the tins, and then turn the cupcakes out onto a wire rack to cool completely before cooling.
For the coconut whipped cream, put a can of coconut milk in the refrigerator, being careful not to shake it. Let it sit overnight. Take the can out of the refrigerator and pour the liquid (it should be watery) into another container to use later (perhaps in a smoothie!).
Place the remaining thick cream in a medium bowl and whip with a hand mixer until it's the consistency of regular whipped cream. Add powdered sugar to your liking, starting off with a tablespoon.
Spread on the cupcakes and add toasted coconut (I just toasted it about 5 minutes after I took out the cupcakes). Add the Easter candies right before serving.
Notes
Make sure to use a grain-free baking powder sub, if necessary.