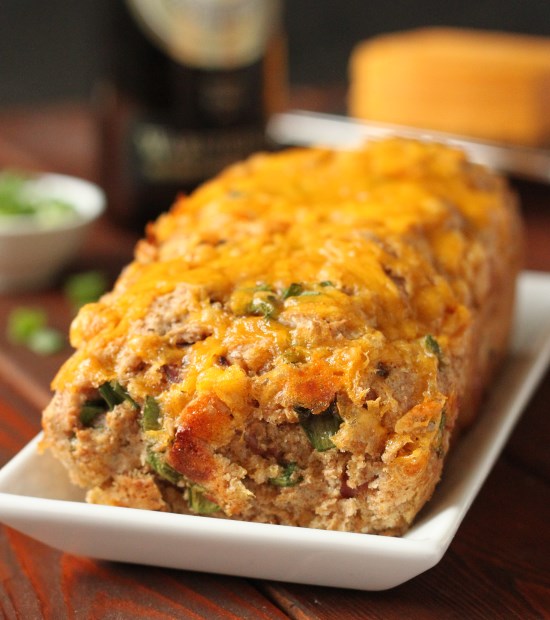 When Kelly posted her fully loaded beer bread last year, I made it almost immediately. I don't like beer but beer bread is another thing. And as if it weren't enough that it was beer bread, it had cheese and bacon. How could I not make it?
I took it to a BBQ and it was pretty much all I wanted to eat. I love cheese and carbs like nothing else.
The original is a bit fancier with garlic, onion and bell peppers but I was too lazy to deal with the garlic and don't like the other two things. So look at Kelly's version if you want that stuff. :)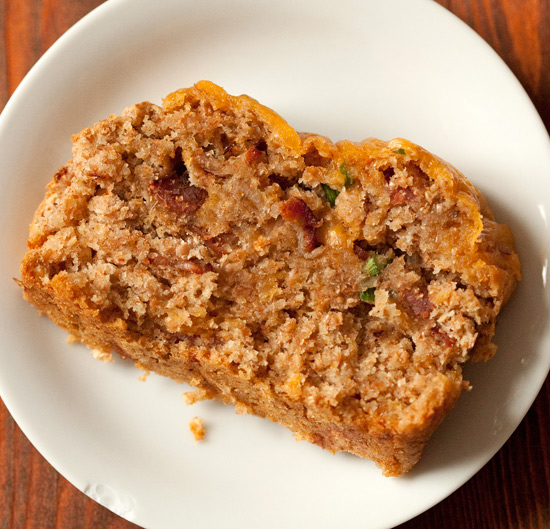 Okay. That picture makes the bread look pretty unappetizing, but really, it's just the picture. And you can just ignore that chip on the plate. But as someone who always wants to see the texture of something before making it, I'm forcing myself to post this picture. So there you go.
I went with 100% whole wheat and with all the beer, cheese, and bacon in there… I don't think anyone will mind, even if they don't like whole wheat bread. I've made this with white flour and half white flour before and the texture was just the same as when using 100% whole wheat. Nice and moist and a little dense (but in a nice way!)
The second time I made this, I only made half the recipe, and that's what you'll find below. The entire recipe is just too much for two people, especially when one has a cheese + carb addiction that just won't quit. If you don't have a small loaf pan, you could bake these as muffins for what I'm guessing would be about 15 minutes. Or if you have more than one person to share with, definitely go with the whole recipe!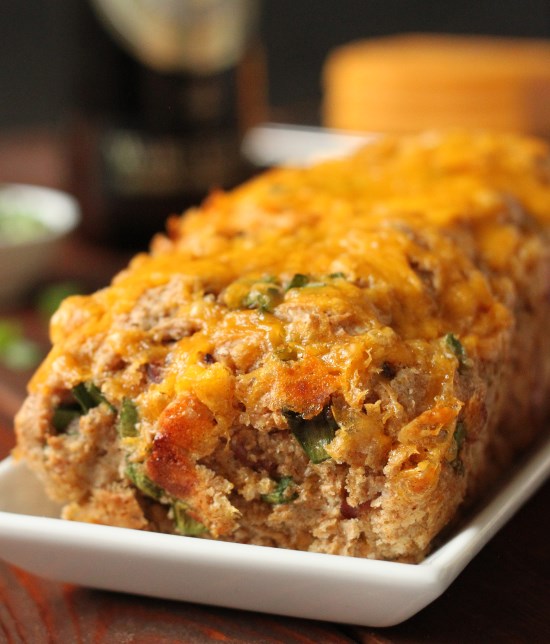 100% Whole Grain Cheddar Bacon Beer Bread
Prep Time:
Cook Time:
Ready in:
Yield:

10 servings
Ingredients
3.5 ounces (100 grams) bacon
1¼ cup + 2 tablespoons whole wheat flour
1¼ teaspoons baking powder
¼ teaspoons baking soda
¼ teaspoon salt
¼ teaspoon cayenne powder
½ cup (120ml) beer
¼ cup (60ml) buttermilk
2 tablespoons melted butter or coconut oil
2 tablespoons (40 grams) honey
¾ cup (85 grams) sharp cheddar cheese, divided
¼ cup green onions, chopped
Directions
Preheat the oven to 350°F (175°C) and spray a 3" x 7" (8cm x 17cm) loaf pan very well with baking spray or simply place a piece of parchment paper in the pan.
Cook the bacon in a frying pan over medium heat until crisp. Let the bacon cool on a paper towel lined plate and then using your fingers, crumble the bacon into ½" pieces.
In a large bowl, mix together the flour, baking powder, baking soda, salt and cayenne powder.
In a medium bowl, stir together the beer, buttermilk, butter, honey, bacon, ½ cup of the cheddar cheese and chopped green oninos.
Add the wet ingredients to the dry and stir just until combined.
Spoon the batter into the prepared pan and bake for 20 minutes. Take the bread out of the oven and add the remaining ¼ cup of cheese to the top of the loaf.
Bake for another 15 minutes and then let cool in the pan for 15 minutes before turning the loaf out onto a wire rack to cool.
Best enjoyed immediately or on the same day of baking, but it stays moist for days.
Adapted from Fully Loaded Beer Bread - Evil Shenanigans