I'll be back tomorrow with an actual recipe but for today, I wanted to first ask you something and to tell you about a new feature!
Since I started posting more and more grain-free and gluten-free recipes, I've been wondering about what type of diet my readers follow. Are you here for the whole grain recipes? I have a sneaking suspicion that most of you aren't! So what are you here for? The grain-free ones? Just gluten-free in general? Or just anything at all that's peanut butter and chocolate? If you're here for something else, there's an 'other' field you can fill in!
That's all I want to know. It's super easy and if you just click on what you're interested in, that'd help me make more of the recipes that you guys want instead of whatever strikes me at the moment. Thanks a bunch! :)
And now moving on… I'm super excited to announce that I've partnered with ZipList! If you haven't heard of ZipList before or don't really know what it's about, I've made a little tutorial for you down below.
You can access ZipList from any page on Texanerin Baking. Just click on the ZipList link at the top in the menu bar. That'll bring you directly to your recipe box.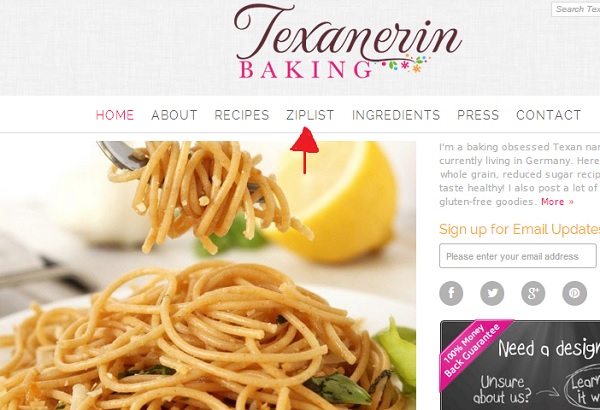 Before you can use ZipList, you have to sign up for an account, but it's easy to do and it's free. Your recipe box won't just have my recipes, it'll have all the recipes you've saved from any of the other blogs that use ZipList! And believe me, a huge deal of them do. I was just late to the party. You can even save recipes from websites that do not partner with ZipList. The Web Recipe Clipper bookmarklet is the right tool for that.
If you find a recipe you like while browsing my blog, just click on the "save" button which you'll find in every recipe below the little thumbnail image. The one with the little paperclip. Other websites use different save buttons but you usually find them in the same spot.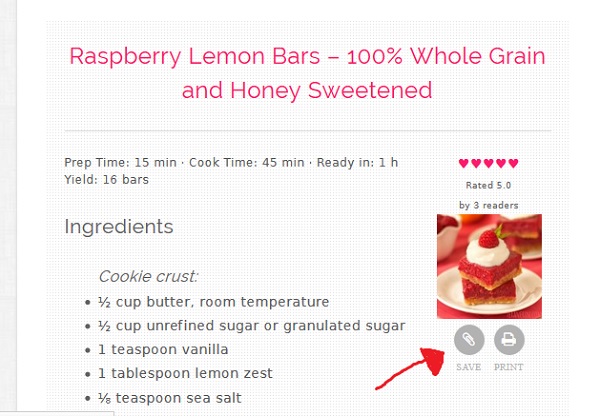 This is my recipe box. I can search through the recipes I've personally saved, or I can search through ALL the recipes from all of the ZipList partners.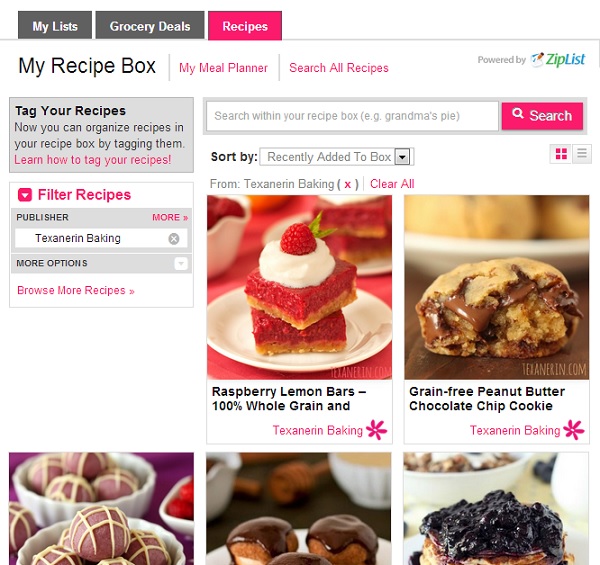 You can also add the ingredients you need to your shopping list. ZipList has mobile apps that allow you to access your ZipList account and your shopping list while out and about. Convenient, right?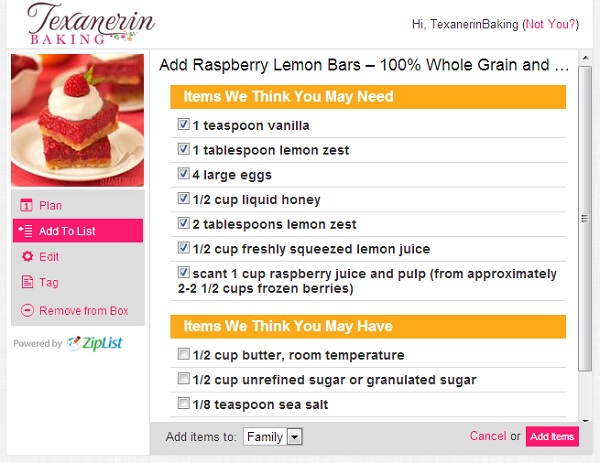 You've also got the capability to edit the recipes you've saved. If you think I've perhaps used too much lemon zest, go in and change it! You can also add notes.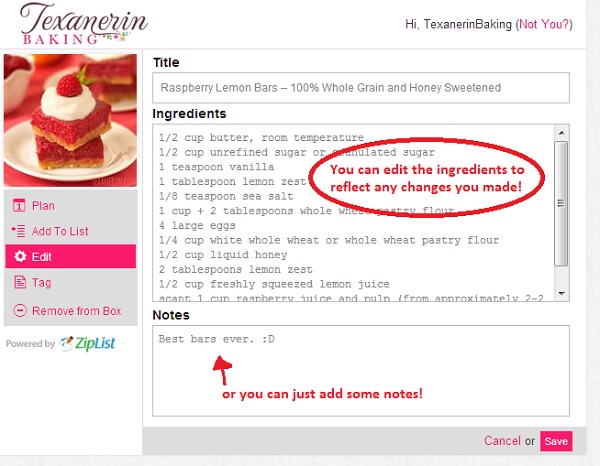 I hope you give ZipList a try! It's free and extremely convenient to be able to save recipes from across the web.
See y'all tomorrow with a summery crisp recipe! :)