These gluten-free and vegan apple crumbles for two are perfect for a last-minute dessert craving! They're made with oats and oat flour, making them 100% whole grain, too.
Apple crumble or really, any type of crumble, is one of those things I get sick of quickly. Cookies or brownies I can eat for days… but crumble? Give me a few servings and I'm ready to move on (to some cookies or brownies!)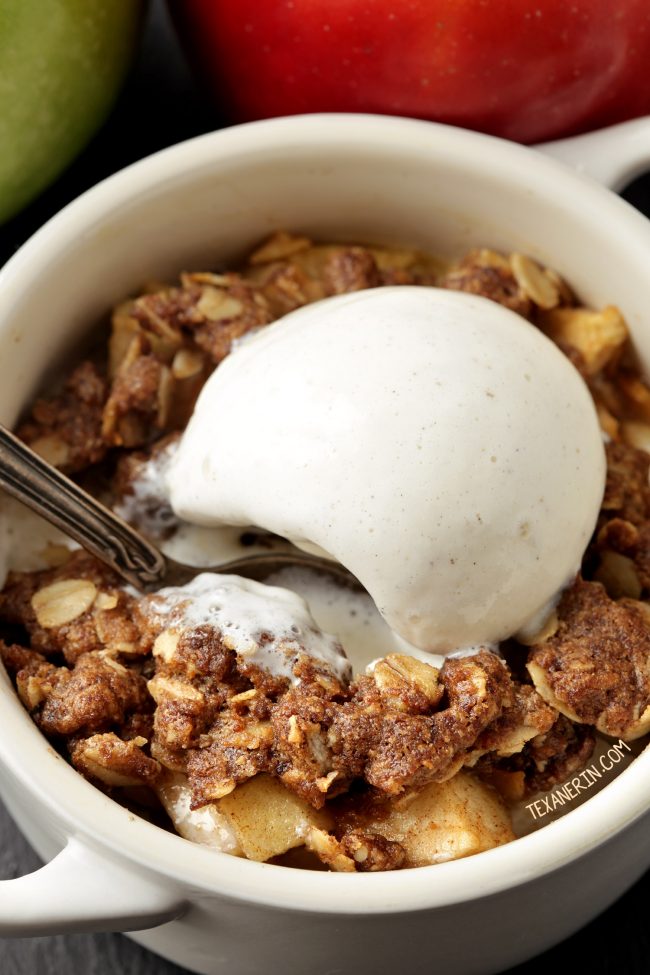 These little apple crumbles are perfect for when you're not feeding a crowd. If you have guests, you can double the recipe and have four individual servings and you could even halve the recipe, but I don't recommend that.
You'll want the second one later! And they stay good for several days in the refrigerator so you can always keep it around for when the dessert mood strikes.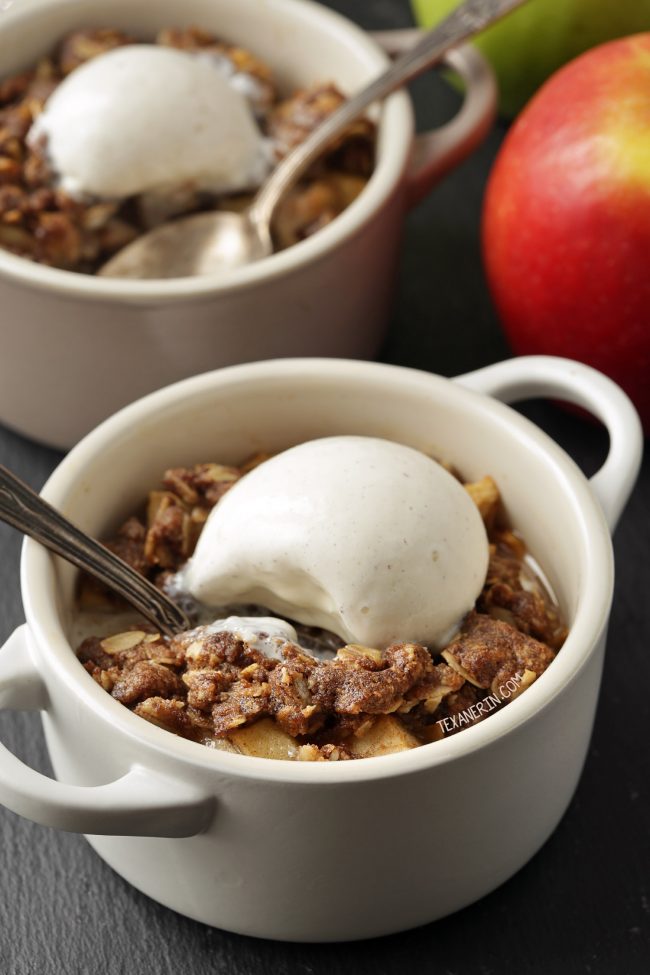 I first made them with butter and then realized it'd probably be pretty simple to make a vegan and dairy-free version. So I used coconut oil and it worked well! I do prefer the apple crumbles with butter, though. The topping seems to hold together better.
Maybe it's because coconut oil is 100% fat and butter is only 80% but I can't say for sure. I reduced the coconut oil by just a little bit and that helped with the holding-together thing but the topping still isn't quite as firm as with butter.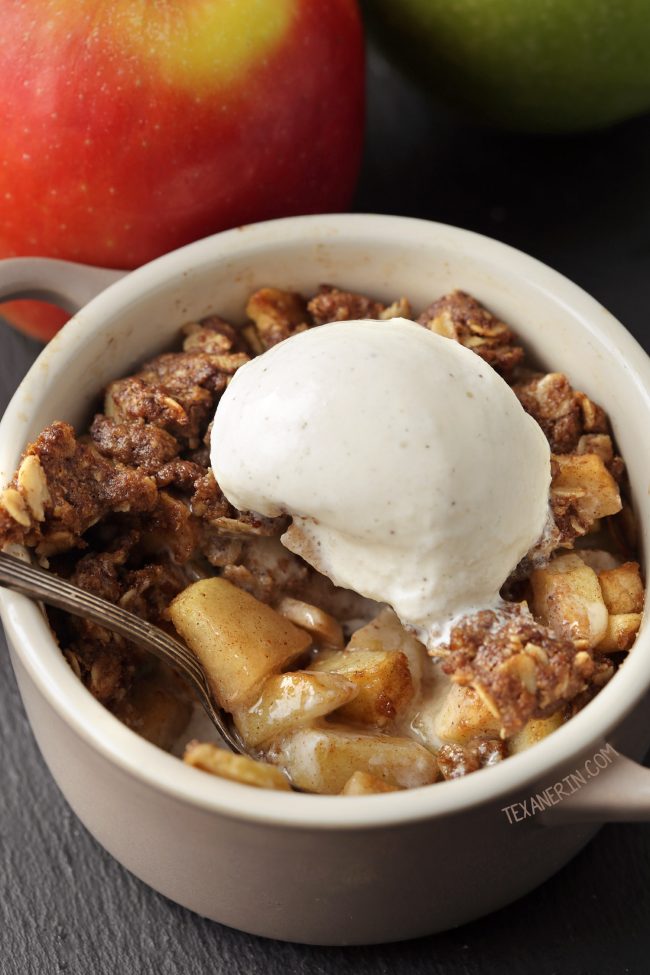 I topped them off with some coconut sugar caramel sauce that I'll be posting later in the week but you could also use this salted maple caramel sauce. The maple ice cream recipe is also coming later in the week! Mr. T actually preferred his apple crumble without ice cream but he's German. He just doesn't get this whole crumble + ice cream concept. ;)
Instead of ramekins, I used these 1-cup mini cocottes that I came across at a great sale price. It's just so much more fun to serve these apple crumbles in something lidded so you can do a dramatic unveiling. :D
Note: The pictures were updated in September, 2016.
❀
Gluten-free and Vegan Apple Crumble for Two
Prep Time:
Cook Time:
Ready in:
Yield:

2 servings
Ingredients
For the topping:

2 tablespoons (12 grams) oat flour (use certified GF oat flour, if necessary)
3 tablespoons (16 grams) rolled oats (use certified GF rolled oats, if necessary)
1/2 teaspoon cinnamon
17 grams (this is about 1 1/2 very packed tablespoons) coconut sugar or brown sugar
pinch of salt
1 1/2 tablespoons (21 grams) unsalted butter, melted or 4 teaspoons (19 grams) coconut oil, melted1

For the filling:

2 tablespoons maple syrup
1 teaspoon vanilla extract
1 teaspoon cornstarch
1/4 teaspoon cinnamon
1/8 teaspoon nutmeg
pinch of salt
2 cups (220 grams) apple chunks (from about 2 peeled apples)
Directions
Preheat the oven to 350°F (175°C) and grease 2 one-cup ramekins.
Prepare the topping. In a small mixing bowl, mix the dry ingredients together and then add the melted fat. Set aside.
Prepare the filling. In a medium mixing bowl, mix together everything except for the apples until well combined. Stir in the apple chunks and stir to coat.
Divide the filling between the two prepared ramekins. Sprinkle the topping evenly over the top of each one.
Place the crumbles on a baking sheet (just in case there are any spills, which there shouldn't be).
Bake for 22-26 minutes or until the topping is firm and golden brown. The apples should be bubbling.
Serve immediately or cool and cover and refrigerate any leftovers for up to 3 days.
Notes
I use refined coconut oil, which has no coconut flavor. If you use unrefined, there may be a coconut taste. For a vegan or dairy-free version, you must use coconut oil.