Totally honey sweetened, this orange cranberry sauce is loaded with orange flavor and is quick and easy to prepare! Perfect for the holidays. Naturally paleo, grain-free, dairy-free and with a vegan option.
This is probably the easiest recipe I'll ever post. You mix together cranberries, honey, orange juice and zest and cook it for a few minutes. That's it.
Mr. Texanerin and I visited my family in Texas a few years ago for Thanksgiving. I was so outrageously excited for my German to experience his first American holiday that I planned everything out months in advance. Thanksgiving was being held at my grandfather's house and I took it upon myself to organize everything.
I emailed people their "jobs" in June (I swear I wasn't annoying about it! ;)) and I decided that the guy who had never done Thanksgiving before got to make the easiest recipe. Seriously. Have someone who's totally unable to cook in your family? Let 'em make this!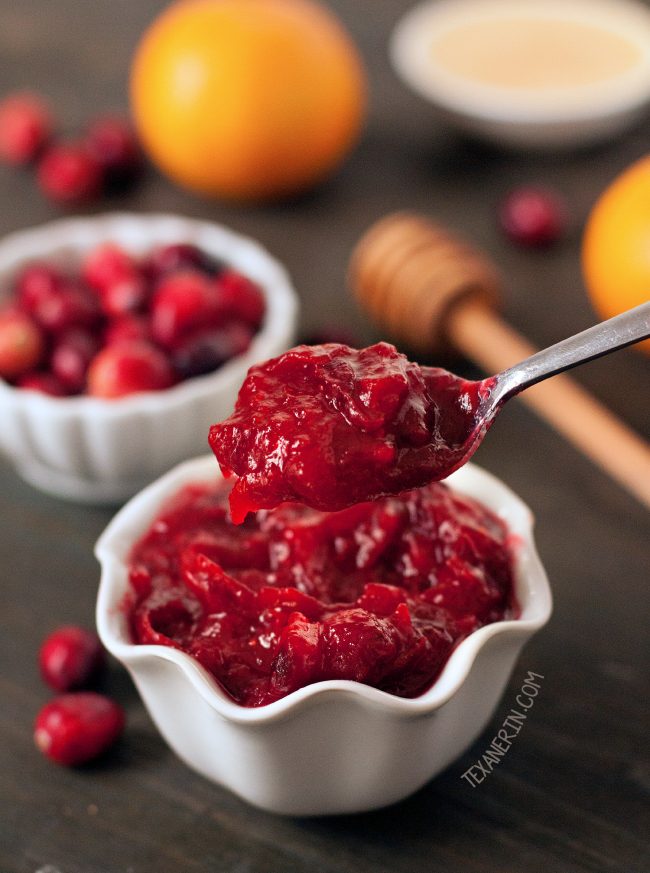 Before Mr. T made this, my family had never had homemade cranberry sauce. It was like that stuff that you had to have, just because it was Thanksgiving, but nobody really wanted. That's because the canned stuff is just gross. Gloppy and way too sweet.
This is far from gloppy and is just sweet enough! At Thanksgiving dinner, everyone pretty much freaked out at how good it was and they all swore to never buy canned cranberry sauce again. My aunt even went and bought more cranberries the day after Thanksgiving so we could make more.
This version is honey sweetened but you could also use regular granulated sugar if you prefer. That makes the recipe vegan! You can't taste the honey here – it's all cranberry and oranges!
You can make this cranberry sauce several days in advance and then that's one less thing you have to worry about for Thanksgiving. Awesome, right?!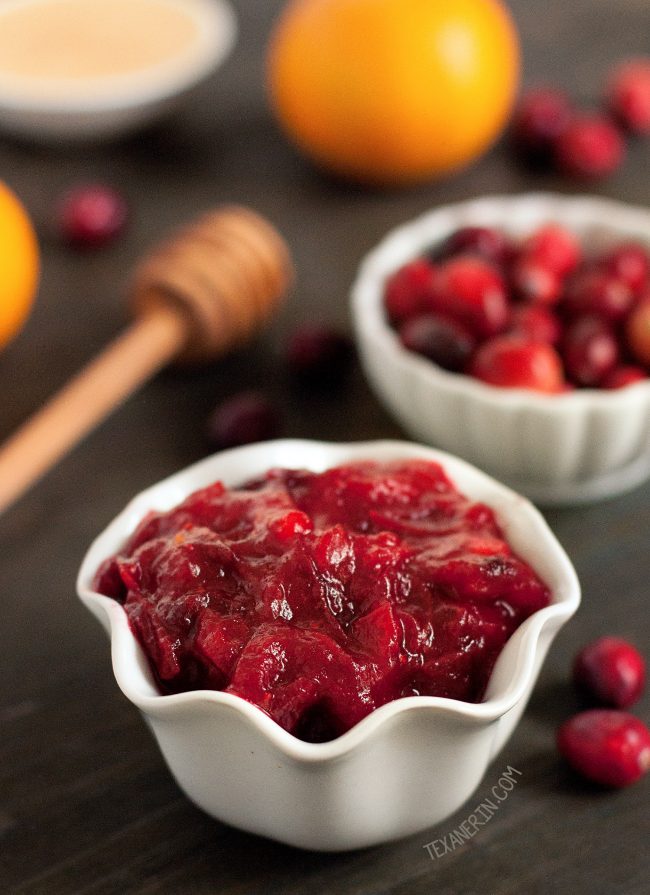 I don't have kids but if yours want to help contribute something to Thanksgiving dinner, I think this would be a great recipe for kids to make (under supervision, of course!). It's so ridiculously quick and easy and they can feel super proud of themselves. Mr. T was kind of the star of the day with his homemade cranberry sauce. It's that good.
I think that's about it for me and Thanksgiving side dishes. Next week, I'll start in on the most important element of any holiday meal – dessert!

Here are some other healthier Thanksgiving side dishes! I don't do veggies so you'll have to look somewhere else for those! ;)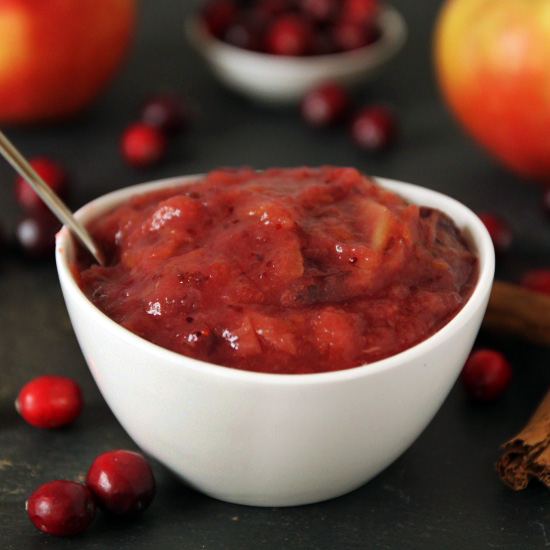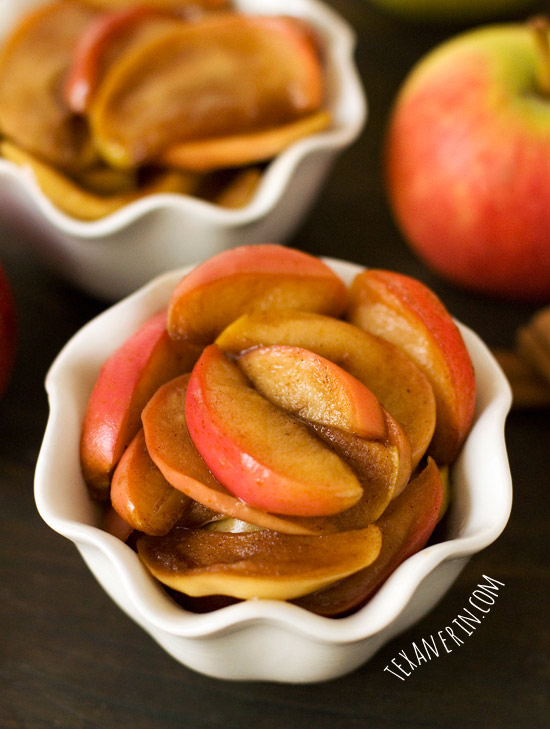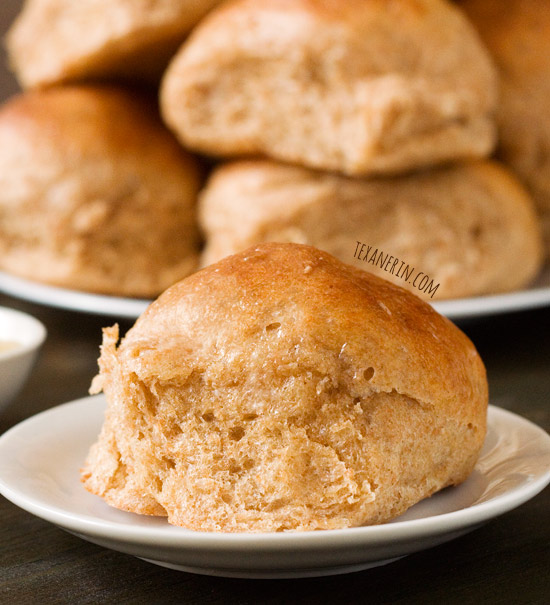 ❀
Honey Sweetened Orange Cranberry Sauce (naturally paleo, grain-free, gluten-free, dairy-free)
Prep Time:
Cook Time:
Ready in:
Ingredients
1 cup (240ml) orange juice
1/2 cup (160 grams) honey or for a vegan version, use 3/4 (150 grams) granulated sugar
2 tablespoons orange zest (from about 2 oranges)
1 12-ounce package (340 grams) of cranberries
Directions
Over medium heat, dissolve the honey or granulated sugar in the orange juice.
Add 2 tablespoons of orange zest.
Add the cranberries and cook, uncovered, until most of the berries have popped and the sauce has thickened quite a bit (it'll continue to thicken as it cools). It takes about 10 – 15 minutes. I don't both stirring, but you can if you like.
Taste the sauce and add the remaining orange zest, if desired.
Pour the sauce in an airtight container and store in the refrigerator for up to 5 days.