These healthier bloody witch fingers use jam in place of food coloring! Can be made with all-purpose flour or with whole wheat for a 100% whole grain version. The perfect Halloween dessert!
I'm preparing for a Halloween party and had no intention of posting these bloody witch fingers but after seeing how they came out, I just have to! I hope you can forgive me. ;)
I've been struggling with coming up with Halloween goodies that are totally free of processed food so I was ridiculously happy to have come across these!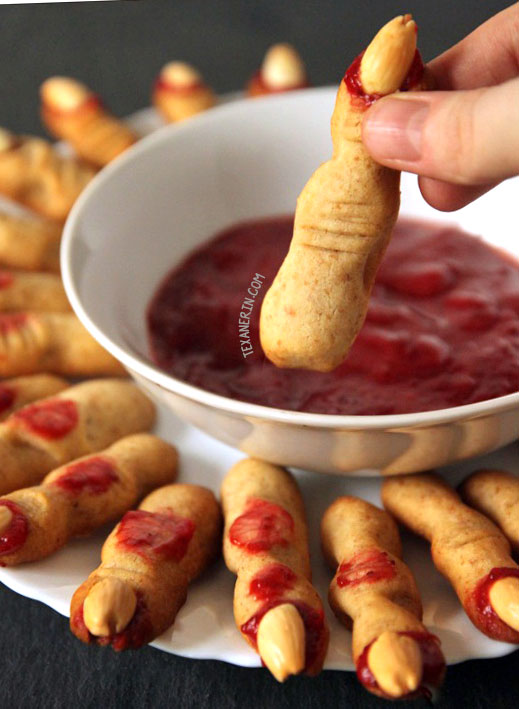 All of the witch finger recipes I found use red decorating gel. Food coloring doesn't normally bother me (I know it should) but the thought of eating red decorating gel makes me queasy.
So here we have some awesome strawberry jam. And it complements the almond flavor perfectly. To be honest, I think these shortbread cookies are kind of boring tasting without the jam. And I'm not a crunchy cookie kind of girl. Strawberry jam helps a lot. Raspberry jam would also be great but for the blood effect, I think strawberry is better.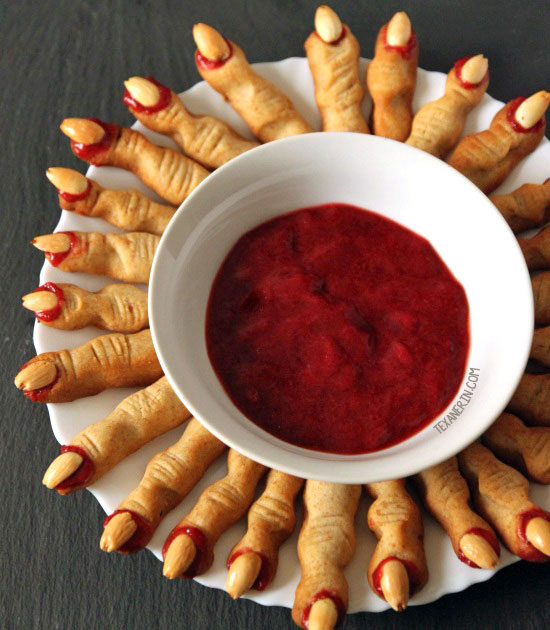 I've even seen green witch fingers! The cookie dough is dyed green and then has the bloody nails. So if food dye isn't something that bothers you, go for it! I just think this healthier version is way more yummy + appetizing (for someone not wild about food coloring). :)
If you don't have white whole wheat flour, you could use all-purpose flour. I'm guessing whole spelt would also work well! You may need to add a tiny bit of extra flour if the dough is extra sticky.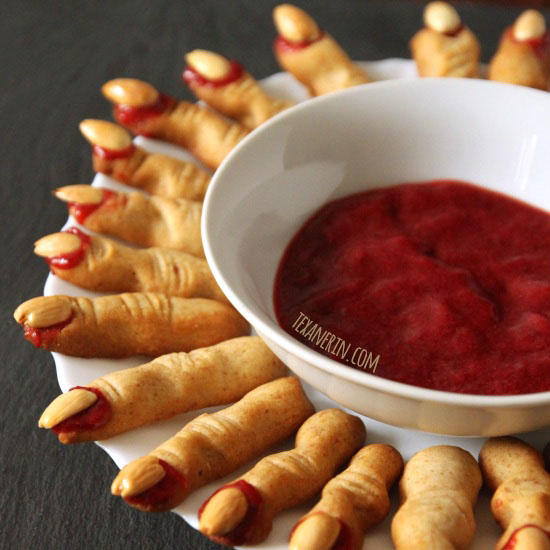 So what kind of goodies are you making for Halloween? I'm bummed I'm just now getting on the Halloween bandwagon. These bloody witch fingers are so fun!
Update: people freaked out over these at the Halloween party! Definitely a hit. :)
Looking for more healthier Halloween treats?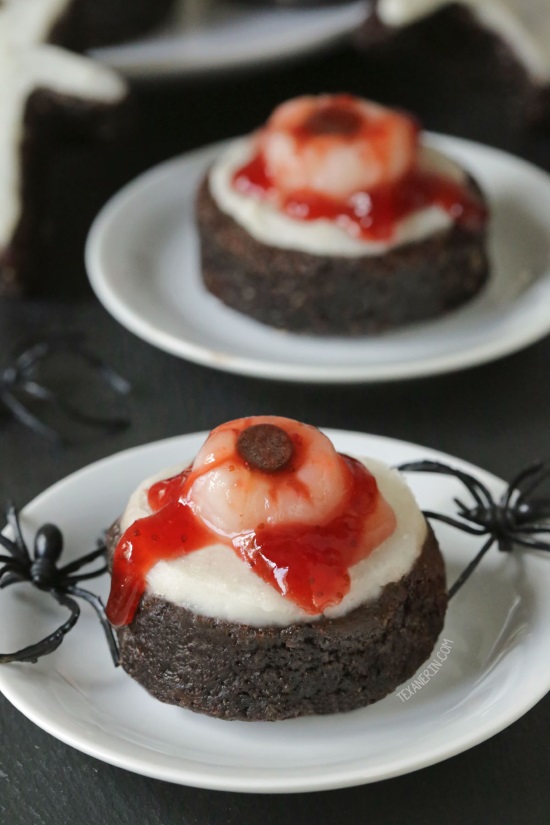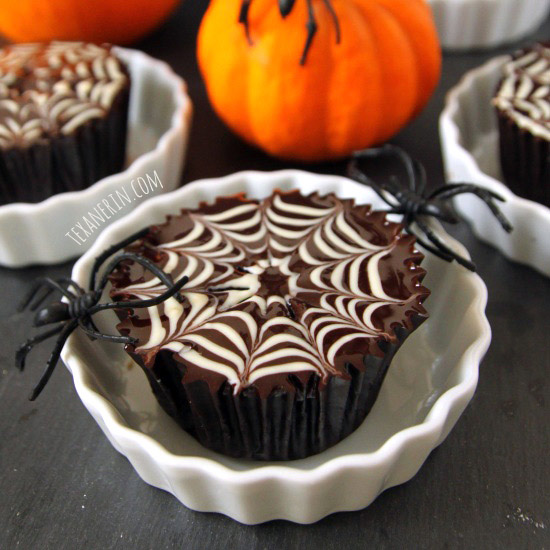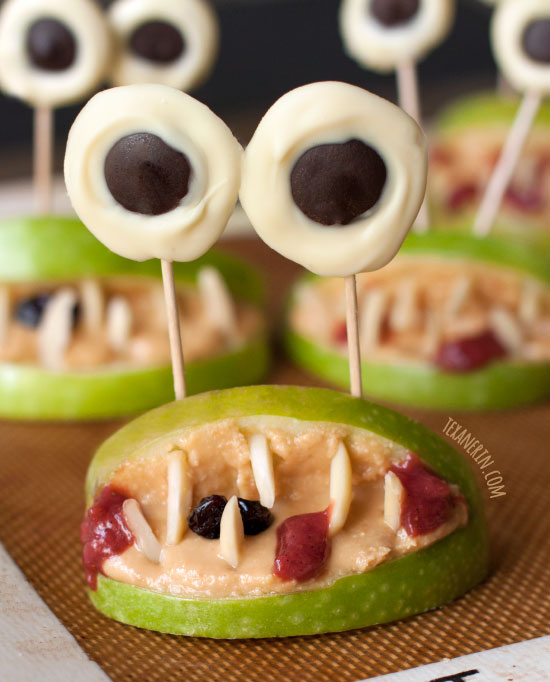 ❀
Bloody Witch Fingers (100% whole grain option and without food coloring)
Prep Time:
Cook Time:
Ready in:
Yield:

60 cookies
Ingredients
1 cup butter (226 grams), softened
1 cup (115 grams) powdered sugar
1 egg
1 teaspoon almond extract
1 teaspoon vanilla extract
1 1/3 cups (167 grams) white whole wheat flour or all-purpose flour
1 1/3 cups (167 grams) white whole wheat flour, whole wheat flour, or all-purpose flour
3/4 teaspoon salt
3/4 cup (105 grams) blanched almonds
1/2 - 1 cup (118 - 236ml) strawberry jam
Directions
Beat the butter and sugar together until fluffy. Add the egg, almond extract, and vanilla extract and mix. When well combined, add the flour and salt. When thoroughly combined, cover with plastic wrap and refrigerate for 40 minutes.
Preheat your oven to 325°F (165°C). Take about a fourth of the dough out of the fridge and begin rolling out the fingers. I rolled them out the size of my pinky, both in length and thickness. Add an almond to the tip for the fingernail and press down to make sure it's secure. Form a knuckle by squeezing (see the picture above!) and then use a knife to make some creases. Place on a Silpat on a cookie sheet (or just a cookie sheet), leaving about a centimeter between them. Repeat with the rest of the dough until the cookie sheet is full.
Bake for 17 - 22 minutes or until slightly golden. Let the cookies cool, and then remove the almonds from the cookies. Add some jam in the cavities and then put the almonds back, making sure you used enough jam for them to ooze a little. Also add some jam around knuckles for extra nastiness. I used about 1/2 cup jam and used the rest as "dip."
Notes
If you live in Germany, you need to use half Type 550 for the all-purpose flour and half Type 405 (which is the normal kind you find everywhere). You can get Type 550 at any non-discounter. For the almond extract, I used two vials of Bittermandel Backaroma.
Adapted from Allrecipes