An incredibly moist and flavorful layer cake made out of four layers of apple blondies and filled with cooked apples!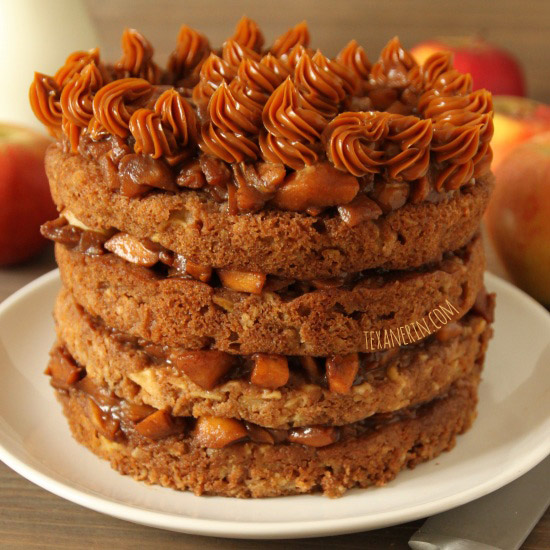 This blondie cake is so insanely moist. And that mess on the top? Just some dulce de leche. And another bonus is that it's quick and easy as far as layer cakes go. I absolutely hate icing cakes. With this one, just cook some apples and plop them in between each layer. Tada!
I have to admit that I might have gone overboard with the size. I used four 6″ pans because I wanted a tall and "dramatic" cake but I'm thinking that using two 8″ pans or a 9″x13″ would probably be better (just be sure to adjust the cooking time!) Let's take a look at why.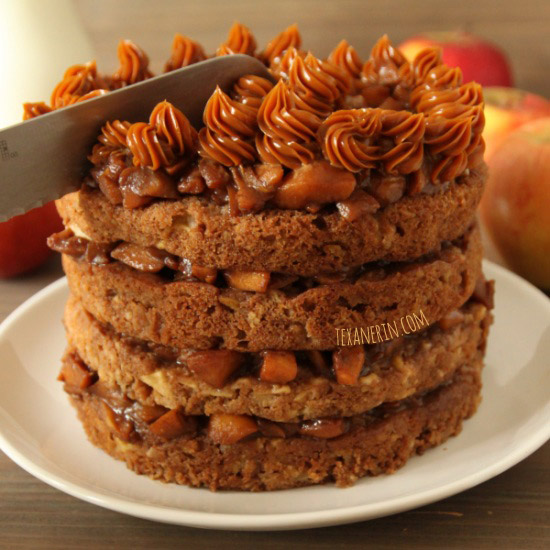 Everything looks normal, right?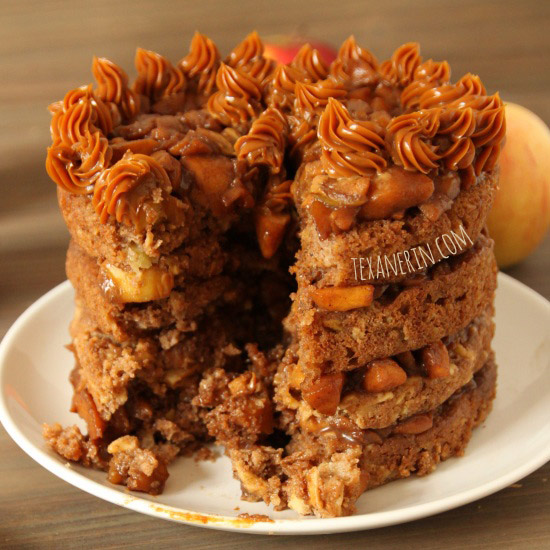 Whoops. I'm no good at cutting cakes but I really think this one was just too moist and tall to get a nice cut from. I just went at it with a fork :) I didn't have any issues with that but it might be a bit weird if you have to share with company.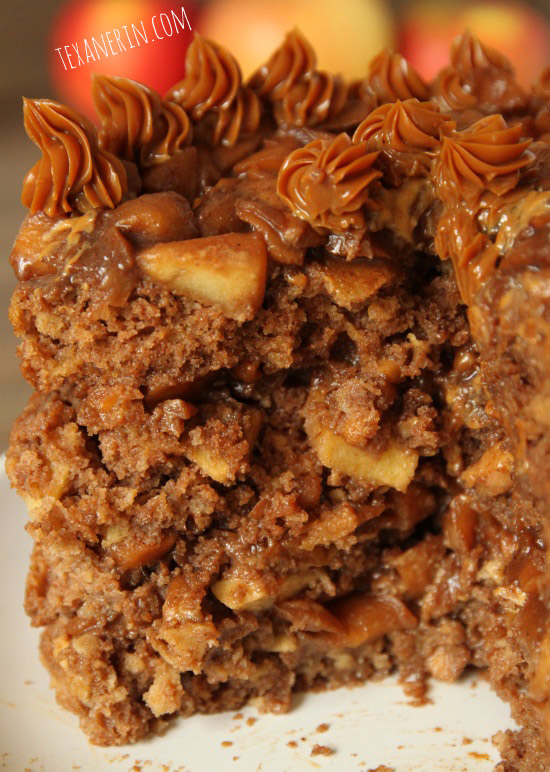 I'm calling it a blondie cake because the texture was pretty much that of apple blondies. Super moist and not fluffy. I don't do fluffy cakes. I think next time I'll just put it in a 9″x13″ and eat it plain. It's that good.
The dulce de leche is kind of over the top but I had an open can and thought it'd be an appropriate topping. And it was! But feel free to just leave it out. This apple blondie cake is sweet enough without it!
And if you're not a fan of apples (I doubt you've read this far if you aren't!) but you can always leave them out. I don't think it'd really affect the texture that much, if it all.
❀
100% Whole Grain Apple Blondie Cake
Prep Time:
Cook Time:
Ready in:
Yield:

4 6" layers
Ingredients
Blondie Cake:

1 cup - 2 tablespoons (120 grams) whole wheat flour
1/4 cup (22 grams) traditional or rolled oats
1 teaspoon baking powder
1/2 teaspoon baking soda
2 teaspoons cinnamon
1 teaspoon nutmeg
1/2 teaspoon allspice
1/4 teaspoon salt
1/4 cup (56 grams) coconut oil
1/4 cup (60ml) olive or canola oil
2/3 cup (133 grams) unrefined or coconut sugar or 1/3 cup white + 1/3 cup brown sugar
2 eggs
1/2 cup (237ml) unsweetened applesauce
2 teaspoons vanilla extract
12 1/2 ounces (350 grams) apples, cored, peeled and chopped to pinky fingernail size

Apple filling:

1 pound (450 grams) apples, cored, peeled and chopped to pinky fingernail size
3 tablespoons (60 grams) honey
1 tablespoon molasses
2 tablespoons (28 grams) coconut oil or normal butter
2 tablespoons water
1 1/2 tablespoon vanilla extract
1 tablespoon cinnamon
1/2 teaspoon nutmeg
Directions
Preheat your oven to 350°F / 175°C and spray four 6" cake pans with cooking spray.
Combine the dry cake ingredients (flour through salt) in a large bowl and set aside. In a medium bowl combine the wet ingredients (coconut oil through vanilla) and add this to the dry ingredients. Stir in just until combined. Do not over mix!
Fold in the apples, again being careful not to over mix.
Pour evenly into the cake pans and bake for 15 minutes. A toothpick inserted in the middle should come out clean but it might look a little moist. The top will look kind of wet, if that makes sense. It's okay, though! It's just super moist.
For the filling, combine all the filling ingredients in a medium saucepan. Bring to a boil over medium heat, lower to medium-low and simmer for 15 minutes. Take off the heat and let both the filling and cake cool completely before filling. The apple filling is enough to fill and top a four layer 6" cake. Store the cake in the fridge.