Hey, I finally baked something! :)
Thanks to the Facebook comments I got on what to do with all my apricots, I made these. The first shot at apricot bars didn't go so well. Very cake-like. I don't do cake-like unless I'm eating cake.
But these? These are just a gooey mess. Perfect! Not your typical bar at all. At room temperature, I couldn't even pick them up. And they're really thin. But use a fork and you'll be fine.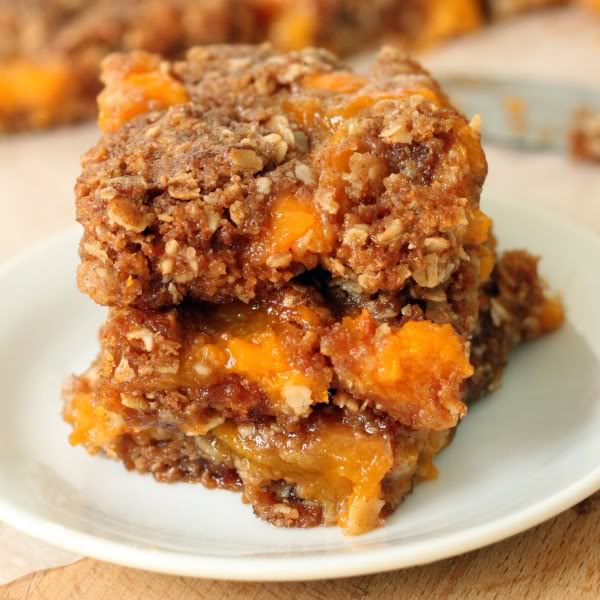 I'm so happy I gave baking with apricots a chance! I still don't want to eat the things, but in baked goods?! Oh my gosh.
You might notice the lack of almonds in these. That's because I don't like almonds. The first time I made these, I used almonds and they definitely fit. It's just the texture. It gives me the heebie jeebies.
You really don't need to peel the apricots. I guess the skin breaks down during baking because it was totally undetectable. So save yourself some time and don't peel them.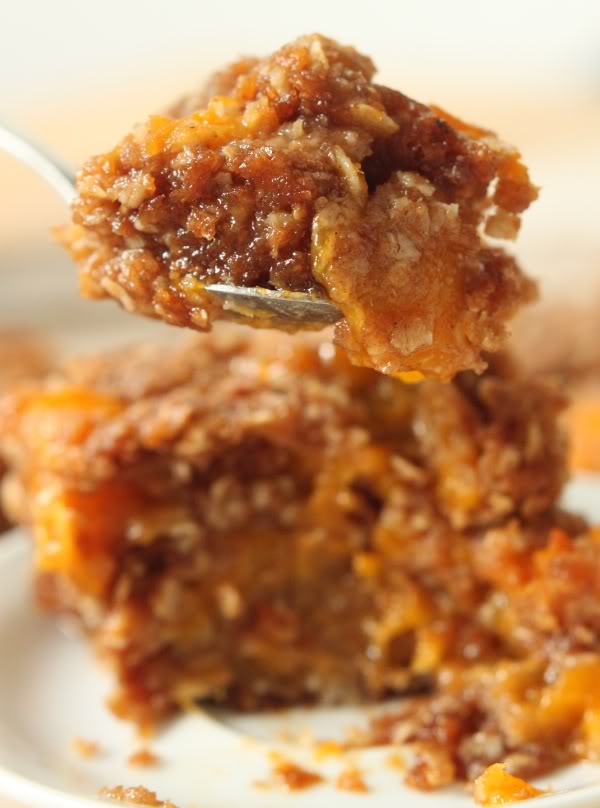 What you see above is three bars stacked on top of each other and I decided to just go at it like a crisp. Maybe this is more crisp than bar, but that's okay. Whatever they are, they're delicious and I might have eaten a whole pan by myself in less than 24 hours.
I used my homemade jam in these, which just used a little honey, but these bars were still plenty sweet. So you might want to reduce the sugar if using store bought jam. But then the goo might be affected. So you might as well make the jam. You just dump some stuff in a pot and let it cook. Easy!
❀
100% Whole Grain Apricot Almond Goo Bars
Prep Time:
Cook Time:
Ready in:
Yield:

16 bars
Ingredients
1/2 cup + 2 tablespoons (80 grams) whole wheat flour
1 1/2 teaspoon cinnamon
1/8 teaspoon salt
1/4 teaspoon baking soda
75 grams (about 3/4 cup) rolled or old-fashioned rolled oats
1/2 cup (112 grams) coconut oil* or normal butter, room temperature
2 tablespoons coconut sugar (or brown sugar)
1/4 cup (80 grams) honey
1/2 teaspoon almond extract
1/2 - 3/4 cup (75 - 113 grams) almonds, optional (use as much as you like)
1/2 cup (about 5.2oz / 147 grams) apricot jam
4 fresh apricots, skin ON and diced
Directions
Preheat the oven to 350 degrees F (176 degrees C).
Line an 8" x 8" pan (I really think a 9" x 9" is too small) with a piece of parchment paper or wax paper. If you just spray the pan, I'm afraid the bars will be really difficult to get out.
Combine the flour, cinnamon, salt, baking soda, and oats in a medium bowl and set aside. In a separate medium bowl, mix together the coconut oil, sugar, honey, almond extract, and almonds (if using).
Add the dry mix to the wet and mix just until combined. Pat half of the dough into the pan. It will be a very, very thin layer. Evenly spread the apricot jam over this layer and then sprinkle the apricots over the jam. Lightly pat on the rest of the dough over the apricot jam layer. The jam layer won't be totally covered and it will be very thin and messy.
Bake for about 20 minutes until nicely browned. These are obviously really gooey so when you take them out of the oven, they might not look very set.
Let them cool in the pan and if you want them to be set like bars normally are, put them in the fridge.