Happy 2012! I hope everyone had a fun New Year's Eve. I'm terrified of going out on New Year's Eve here, where I've had fireworks thrown at my feet several times, so we stayed in this year and it was awesome. I made whole grain deep dish pizza and whole grain peanut butter chocolate bars (which will appear here as soon as I've perfected them!) and then we watched several movies, of which the highlight was Remember the Titans. It was a very middle school New Year's Eve, but that's okay with me.
I didn't want to post something sweet. I think people want a short break from sweet things. I know I do. But then I realized that people probably aren't going to buy any more eggnog for 11 more months. So here's something to do with that leftover eggnog! Or if you're lucky, and you have some of this
egg liqueur
leftover, you can use that. That's what I did. No more eggnog for me. Ever again.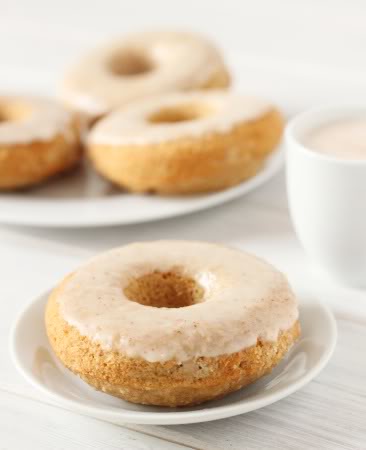 I used honey instead of sugar. Yay! And there's no fat! (unless you count the eggnog, but that's no fun)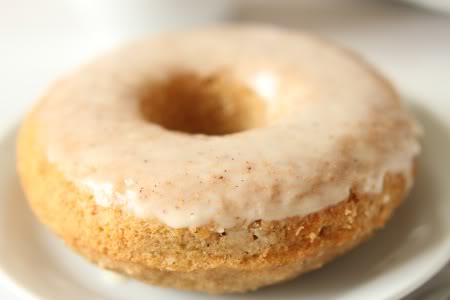 But look at that glaze. That glaze is all sugar and booze. Not so good. I guess you could leave out the glaze, but then they're not very donut-y, so I highly recommend the glaze.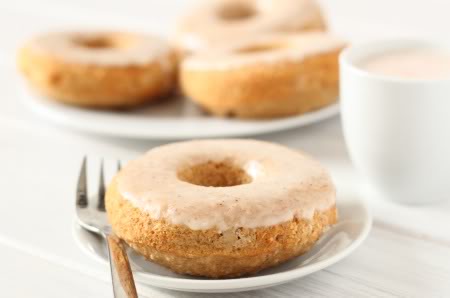 Ingredients:
1 teaspoon baking powder
1 teaspoon baking soda
3/4 teaspoon salt
1/2 teaspoon nutmeg
1/4 cup (80 grams) honey
1 egg, room temperature
3/4 cup (175ml) eggnog / egg liqueur*, room temperature
1/4 cup (28 grams) applesauce
up to about a tablespoon of dark rum or milk
I tried these with different types of liqueur and they weren't nearly as good. They came out dry and not very tasty.
~ 2 tablespoons eggnog / egg liquer
~ 1/2 tablespoon dark rum
~ 1/2 – 1 cup (65 – 130 grams) powdered sugar
Directions:
Preheat your oven to

325°F / 160°C.

In a large bowl, mix together the dry ingredients. Add the wet ingredients but be careful not to over mix.
The batter is quick thick. My egg liqueur is super thick, like custard, so I added about 2 teaspoons of rum to the batter to make it a little thinner.
Grease two donut pans (for a total of 12 donuts) very well. Some people like to pipe their batter into the pan, but I'm just way too lazy for that and use a spoon. Bake for 8 – 10 minutes (I'd check them even earlier – I made them once and it only took 6 minutes) or until they spring back when pressed lightly. Let them cool about five minutes in the pans and then turn them out onto a wire rack.
For the glaze: It's really hard to give measurements for the glaze because different eggnogs have different consistencies. What I did was to mix together the eggnog and rum and then add powdered sugar until I liked the consistency. I like a really thin glaze, so I didn't use that much sugar compared to the original recipe, which uses 1 1/2 cups sugar.

If you're going to eat them fresh, dip them in the glaze, sprinkle a little nutmeg over the tops and go at it. Or let the glaze set a little. If you're not going to eat them fresh, I'd let the donuts cool completely and then glaze them.