These caprese ravioli can be made whole grain, gluten-free or with regular pasta! Great as an appetizer or a main dish.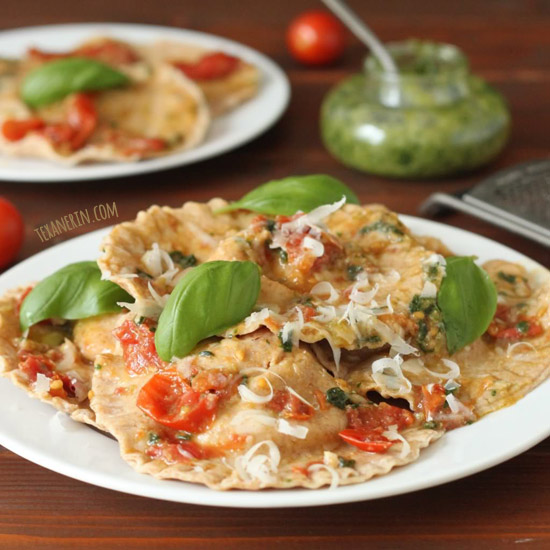 This recipe can either go really quickly, with store bought pasta sheets, roasted tomatoes and pesto, or if you have time, you can make everything homemade. Then it's not so quick.
I went the totally homemade route and it took quite a while but it was so worth it! To start off, I roasted the tomatoes. I used whole cherry tomatoes, added a few cloves of garlic, a little olive oil, and baked at 400°F / 200°C for 30 minutes in a covered pan until shriveled.
I've made these twice. The first time with unroasted cherry tomatoes, and this was just stupid. It was a watery mess! The roasted tomatoes worked out much better and they tasted better, too.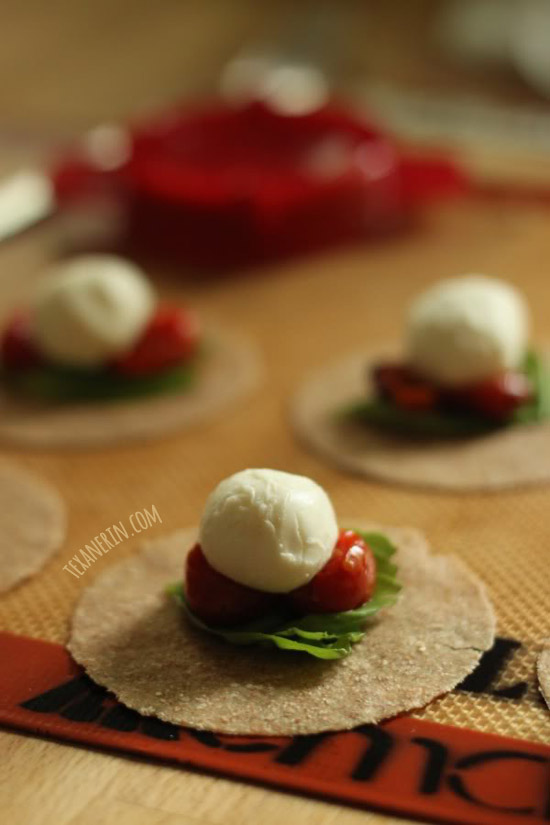 So after the tomatoes were ready, I made the dough. Mr. T gave me a pasta machine for my birthday and I absolutely love it! I've tried making homemade ravioli before with a rolling pin, but I could never get it thin enough for my liking. If you don't have a pasta machine, you could use premade pasta dough sheets. Where you can find those in the US, I have no idea. I didn't even know they existed until recently.
And now for the best part – the cheese! Nothing to prepare here. :D As far as I've seen, we don't have low-moisture mozzarella over here in Germany. And it's really annoying. Even after draining it and squeezing out the liquid, everything still comes out watery. So if you have the option, get low-moisture mozzarella for these caprese ravioli and cut it into chunks.
I hope you enjoyed this break from the sweets! These caprese ravioli were worth it, right? :) I'll be back to cookies and cupcakes and such next week. :)
❀
100% Whole Grain Caprese Ravioli
Prep Time:
Cook Time:
Ready in:
Yield:

24 three inch ravioli
Ingredients
Directions
For the pasta dough:

Mix eggs and flour together. It might be a little workout. It shouldn't be sticky at all and you shouldn't have to add more liquid. If you're using spelt, you might have to add more spelt. I ran mine through setting 8 of 9 (thinnest) with my pasta maker. This is the only recipe I use for pasta and it's always come out delicious!

For the ravioli:

From the pasta dough above, cut out 48 circles. I used a little ravioli cutter, but you could use anything circular.
Top half of them with 2 basil leaves or 1 if you have large leaves, then the roasted tomatoes (one each or two roasted cherry tomatoes), and then the mozzarella balls.
Top this with the other 24 circular cut outs and pinch together with a fork. Make sure they're pressed well together because you don't want water to get inside.
Boil until tender (about 4-5 minutes for me, but I like them overdone).

For the pesto roasted tomato sauce:

Mix everything together, smashing the tomatoes with a fork if you like.
Mix with the ravioli and serve.
Notes
Yields 24 three inch ravioli, or enough for 4 people as an appetizer.
Source: Ravioli + Sauce idea from Proud Italian Cook – Caprese ravioli with roasted tomatoes, whose pictures of ravioli drove me wild. It only took a day before I couldn't resist anymore and had to make these.