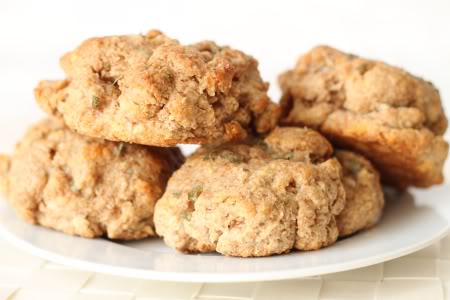 These are really, really garlicky. If you don't like garlic that much, you definitely won't want to add as much as I did. More of a garlic taste means less of a whole grain taste, so I'm all for adding copious amounts of the stuff.
Don't skip the garlic butter on top! They wouldn't be nearly as good without it. It's only 2 tablespoons spread out over 8 biscuits, so it's not that much. And really, these are meant to be eaten still warm. Cold biscuits just aren't the same.
If you don't have buttermilk, just add 1 tablespoon of lemon juice or vinegar to a 1 cup measuring cup. Fill with milk, and in 10 minutes, you'll have a perfectly good buttermilk substitute. It's not as good as the real stuff, but it's pretty close.
Grain-free? Try these keto almond flour biscuits. These paleo biscuits also look fantastic!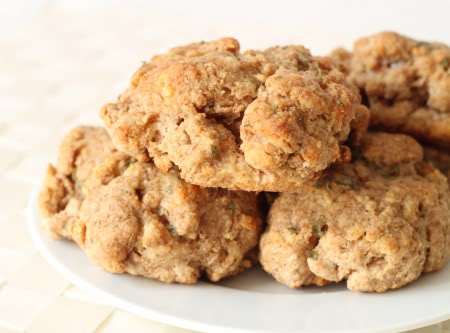 ❀
100% Whole Grain Cheddar Garlic Biscuits
Prep Time:
Cook Time:
Ready in:
Yield:

8 medium-sized biscuits
Ingredients
For the biscuits

2 cups (260 grams) whole spelt, whole wheat pastry, or whole wheat flour (see my Ingredients writeup)
4 teaspoons baking powder
1/2 teaspoon salt
1/2 teaspoon garlic powder
1/4 cup (55 grams) butter, chilled
3/4 cup (90 grams) grated cheddar
1/2 - 1 cup (120 – 235ml) buttermilk

For the garlic butter

2 tablespoons (28 grams) butter
3/4 teaspoon parsley
3/4 teaspoon garlic powder
1 teaspoon lemon juice – I know it's a small amount but I think it's vital
1/8 teaspoon salt
Directions
Preheat the oven to 450 °F / 230 °C.
In a medium bowl combine the flour, baking powder, salt and garlic powder.
Cut the butter into the flour mixture until coarse crumbs are formed. You can use a fork or two knives, but I just work very quickly with my hands.
Stir in the grated cheese.
How much buttermilk you need will vary. I normally use 3/4 cup. You want the dough to come together, but you don't want it too wet and sticky. Be careful not to overmix!
Drop the biscuits on a Silpat, parchment paper or a lightly greased baking sheet. I like to flatten mine a little. I normally make 8 and they're a decent size.
Bake for 10 – 14 minutes or until lightly browned. They will take more or less time depending on how big you make them.
Meanwhile, prepare the garlic butter by melting the butter and then adding the other ingredients.
Right after you take the biscuits out, brush the garlic mix over the biscuits. Or just dip them in the butter.
Eat them up quickly while they're still warm! You will be sad and perhaps cry if you don't.
Notes
German bakers: With the fan, bake at 220°C for 8 – 12 minutes. I haven't tried these with German baking powder but I imagine that they'd work. I'll make these again at some point with the German stuff and update the post.
Recipe adapted from Whole-Wheat Buttermilk Cheese Biscuits – 100 Days of Real Food