I've tried so many types of granola and granola bars and they were all okay, but these bars are just amazing. And they're chewy! They're actually chewy. And they're not full of sugar like almost all of the other recipes.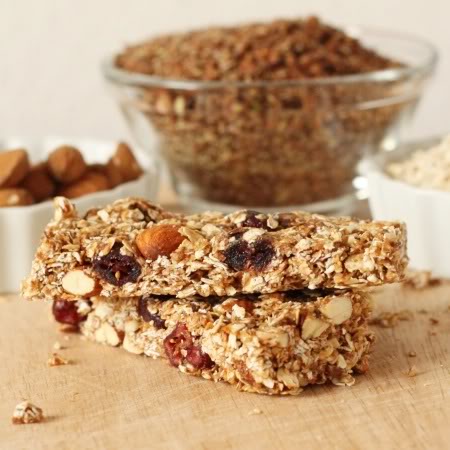 I know there's a bit of controvery about agave, but I won't get into it. I've tried it with brown rice syrup but it didn't come out the same. It could have been that I forgot about the mixture and let it cook too long, but I'm not sure so I can't recommend it.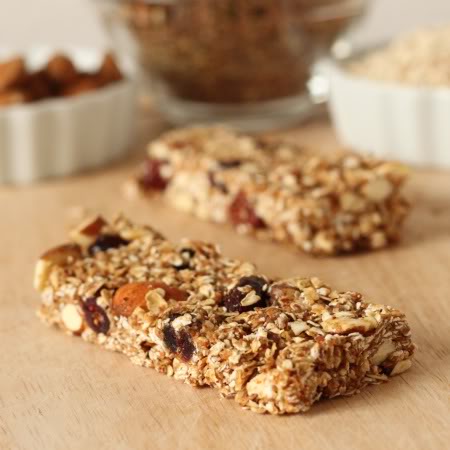 I have to add that someone picky around here, and it's not me for once, has hated all previous granola recipes but couldn't keep their hands off of these. I actually had to remove them from his reach.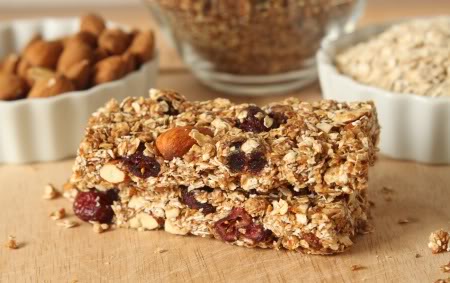 Ingredients:
2 cups rolled oats, non-contaminated for gluten-free
1/3 cup raw almonds (unsalted, unroasted) coarsely chopped
1/3 cup sunflower seeds (unsalted)
2 tablespoons ground flax seed
1/2 cup unsweetened dried cranberries (I used sweetened)
1/4 cup unsweetened dried apricots, coarsely chopped (I left these out)
1/4 cup almond butter
1/4 cup agave
1/2 teaspoon vanilla
1 teaspoon cinnamon
1/4 teaspoon nutmeg
1/8 teaspoon salt
1 tablespoon orange zest
Directions:
1. Preheat your oven to 350ºF / 177ºC. Line an 8-inch square baking pan with parchment paper, but be sure to leave a few inches of paper hanging over the edges so that the bars will be easy to remove from the pan.
2. On a large rimmed baking sheet combine the oats, almonds, sunflower seeds and ground flax. Bake for 5 minutes, stir, and then bake for another 5 minutes. Take out of the oven and place the oat mix in a large bowl. Add the dried cranberries and apricots to the bowl and stir.
3. Cook the almond butter, agave, vanilla, cinnamon, nutmeg, salt and orange zest in a small saucepan over medium-low heat for about 3 to 5 minutes. When it's bubbly, immediately remove from the heat and pour the mixture over the oat and fruit mixture. Mix well. I had to use my hands towards the end. Press the mix into the dish, making sure to press down in the corners in order to prevent crumbly bars.
4. Cool for 30 minutes in the fridge so that they harden a little. Remove from the pan and cut into 8 bars. Store them in an airtight container.
Source:
Chewy Almond Granola Bars
, adapted from Eating Well