A few days ago, the amazing Caroline from
chocolateandcarrots.com
, posted the best looking
brownies
I've ever seen. And they're caramel stuffed. I tried holding off on making them until I had a crowd to feed, but I only made it a few days. And I had no crowd.
In Germany, brownies are like dry cake (sorry, Germany, but it's true), so using brownie mix was out of the question. I have a great brownie recipe but I didn't really want to consume 3/4 cup of butter and white refined flour almost all by myself. So I created a "healthified" version which is seriously just as gooey and fudgy as normal brownies. No whole grain taste, no oily taste, and you won't miss the butter. These taste terribly unhealthy, which is always my goal.
I first tried this with all olive oil, but I didn't like the olivey taste. With half olive oil and half canola oil, it wasn't a problem at all. I don't even detect a difference between these and my normal recipe calling for 1 1/2 sticks of butter.
Has anyone made caramel brownies using homemade caramel? Please speak up if you have! I only have two bags of caramel left that I brought back with me from Texas. After they're gone, these caramel brownies won't be possible for another year or two and this is very, very sad.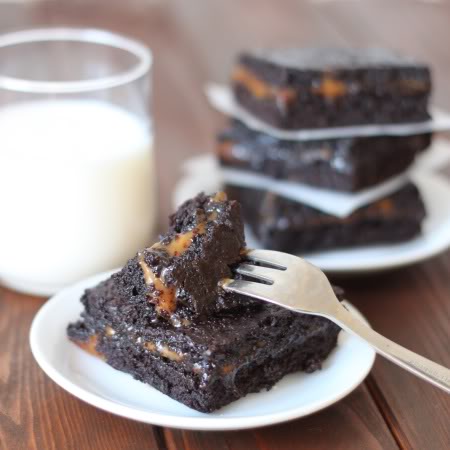 I put the fork with the brownie piece on the other brownie for a minute and it was stuck. It was the gooeyness.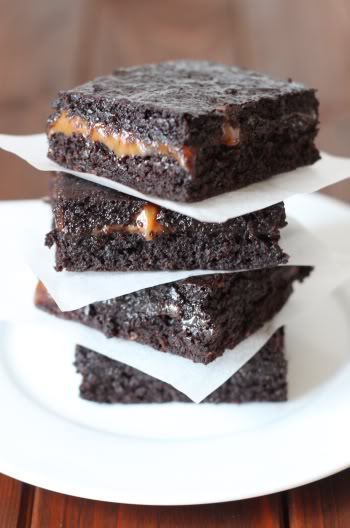 Please do not over mix or over bake these! They won't be nearly as good and gooey.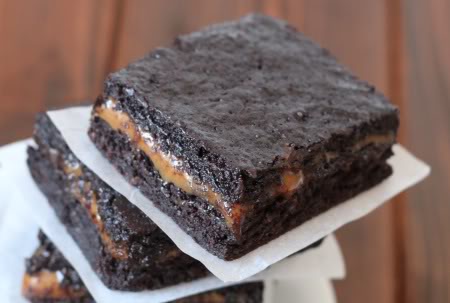 I made a leaning tower of brownies. I thought it was clever but I've been told it looks unnatural. Here it is anyway.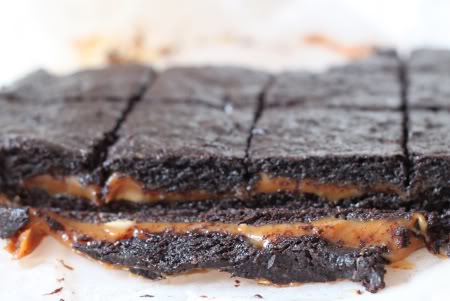 Ingredients:
1/4 cup (60ml) olive oil
1/4 cup (60ml) canola oil
1 1/4 cup (250 grams) unrefined or white sugar
*
3 eggs, room temperature
2 teaspoons vanilla extract
3/4 cup (85 grams) cocoa powder
3/4 cup (100 grams) whole spelt, whole wheat pastry, or whole wheat flour
1/4 teaspoon salt
8 ounces (225 grams) caramels
3 tablespoons (45ml) cream or half and half
Directions:
1. Preheat your oven to 350°F / 175°C.
2. Line an 8″ x 8″ (20cm x 20cm) pan with parchment paper, or butter with your preferred method. I like parchment paper because you can just lift the brownies out of the pan and not have to worry about scratching the pan when cutting the brownies. You could use a 9″ x 9″ pan, but remember to remove them from the oven a few minutes earlier.
3. In a medium bowl, beat together the olive oil, canola oil, and sugar. I used unrefined sugar and used a hand mixer in hopes of getting the large grains to dissolve a little. The first time I made these, just mixing with a spoon resulted in some sugar crunchiness in the baked brownie and that's no good. So definitely use a hand mixer for this step.
4. Add the eggs and vanilla and beat just until combined. Don't overmix!
5. In a small bowl, mix together the cocoa powder, flour and salt. Add the flour mixture to the wet mixture. It will be really gooey at first and you might start doubting me and my recipe, but just keep mixing until it's combined. And only until just combined!
6. Spread half of the batter into the prepared pan.
7. Bake for 12 minutes (10 minutes if using a 9″ x 9″). Take out of the oven and let cool. If you used parchment paper, you can just take it out and put it on a cold counter and it'll be cool in about 8 minutes. If you have to cool it in the pan, wait about 20 minutes.
8. While it's cooling, make the caramel mix. Melt the caramel pieces and cream or half and half in a saucepan until melted.
9. Spread the caramel mixture over the cooked brownie. Add the rest of the brownie batter on top of the caramel mixture. Use your fingers or a spoon to make sure it's spread somewhat evenly over the caramel.
10. Bake for another 18 minutes. For the 9″ x 9″ pan people, perhaps about 15 minutes. The middle should be set, but a toothpick probably won't come out clean even when they're ready.
*
With this much sugar, the brownies are just as sweet as normal unhealthy brownies. Feel free to cut back on the sugar! (although I can't say how it'll affect the gooey texture).
German bakers: Look at the first comment for a recipe for homemade caramel or use gezuckerte Kondensmilch to make dulce de leche! Recipe for dulce de leche from David Lebovitz. It's super easy and the result is amazing. Thanks Katelyn and Sarah. :)