Happy surprise baby shower to Caroline! :)
I mentioned this in my guest post I did for Caroline, but her lemon blueberry scones post is the reason why I started blogging. Baking for myself is fun, but baking and taking pictures of it and then writing about it for the internet to see? So much better. I feel like I owe Caroline a lot, having given me this hobby that has enriched my life so much. I've never met her in real life, but I can tell she's just the sweetest person and if anyone deserves to have an awesome virtual baby shower, it's her.
I was so excited for Caroline that I asked a group of her blogging pals if they'd like to throw her a virtual baby shower. This was two months ago and it's been
so
hard to keep the secret (Caroline and I are exchanging emails about cupcakes right now and it's killing me not to hint at what she's going to wake up to!) but the day is finally here.
Caroline, I'm sure you are going to be an amazing mom and that is one lucky kid to be born into such a large and loving extended family. I wish you all loads of fun with your soon to be newest member!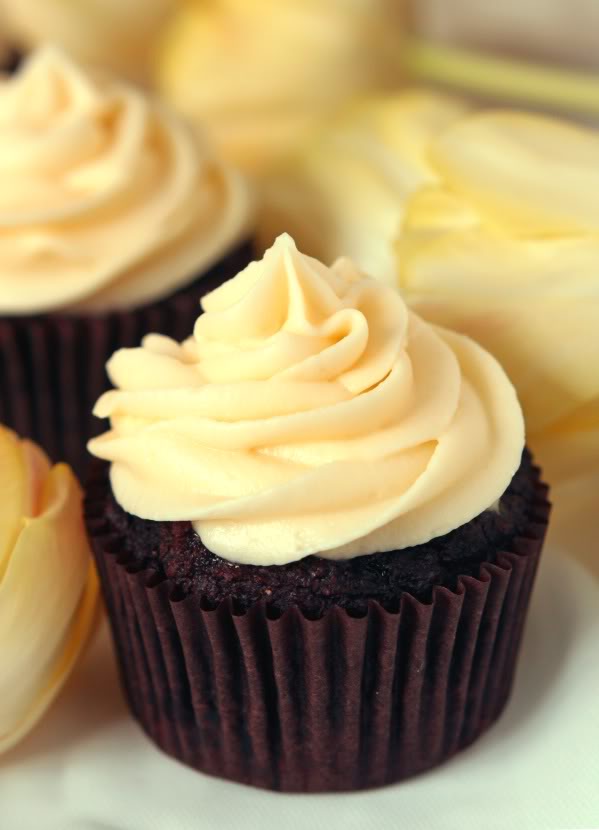 Caroline, whose blog is
Chocolate & Carrots
, once said that she hadn't yet made a chocolate carrot cake because she hadn't found the right recipe. So I made her one! I think that these taste like normal yummy chocolate cupcakes, but other people have said that they could taste the carrots (maybe I'm just too focused on the chocolate to notice). I don't like carrots but I definitely liked these. I'm not a huge fan of mixing carrot cake spices, which for me means ginger, cinnamon, and nutmeg with chocolate, so I left it at just cinnamon. I'm not convinced that I like cinnamon and chocolate together, but I had to add something in there to make it "carrot cake" and not just chocolate cake. Next time I'll try it without the cinnamon and see which is better.
These don't have much honey so they really rely on the chocolate chips to sweeten them up a bit. Don't skimp! And the icing also helps sweeten them up. The thing is, I don't want to eat all that icing you see on these cupcakes. I only wanted to make them look pretty for the occasion. If you want to be able to pipe the icing, I suggest this pipeable cream cheese frosting from Recipe Girl. But make sure you look at how much it yields before you begin. And if you don't care about piping it on, I like the cream cheese and Greek yogurt frosting recipe found here. It's not too sweet, has no butter and still tastes enough like cream cheese to make me happy.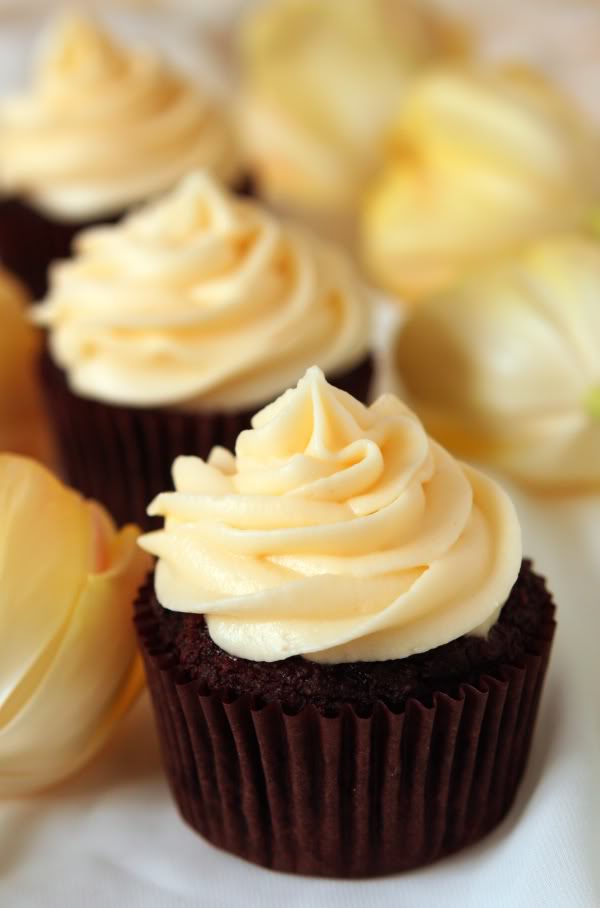 Ingredients:
1 cup + 1 tablespoon (127 grams) whole spelt, whole wheat pastry, or whole wheat flour
1/4 cup + 2 tablespoons (~30 grams) cocoa powder
2 teaspoon baking soda
1 teaspoon baking powder
1 teaspoon cinnamon
1/4 teaspoon salt
2 eggs
1/3 cup + 2 tablespoons (146 grams) honey
6 tablespoons unsweetened apple sauce
1/4 cup (60ml) olive oil
2 teaspoons vanilla
10.5 ounces / 300 grams carrots
1 cup (180 grams) chocolate chips
Directions:
Preheat your ove
n to

350°F / 175°C and l
ine a 12 cup muffin tin with liners
.

In a medium bowl, combine the flour, cocoa powder, baking soda, baking powder, cinnamon and salt. In another medium bowl, whisk the eggs and add the honey, apple sauce, olive oil, and vanilla. Using the fine grater of your food processor, process the carrots. There might be some chunks that get stuck at the top, but we don't want those. Measure out 270 grams of carrots and mix them into the wet mixture. Add the wet mix to the dry and mix only until combined. Fold in the chocolate chips (don't skimp! ;)). Divide into muffin cups (about 2/3 full) and bake for 17 – 20 minutes or until a toothpick inserted in the middle comes out clean. But be careful because it could be a chocolate chip that you're hitting. So try a few areas if you're not sure. Turn out onto a wire rack and let cool completely before icing.
Here's what they look like naked and in much better lighting. I forgot the chocolate chips and didn't realize it until they were in the oven. I took them back out and dumped in some chips, which is why all mine chocolate is lumped together. Don't forget the chocolate and this won't be a problem. :)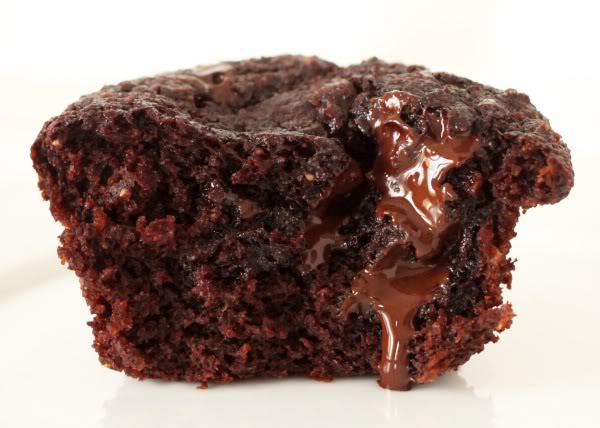 A big thank you to Amanda, Amy, Brandi, Bree, Cassie, Erica, Lauren, Lauren, Miryam, Rachel, and Sara! And an especially huge thank you to
Heidi
, who will be giving birth any day now but still time found to take part in this baby shower. :)
Go check out what they've whipped up!
Healthy Food For Living –
Carrot Cake Colada
Bran Appetit –
Strawberry Mint Sparkling Lemonade
Savory:
Baked Bree –
Pancetta and Chive Quiche
Simply Whole Kitchen –
Mini Quinoa Bites with Goat Cheese Pesto
Pastries:
Food Doodles –
Chocolate Peanut Butter Cream Filled Whole Wheat Cream Puffs
Kevin & Amanda –
Baby Cinnamon Buns
Desserts:
Baked by Rachel –
Mini Lemon Lime Cheesecakes
Bake Your Day-
No Bake Lemon Cheesecakes with Lemon Blueberry Sauce
Eat Good 4 Life –
No Bake Mini Raspberry Cheesecakes
Fearless Homemaker –
Angel Food Cupcakes with Whipped Vanilla Cream
Itzy's Kitchen –
10 Grain Chocolate Chip Cookies
Keep It Sweet –
Peanut Butter Cake with Salted Caramel Cream Cheese Icing and Chocolate Ganache
Texanerin Baking –
100% Whole Grain Chocolate Carrot Cake Cupcakes