Cinnamon apple crackers don't appear to be a thing. These are not nearly sweet enough to be cookies, so they're not cookies, so I'm going with crackers. Tiny pieces of dried apple, cinnamon and nutmeg. In a crispy cracker. It exists now!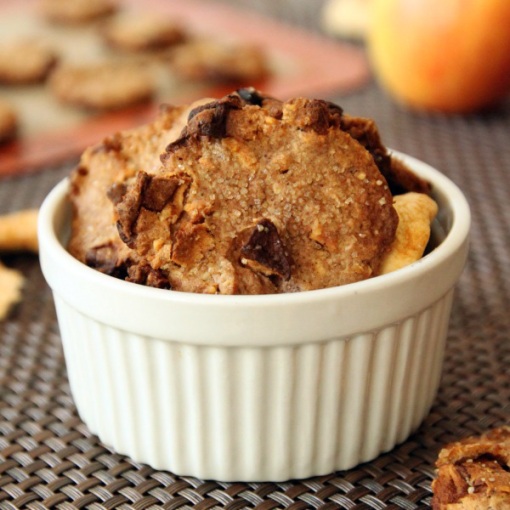 When Natalie posted a link to her cinnamon spelt crackers the other day, I knew I had to make them and involve apples somehow. Apple mania happening over at my place right now. But starting October 1, I'll allow myself to dig in to my canned pumpkin stockpile that I've been hoarding and then I'll have nothing to do with apples. I'll probably even start to shun them. When the only fruit you have for months is apples and oranges, you'd hate them too.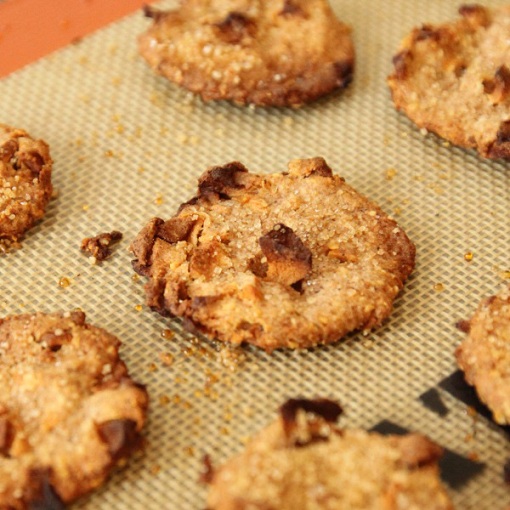 The one difficulty I had was a few of the apple pieces almost burned. Just make sure that no little corners of the apple are peeking out. Just push them into the dough a little and they should be fine. If some pieces brown too much for your liking, it's easy to pick them out.
When I took them out of the oven, I was disappointed at first because I thought that they were too soft. But it turns out that they harden up as they cool, so don't stick them back in the oven thinking that they're not done. Burned apples = bad.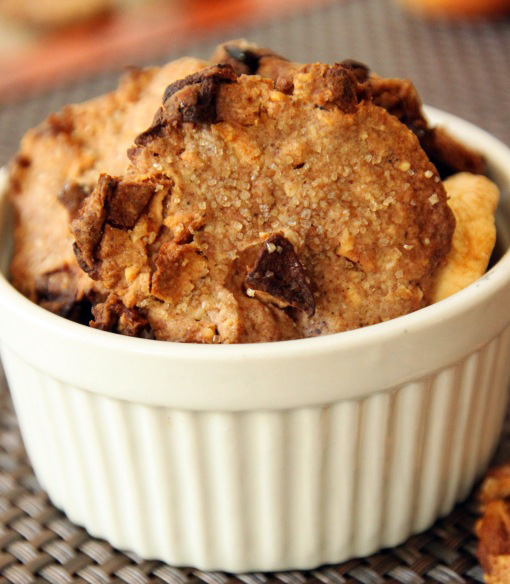 ❀
100% Whole Grain Cinnamon Apple Crackers
Prep Time:
Cook Time:
Ready in:
Yield:

40 crackers
Ingredients
1 cup (130 grams) spelt or whole wheat flour
1/2 cup (35 grams) traditional or old-fashioned oats
1/2 cup (45 grams) almond meal, ground almonds, or almond flour (or more whole wheat flour)
1 tablespoon ground flaxseed (optional - left this out)
1 tablespoon cinnamon
1/2 teaspoon nutmeg
100 grams dried apples, finely chopped (you can use more or less apples)
1/2 tsp salt
1 teaspoon baking powder
2 tablespoons raw sugar
5 tablespoons (70 grams) cold coconut oil1 or normal butter, cut into 8-10 cubes
scant 1/3 cup (70ml) milk
a few tablespoons of flour to roll the dough out
raw sugar for sprinkling
Directions
Preheat your oven to 400°F / 205°C. Using a stand mixer with the paddle attachment, crush the oats by running the mixer for about 2 minutes on medium. Add the rest of the ingredients to the bowl except for the butter and milk. Mix well and then add the butter. Mix on slow until the butter is well incorporated and the drizzle in the mix and continue stirring for about 20 seconds, when large chunks will begin to form. It shouldn't stick to the sides of the bowl; if it does, add more flour. If it doesn't ball up, add about a teaspoon of milk at a time until it does.
Form a ball with the dough and divide in half. Using two Silpats (I like the roll dough between two Silpats), very lightly floured, or using another floured surface, roll one ball into a rectangle, flatten with your hands, and then use a rolling pin to get the dough about 1/4 inch thick. I did some even thinner and enjoyed those as well. If the dough sticks, flour the rolling pin or the top Silpat again.
Cut the dough however you like. You can use cookie cutters, a pizza butter or just a knife. Transfer the crackers onto a Silpat or parchment paper lined baking sheet. It's okay to place them close together because they don't really expand. Do leave a little room, though. Sprinkle some raw sugar on top because although the dough tastes sweet now, they're not that sweet after baking.
Bake for 8 - 10 minutes or until bottoms are golden brown. I would watch the first batch very carefully if I were you. If you find that the crackers brown too quickly, turn the oven down 25 degrees for the next batch. It all really depends on how thick exactly you roll them out. Yields about 40 1x2 inch crackers.
Notes
I only have access to the refined kind, which has absolutely no coconut flavor. If you use the unrefined kind, which does taste like coconut, I think these might taste a bit strange.
Adapted from Cinnamon Spelt Snack Crackers