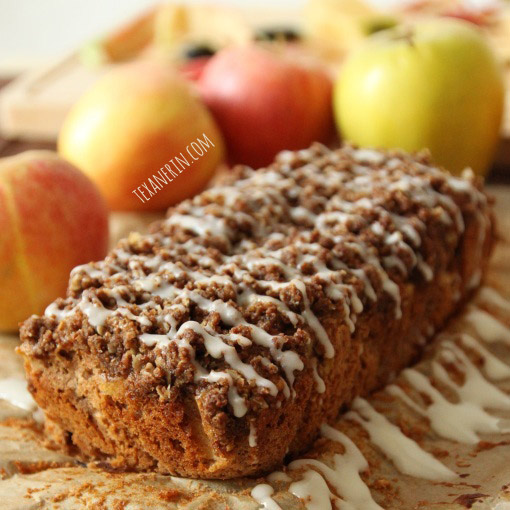 Update: Using vital wheat gluten and ground flax seed seems to have solved the "looseness" of this bread so I've added them to the recipe. Thanks Paula! :) Several people have made this and only had positive feedback to give so don't be afraid to try!
This bread has the most amazing flavor but… the texture isn't exactly perfect. When you cut into it, it might fall apart a little. Which is just weird because it is moist. Moist + "loose." But that's cool because it's full of cinnamon and apples. That makes up for it. And the only place I had to transport it was from the table to my mouth. It survived the journey just fine.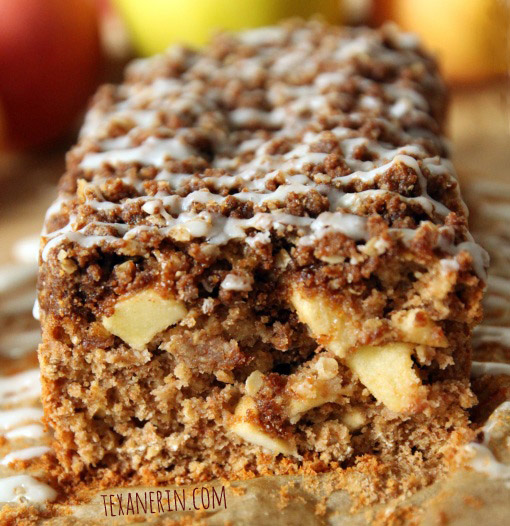 And look at that streusel topping! I suppose this apple bread is more like cake than bread. Definitely feel free to bake it in a cake pan! Just be sure to reduce the baking time by quite a bit.
That glaze was so unnecessary. Me being me, I wanted to make it "pretty." But if you want to make some glaze, it's just powdered sugar and a little apple juice.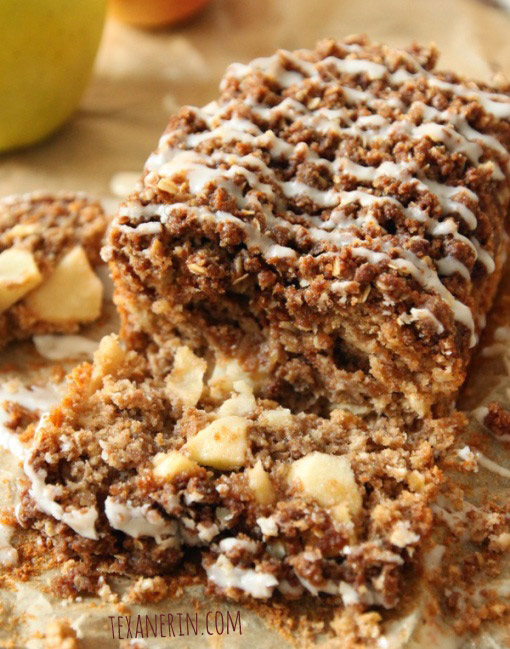 This apple oatmeal bread is hands down my favorite quickbread recipe. Healthified or not. It's full of whole wheat flour but you honestly can't even taste it! It tastes just like a regular apple loaf made with all-purpose flour. That's all thanks to the large amount of cinnamon.
If you're worried about using all whole wheat (or whole spelt) you could use white whole wheat flour. It has all the nutrition of regular whole wheat flour but is much less mild! But honestly – this loaf doesn't taste healthy at all!
I haven't tried it, but I think this would also be great with raisins instead of apples. I've made yeasted cinnamon bread before but never a quickbread. Let me know if you try it!
❀
100% Whole Grain Cinnamon Apple Oatmeal Bread
Prep Time:
Cook Time:
Ready in:
Yield:

2 4" x 8" loaves
Ingredients
Bread:

1 cup (130 grams) whole wheat flour or spelt flour
1/4 cup (20 grams) oat flour1
1 1/2 teaspoon baking powder
1/2 teaspoon baking soda
3/4 teaspoon salt
1 tablespoon cinnamon
1/2 teaspoon ground nutmeg
1 1/8 (100 grams) cup quick oats2
2 teaspoons ground flax seed
2 teaspoons vital wheat gluten
2 eggs
1/2 cup (160 grams) honey
1/4 cup (60ml) olive oil (not extra-virgin) or canola oil
2 teaspoons vanilla
1/4 cup (60ml) apple juice or milk
2 cups (220 grams) chopped apples

Streusel:

6 tablespoons whole wheat or spelt flour
6 tablespoons coconut sugar or brown sugar
4 tablespoons coconut oil or normal butter, softened
2 tablespoons quick oats
2 teaspoons cinnamon
Directions
Preheat the oven to 325°F / 162°C. Prepare two 4" x 8" loaf pans by lining them with a piece of parchment paper. You could use baking spray, but I think it's easier when you have streusel to just lift the loaves out of the pan.
Prepare the streusel by combining everything together in a small bowl. I used a fork. Set aside.
In a large bowl, sift together the the dry ingredients (through ground flax seed).
In a medium bowl, whisk together the rest of the ingredients except for the apples.
Add the flour mixture to the wet mixture and stir just until combined. Fold in the apples.
Divide the batter among the two pans, sprinkle on the streusel, and bake for about 28 - 30 minutes, or until a toothpick inserted in the center comes out clean. A little sticky is okay, but not wet.
Let the bread cool in their pans for 10 minutes and then let cool on a wire rack.
Notes
To make oat flour, grind 20 grams of oats in a coffee grinder or a food processor.
To make quick oats, pulse traditional rolled oats in your food processor a few times until they're broken up and resemble quick oats.