These cranberry orange oat muffins are made healthier with whole grains and less sugar! Packed with orange flavor, you can't even taste that these are healthier!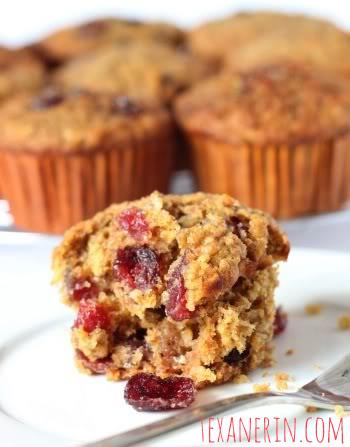 It's November. Does this mean I can post cranberry recipes now? Because I've been waiting since January to share these cranberry orange muffins with someone!
When looking for something healthy to make, my first stop is usually EatGood4Life. Miryam's blog was the first one that really got me into whole grain baking. Everything I've made from there (and believe me, I've made a lot) has been fantastic. She also makes everything whole grain and uses olive oil in almost everything. I actually learned that from her. :)
These cranberry orange oat muffins couldn't be any more healthy and they're actually filling. I like filling muffins. Cakey muffins are nice too, if I want a cupcake. For breakfast I want something a bit more filling and nutritious. And my mother-in-law actually said that these were her favorite baked good out of all the things I had made for her. So they must be good, right? ;)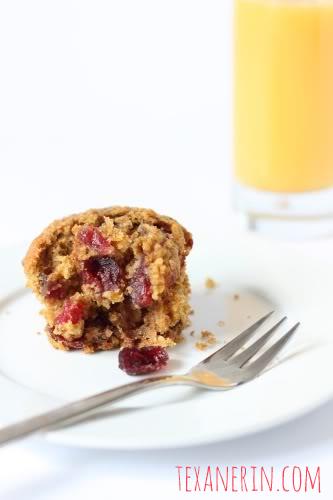 Because of my whole-grain-taste-dislike, I added lots of orange flavor to these. Just replace the orange juice with milk and leave out the zest if you don't like orange. Just note that the whole grain taste might be more apparent since you don't have the orange flavor to cover it up.
Sometimes I'm in the mood for something orangey during the summer and oranges are oddly hard to find and / or expensive then. So during the winter, I zest all my oranges, wrap the zest in plastic wrap, and put it in a little plastic spice container in the freezer. Fresh is of course better, but I love having orange zest handy all the time.
If you like things on the sweeter side, sprinkling some coarse sugar on top of these zingy cranberry orange oat muffins before baking gives the top a lovely texture and a little extra sweetness.
❀
100% Whole Grain Cranberry Orange Oat Muffins
Prep Time:
Cook Time:
Ready in:
Yield:

12 muffins
Ingredients
1 cup (130 grams) whole wheat or whole spelt flour
2 tablespoons wheat germ
2 tablespoons wheat bran
1 1/2 teaspoons baking soda
1 1/2 cups (120 grams) quick oats1
1 cup (120 grams) dried cranberries
Zest of 4 oranges, or about 2 tablespoons
1 cup (240ml) orange juice
1/4 cup (60ml) olive oil – I used extra-virgin
1/4 cup (80 grams) honey
1 teaspoon vanilla extract
1 egg, room temperature
1/2 (120ml) cup boiling water
Coarse sugar for sprinkling on top (optional)
Directions
In a large bowl, mix together the dry ingredients, including the zest.
Add the wet ingredients to the dry mixture, stirring in the boiling water last.
Preheat the oven to 375°F / 190°C and line 12 muffin cups with liners. After mixing everything together, the batter needs to sit 15 minutes in the bowl, so if your oven only takes 5 minutes to preheat, let your batter sit 10 minutes first.
Fill your muffin liners. In my pan, I have to fill them all the way to the top.
Sprinkle with coarse sugar, if using.
Bake for about 16 – 18 minutes or until a toothpick inserted in the middle comes out clean.
Remove muffins from pan and cool on a wire rack.
Notes
To make quick oats: pulse rolled / traditional oats in your food processor or a blender for about 5 seconds.
Adapted from EatGood4Life