These yeast-free dinner muffins are made with whole spelt and stay fluffy for days!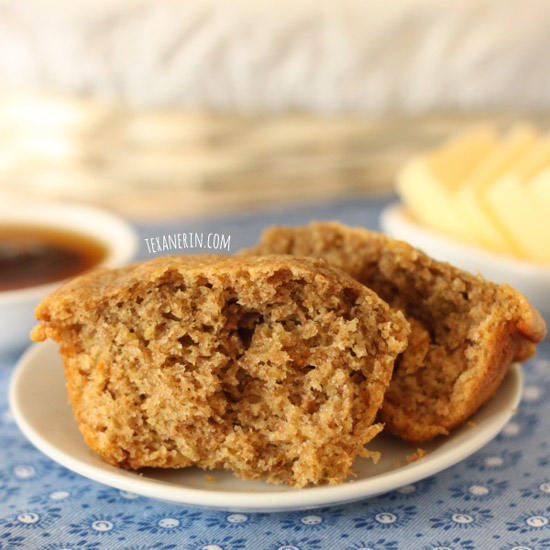 I think I've mentioned it before, but I've tried making 100% whole grain dinner rolls so many times and failed. They're never fluffy like I want them to be and they taste way too healthy. Luckily, I don't need to try anymore because I have these. Yay!
I really wasn't expecting them to be that good but they are. When I still had some left, I woke up each morning, eager to get to the kitchen to get my hands on one of these. Or two. And I was so enthusiastic about scarfing them down that I might have choked once or twice.
Like the donuts in my last post, I wasn't really able to capture how fluffy these are. They're heavenly. And another bonus with these is that they retain their fluffiness on the second and third day and you don't even need to heat them up in the microwave like you do with a normal whole grain dinner roll.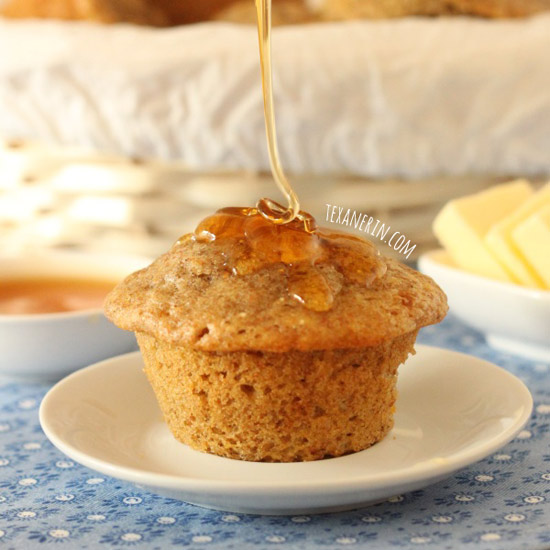 These don't have yeast and they don't need any rising time. They're basically fuss-free, with the small exception of beating egg whites. But really, that adds like a minute to the whole process.
These are SO good with honey! And I think I even prefer them plain. I'm kind of weird in that I prefer eating really good bread-like things plain.
I had a big problem getting these out of the pan even though I greased it well, or so I thought, so I'm recommending the use of muffin liners.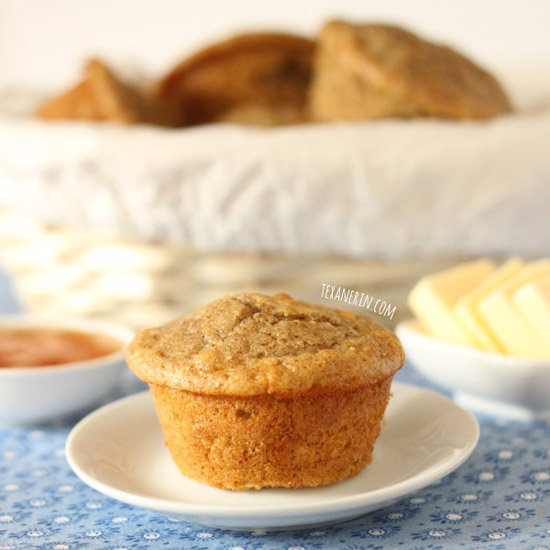 You can easily halve this recipe or even only make 1/4, but I think you'd be awfully sad with only four muffins.
I tried this once with whole wheat and they weren't fluffy and even dry. But I tried it with the extra two tablespoons I thought might be needed because of the extra liquid I added (the original recipe calls for brown sugar, not honey). If you really want to try these with whole wheat, use the 2 1/2 cups, but not the extra two tablespoons. I haven't tried it but I'm assuming it'd work. But I know that using whole spelt most definitely results in a light and fluffy muffin. :)
These dinner muffins would be great alongside this Gluten-free Chicken Pot Pie from Gluten-free Palate! It would be one most delicious, carby meal. :)
❀
100% Whole Grain Dinner Muffins
Prep Time:
Cook Time:
Ready in:
Yield:

16
Ingredients
2 1/2 cups + 2 tablespoons (315 grams) whole spelt flour
1/4 cup (34 grams) yellow cornmeal
4 teaspoons baking powder
1 1/2 teaspoon baking soda
1 teaspoon salt
1/4 cup (80 grams) honey
4 eggs, separated
6 tablespoons (88ml) olive oil
2 cups (473ml) buttermilk
4 tablespoons sour cream or plain yogurt
Directions
Preheat your oven to 350°F / 175°C.
Line 16 muffins cups with liners. If you like, you can fill the unused cups one-third full with water in order to prevent warping, but I've never had this problem.
In a large bowl, stir together the flour, cornmeal, baking powder, baking soda and salt.
In a small bowl, whisk together the honey, egg yolks, olive oil, buttermilk, and sour cream or yogurt until blended.
Stir the wet mixture into the dry mixture just until combined. The batter will be a little lumpy, but whatever you do, don't over mix!
In another medium clean bowl, using a hand mixer with clean beaters, beat the egg whites on medium just until they form soft peaks.
Gently fold the egg whites into the batter until blended, but do not over mix. We don't want dry or non-fluffy muffins!
Spoon the batter into the muffin liners, filling each cup almost completely.
Bake for 18 minutes until they're golden and a toothpick inserted in the middle comes out clean. The first few minutes in the oven, I was worried as the batter had risen and spread so that the muffins were touching each other. They somehow shrunk after a few minutes and went back to "normal."
Transfer the pan to a wire rack and let the muffins cool for 5 minutes and then turn out onto a wire rack.
Adapted from Whole Wheat Dinner Muffins, who adapted it from The Williams-Sonoma Cookbook