I was so excited to create and share my healthier Thanksgiving recipes, but there simply wasn't time to do everything I had in mind. This is the last thing that I'll able to share before the big day. So happy Thanksgiving! Happy Thursday to everyone else. :)
This cake is in no way healthy. But have you ever had Paula Deen's pumpkin gooey butter cake? It's worth all the butter and sugar.
This version doesn't use a cake mix, it's whole grain and it uses a little less sugar, so I guess it's an improvement at least.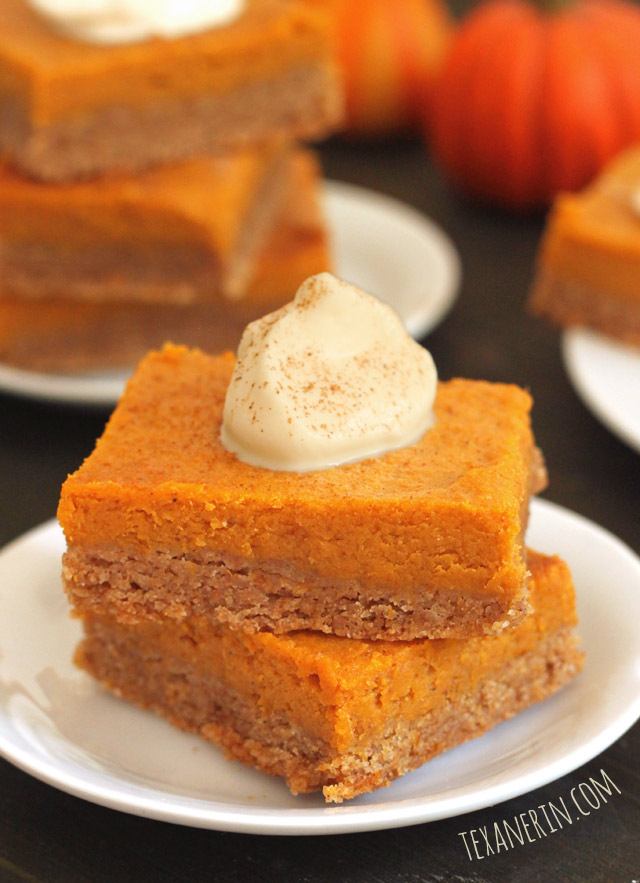 Here you can see the gooeyness. This is way better than pumpkin pie. No pesky crust to get in the way.
I used canned pumpkin but homemade should work, too! Here's how to peel, seed and cut a fresh pumpkin.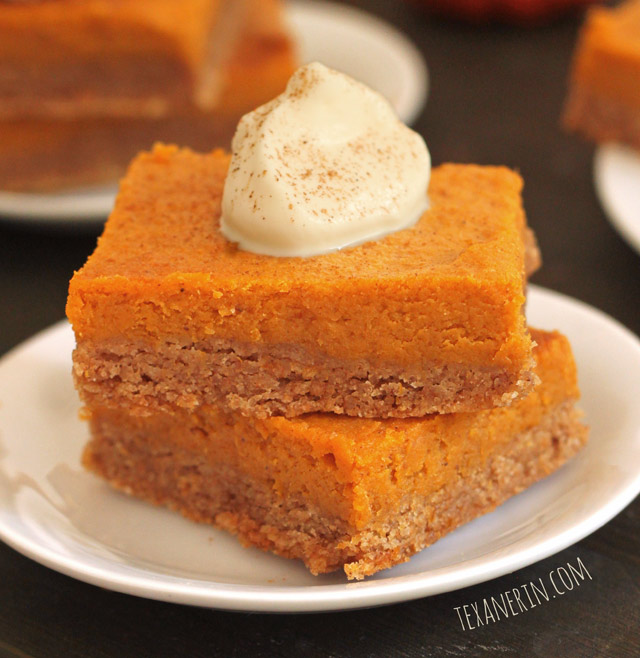 ❀
100% Whole Grain Gooey Pumpkin Butter Cake
Prep Time:
Cook Time:
Ready in:
Yield:

16 servings
Ingredients
Cake layer:

2 cups (260 grams) whole spelt, whole wheat pastry, or whole wheat flour
1 cup (200 grams) unrefined sugar
1 1/2 teaspoons cinnamon
2 teaspoons baking powder
1/4 teaspoon kosher salt
1 large egg, room temperature
1/2 cup butter (113 grams / 1 stick), melted
2 tablespoons milk

Cream cheese layer:

8 ounces cream cheese (225 grams), softened – can be 1/3 fat
1 15-ounce can (425 grams) of pumpkin puree
3 large eggs, room temperature
1 teaspoon vanilla
1/2 cup (113 grams / 1 stick) butter, melted
10 ounces powdered sugar
1 teaspoon cinnamon
1/2 teaspoon nutmeg
1/2 teaspoon ginger
Directions
Preheat your oven to 350°F / 175°C and lightly grease a 9x13 pan and set aside.
Stir together the flour, sugar, cinnamon, baking powder and salt.
Add the egg, melted butter and milk and mix on low. It will be very thick.
Spread it out evenly over the bottom of the prepared pan.
Mix the cream cheese and pumpkin together on medium for 3 minutes until light and fluffy.
Then add the eggs, vanilla and melted butter and mix on medium until the batter is well combined.
Add the powdered sugar, cinnamon, nutmeg and ginger and mix until completely combined and smooth.
Pour this batter on the top of the bottom layer.
Bake for 45 – 50 minutes. Be careful not to overbake! It'll look like it's not done, but it really is.
Adapted from Gingerbread Bagel's Pumpkin Chocolate Chip Gooey Butter Cake