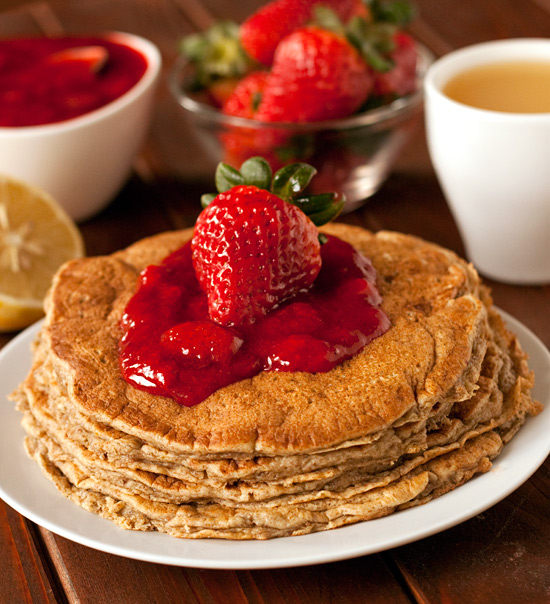 I've seen ricotta pancakes around for a while and finally tried them. They ended up basically just like these cottage cheese pancakes, which I actually prefer. Plus cottage has way more protein + less fat than ricotta! That's not to say that I won't be making these again. This recipe happens to be perfect when you have a little ricotta leftover.
But if the thought of cottage cheese creeps you out, then here you go! You can't really taste the ricotta, but there are some streaks of ricotta once you cut into them. So if you have picky eaters who won't be present when making the pancakes, the cottage cheese might be a better option (you can't taste or see it!)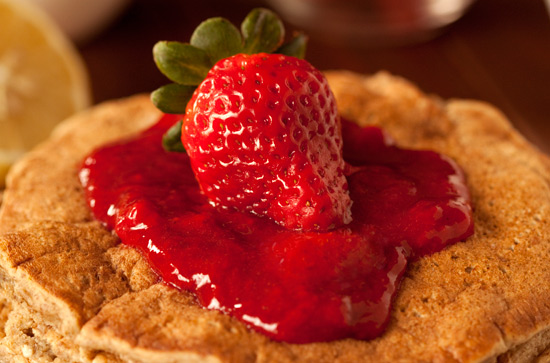 They're nice and lemony but if you don't like lemon, go ahead and leave it out and add chocolate chips, blueberries or whatever you like. I guess blueberries would be best with these but because of the $1.50/lb sale on strawberries, and they're so cheery, you got strawberries!
Maple syrup tasted a little weird with these. This honey sweetened strawberry sauce was a much better fit and if you want to go the blueberry route, this blueberry maple syrup is pretty awesome. And both are super easy and quick!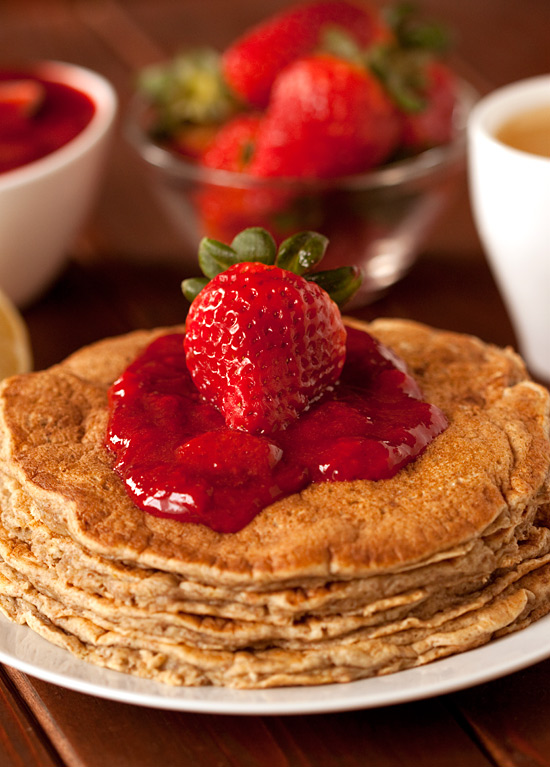 These have been sitting in the refrigerator for the last week, waiting for some light. Because, you know, you need light to take pictures. After one week, they're still just as good as right from the pan. So I'd probably double this recipe to have a bit more throughout the week!
❀
100% Whole Grain Lemon Ricotta Pancakes
Prep Time:
Cook Time:
Ready in:
Yield:

8 4" pancakes
Ingredients
3/4 cup + 2 tablespoons (118 grams) whole wheat or whole spelt flour
2 teaspoons baking powder
1 teaspoon baking soda
1/8 teaspoon salt
2 teaspoons unrefined / white sugar
1 cup (240ml) buttermilk
1/3 cup (4/5 dl) ricotta
1 egg
1 1/2 teaspoons lemon extract
3 tablespoons lemon juice
zest of 2 lemons
Directions
In a medium bowl, mix together the dry ingredients (flour through sugar) and set this aside.
In another medium bowl, mix the remaining ingredients. Add the dry ingredients to the wet mix and stir just until combined. Overmixing will result in some badly textured pancakes.
Cook in a medium non-stick pan over medium heat. If you usually spray your pan when making pancakes, then spray your pan. I didn't need to with mine. Cook about two minutes or until little bubbles have formed on top of the pancakes and then flip and cook another minute on the other side. Serve with strawberry, blueberry or whatever berry sauce you like!