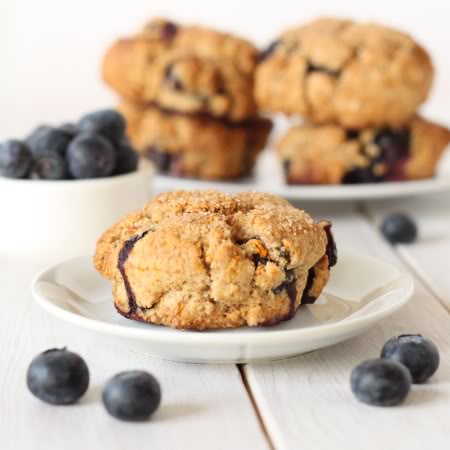 It's been a week since my last post because I had a bit of a scare at the beginning of the week and I've been trying to decide what to do about it.
I have every major symptom of diabetes. Every single one. When somebody pointed this out, I looked into it and went to the doctor and they tested my blood glucose. They said, "5.5 mmol/L. Great! You're fine. No problem! You don't need to do anything differently or to worry." So when I came home, I wanted to see just how "great" it was, played internet doctor and saw that my fasting value of 5.5 mmol/L is ONE tenth off from being pre-diabetes, and that was according to several reliable sources. I don't consider that great. I consider that terrible.
I thought about changing the kinds of things I post, but I don't think I will. You'll probably see some healthier recipes with less sugar, but I think what I'll do is post less, although as it is I only post twice a week. I eat almost everything I bake by myself and for every post I make, there are normally several "I have to make it perfect before I post it!" batches. So that's a lot of sugar and carbs. Maybe I'm just overreacting and I shouldn't worry but my levels are clearly too high. I'm going to start changing now before it's too late.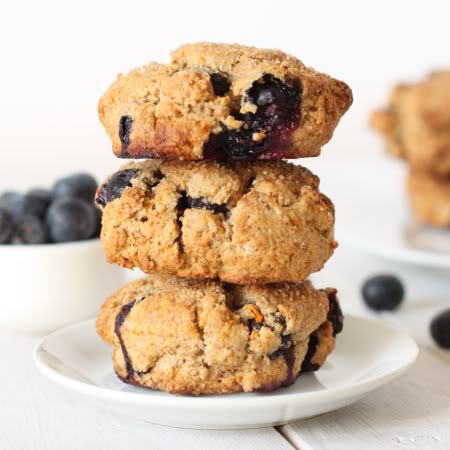 That was depressing. Let's talk about scones! Scones with berries even! These scones do have some sugar, but 1/4 cup spread out over 8 – 9 scones isn't so drastic. Of course no sugar would be better, but that's just not going to happen. I've posted an orange chocolate chip scone recipe before and although I love it, it uses butter. This one uses oil!
The texture is a little different, but it's not like I imagined it would be, which is like a muffin. They're actually crumbly, almost like a normal buttery scone. You can tell the difference between these and a normal Starbuck's scone the way I made them, but they're still delightful. And if you have access to white whole wheat and whole wheat pastry flour, I'm sure it would be much more difficult to tell the difference. Thanks to Cathy at What Would Cathy Eat for creating this fantastic recipe!
I sprinkled some unrefined sugar on top because of the nice crunch it adds. You can leave it out if you like, though!
❀
100% Whole Grain Orange Blueberry Scones (vegan)
Prep Time:
Cook Time:
Ready in:
Yield:

8-9 scones
Ingredients
3/4 cup (90 grams) whole wheat pastry flour
3/4 cup (90 grams) white whole wheat flour
3/4 cup (66 grams) oat flour (I use a coffee blender to make oat flour but you could use a food processor)
1 tablespoon baking powder
1/2 teaspoon baking soda
1/2 teaspoon salt
1/8 teaspoon cinnamon
1/4 cup light brown sugar
1/3 cup (35 grams) pecan halves, toasted and ground (I used almonds)
1/4 cup (60ml) organic canola oil or other neutral oil
2/3 cup (158ml) soymilk + 1 teaspoon cider vinegar (I wanted mine really orange-y and used orange juice)
1/2 teaspoon vanilla extract
grated zest of one small orange (I might have used the zest of 4 large oranges…)
1/2 cup dried blueberries (I used about 1 cup of fresh blueberries)
Directions
Preheat your oven to 400°F / 205°C. Mix the soy (or regular) milk with the vinegar and let stand for 5 minutes. If you're using orange juice, ignore this step. Meanwhile, mix the flours, baking powder, baking soda, salt, cinnamon and sugar in a large bowl. Stir in the ground pecans (or almonds).
Drizzle the oil over the flour mixture and mix with your hands until crumbly. Stir in the vanilla and about half of the milk / orange juice. Add the blueberries and add the rest of the liquid, a little at a time, until it comes together. I use almost all the liquid, but not quite. It'll depend on your flour. You don't want it to be too wet or the scones will end up more muffin-like. Don't over mix it, and if using fresh blueberries, be very careful. I use my hands instead of a spoon.
Get out a Silpat or line a baking sheet with a piece of parchment paper. Drop 1/4 cup of dough onto the Silpat shape it into a round disc. Repeat with the remaining dough and place the scones about two inches apart from each other. Sprinkle with some unrefined sugar if you like. Bake for about 15 – 17 minutes. They're best right out of the oven and become softer on the second day.
Adapted from Whole Grain Vegan Blueberry Scones