The other day I realized that after four months, there are no peanut butter recipes on here. That's just pathetic and has to be remedied right now.
You all kno
w Bridget
from
Bake at 350
, right? Her
Peanut Butter Chocolate Chip Bars
are the most heavenly mix of peanut butter and chocolate. I've made them as written with butter, lots of sugar and white flour and they're everything you could possibly want. Then there's my version with oil, whole wheat, less sugar (let's just say the all honey version didn't work out) and honey. Verdict? They're pretty close!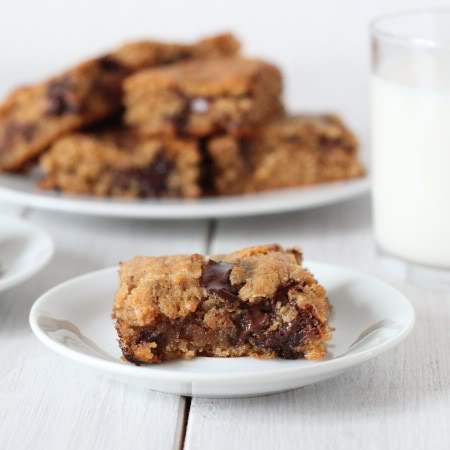 I have to admit that I used commercial peanut butter for this. I just don't think the natural stuff works out so well with baked goods. And by natural, I mean peanut butter with peanuts as the only ingredient listed and not Skippy or Jiff Natural, which I don't really think are natural. Those two would be just fine for this recipe!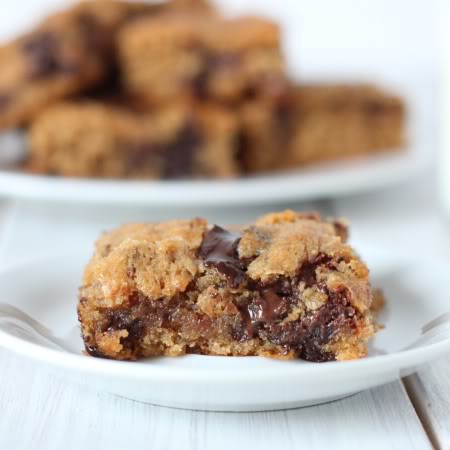 Something a bit odd is that the original recipe says to bake them for 30 – 32 minutes. I baked mine for 17 minutes and thought that they were just right. I know that using whole wheat, honey and less sugar (1/2 cup less!) changes things… but halving the baking time? My point: check at 17 but they could take longer.
1/4 cup + 2 tablespoons (88ml) canola oil
1/2 cup (128 grams) peanut butter (I used creamy –
not
natural!)
1/2 cup (100 grams) unrefined or coconut sugar*
1/4 cup (80 grams) honey
2 eggs
1 teaspoon vanilla
3/4 cup (98 grams)
whole spelt, whole wheat pastry, or whole wheat flour**
1/4 teaspoon salt
1/2 teaspoon baking powder
1 cup (180 grams) semi-sweet chocolate chips
* I will definitely reduce that next time as these are pretty sweet (but not sweeter than a normal brownie).
** I reduced the flour to 3/4 cup from 1 cup to make them gooier.
Directions:
Preheat your oven t
o

350°F / 175°C

. Lightly grease an 8 x 8″ pan or get out a piece of parchment paper to put in the pan. In a l
arge bowl, mix together the oil, peanut butter, sugar, honey, eggs and vanilla. In a small bowl, mix together the flour, salt and baking powder. Add the dry mix to the wet mix and be careful not to over mix. Then fold in the chocolate chips. Spread over the bottom of the pan and bake for 17 to 20-something minutes until the center is set (I took mine out once the middle was no longer jiggly but I like my brownies gooey).
Source:
Peanut Butter Chocolate Chip Bars
from
Bake at 350
German bakers: I use the peanut butter that "the black dog" Netto occasionally has on sale. It's just about as good as the American peanut butter I brought with me and it was only 1.59 Euro/350 grams. They have the same peanut butter at Strauss for 3.79 or something ridiculous. If you know of another good brand, please leave a comment!