Need something to make tonight? Make this. It's quick and easy to put together and fun for the kids. They don't have to know that it's whole grain.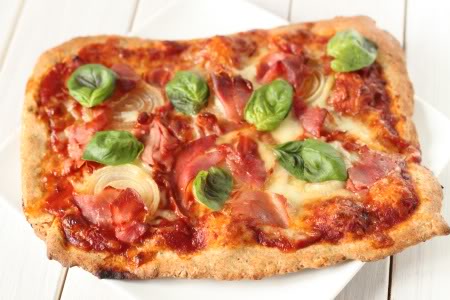 Pizza doesn't have to have such a bad reputation. This dough has 25.8 grams of protein and 22.6 grams of fiber. Eat half the pizza and that's a lot of protein and fiber. Load it with homemade sauce, a little cheese, and lots of vegetables. That sounds healthy to me.
I started with Smitten Kitchen's
pizza recipe
, as written. It was great. Then I started off with a little whole wheat flour and kept adding more every time I made it. Finally, I just started using 100% whole wheat or whole spelt and now I prefer it that way and think that normal refined flour pizza is nothing special. Still, unless you're used to whole wheat, I'd start off with 1/3 whole wheat and work your way up from there. Can't eat wheat? Try this
gluten-free pizza
!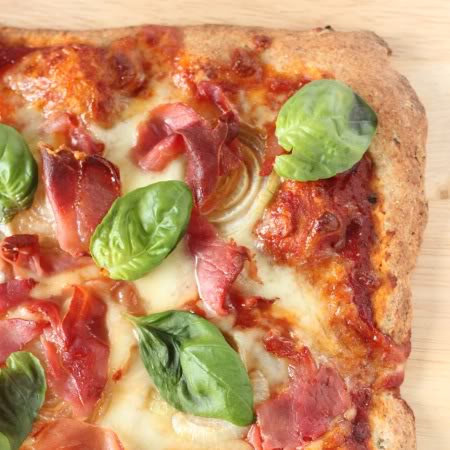 I think that the pizza stone makes a huge difference. I made this on a pizza pan for a few months and it was fine, but on the stone, it's just out of this world. When we visited Texas last time, Mr. Texanerin had to carry back my beloved pizza stone in his carry-on. We're serious about pizza. This is, on a stone, hands down my favorite pizza. Ever. It's just so crisp and perfect.
We have this every Monday. Mr. Texanerin makes the dough, I design the pizza, and then we sit in bed and watch Sunday night television. It makes Mondays so much better.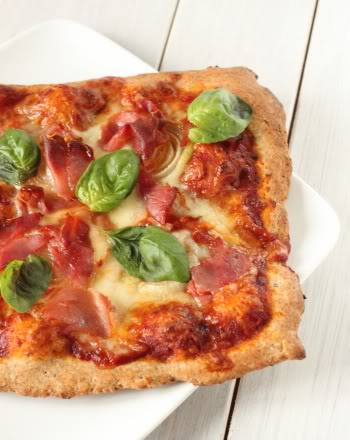 Ingredients:
6 tablespoons (90ml) warm water
2 tablespoons (30ml) white wine (or water)
3/4 teaspoon active dry yeast
1/2 teaspoon honey (I sometimes leave this out)
1/2 teaspoon salt
1 tablespoon olive oil
1 teaspoon Italian seasoning
1 1/2 cups (195 grams)
whole spelt, whole wheat pastry, or whole wheat flour
cornmeal
Directions:
1. In a medium bowl whisk together the wine, water and yeast until the yeast dissolves. Add the honey, salt, olive oil, and Italian seasoning and stir. Add the flour and mix together until it forms a ball. You might have to use your hands towards the end.
2. Cover the bowl and let it rise for 1 – 2 hours. The dough should double. If I'm in a hurry, I turn the oven on to the lowest setting for 2 – 3 minutes and let the dough rise in there. After the 1 – 2 hours, punch down the dough and keep it covered.
3. Put your pizza stone in the oven and then preheat your oven to its highest temperature. If you normally put cornmeal on the stone, go ahead and do that but I've never needed it. If you want to use a normal pizza pan or a cookie sheet, sprinkle it with cornmeal.
4. I roll my pizza out on a Silpat. If you prefer a floured counter, go ahead and do that. How thin you roll it out is up to you. My pizza is usually around 11″ x 13″.
5. I don't have a pizza paddle. I sprinkle a cookie sheet with plenty of cornmeal and put my rolled out pizza crust on that. If you do have a pizza paddle, do the same.
6. Design your pizza however you like. Slide the pizza from the paddle or cookie sheet onto your preheated pizza stone, or put the baking sheet in the oven as is. It took me several times to learn how to properly get the pizza on the stone, but it's not so bad after the first few attempts.
7. It only takes 5 minutes to bake this in my oven, with the fan on. It should be nice and crisp. If you use a cookie sheet or pizza pan, it'll take a little longer, about 10 minutes.

Yield:
Enough for two adults