These 100% whole wheat Irish soda bread muffins are quite a bit sweeter, moister and fluffier than your typical soda bread but are perhaps even more delicious! With a dairy-free option.
When I saw these Irish soda bread muffins last year on Chocolate Moosey, I had to make them immediately! They just looked perfect in every way. But I thought I'd go and make them 100% whole wheat + dairy-free and reduce the sugar a little so that I'd feel justified in sharing them with you. :)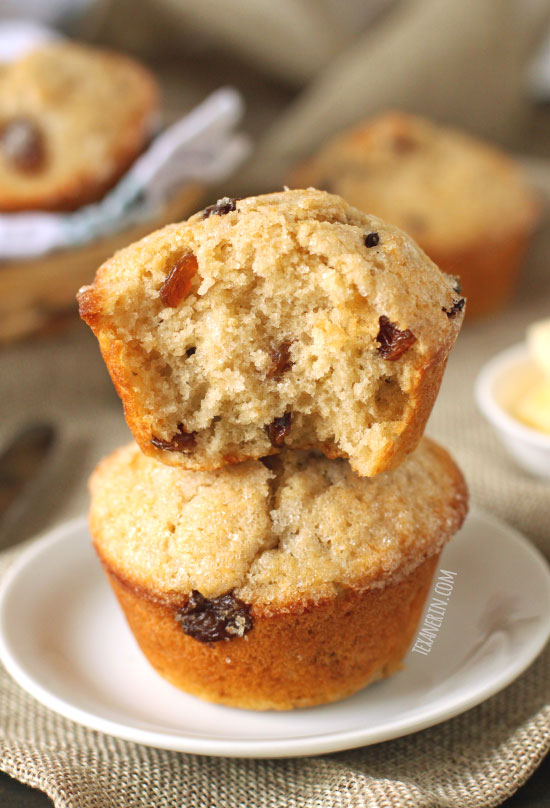 These buttermilk based muffins aren't really all that similar to traditional Irish soda bread but to be honest, I'd much rather have these. Right out of the oven, they're sort of fluffy, which I love – but Irish soda bread isn't typically fluffy. If you want them to be a little denser and more in the direction of traditional soda bread, let them sit for half a day or even longer.
I definitely recommend using white whole wheat flour in these muffins. I can imagine these would come out unpleasantly dense and grain-y tasting if you used regular whole wheat. If that sounds good to you, you can try it, but I just can't imagine them tasting nearly as good as the white whole wheat version!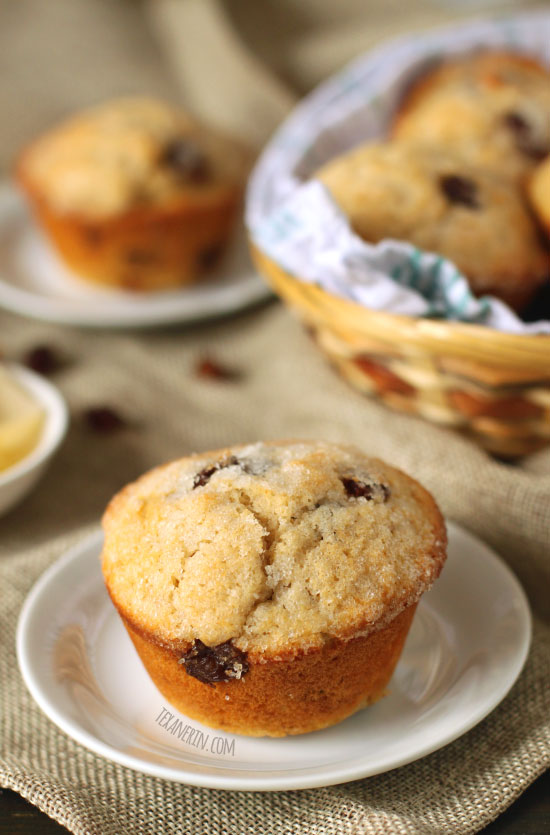 I reduced the sugar by a third, resulting in only 1/3 cup of sugar in 12 muffins, which boils down to 1 1/3 teaspoon per muffin. It sounds like nothing but with the help of some raisins, I'd say they're a cross between a sweet breakfast muffin and a savory muffin.
I desperately wanted to post something naturally green for St. Patrick's Day but I ran out of time, which by the way, is almost always the case in everything I do. If you're looking for something a little more festive (by festive I actually mean boozy) or just something sweeter than these soda bread muffins, try this totally from scratch Irish cream cake or these Irish cream brownies. Happy St. Patrick's Day! :)
❀
Irish Soda Bread Muffins (100% whole grain + dairy-free)
Prep Time:
Cook Time:
Ready in:
Yield:

12 muffins
Ingredients
2 1/4 cups (288 grams) white whole wheat flour
1/3 cup (76 grams) raw or granulated sugar + 1 tablespoon (13 grams), divided1
2 teaspoons baking powder
1/4 teaspoon baking soda
1/2 teaspoon salt
1 large egg, room temperature
1 cup (237 milliliters) buttermilk (for dairy-free, add 1 tablespoon of lemon juice or vinegar to a 1-cup measuring cup. Fill with DF milk. Let sit 5 minutes.)
1/2 cup (113 grams) coconut oil, melted2
2/3 cup (88 grams) raisins
Directions
Preheat the oven to 400°F (205°C). Grease a 12 cup muffin tin or line it with muffin liners.
In a large bowl, mix together the flour, 1/3 cup (76 grams) sugar, baking powder, baking soda, and salt.
In another large bowl, beat together the egg, buttermilk and oil. Add the dry mix to the wet and stir just until combined. Do not over mix!
Stir in the raisins.
Fill the prepared muffin liners 3/4 full and sprinkle with the remaining 1 tablespoon of sugar, if desired.
Bake for 15-17 minutes or until a tooth inserted in the center of a muffin comes out clean.
Let the muffins cool for 5 minutes in the pan and then remove to a wire rack to cool completely.
Cover and store in an airtight container up to 3 days.
Notes
The original recipe calls for 1/2 cup (100 grams) sugar. Use that if you want these to be more than just slightly sweet.
I used refined coconut oil, which doesn't have any coconut taste. If you use unrefined coconut oil, these muffins will likely have a coconut taste.
Adapted from Taste of Home, as seen on Irish Soda Bread Muffins on Chocolate Moosey