Hey, it's my first blogiversary! Yay! I'm a little surprised I made it because I'm pretty fickle. But it's been a lot of fun and I now feel like I have more of a purpose. Really. So thanks everyone. It wouldn't be nearly as fun if you all weren't reading and commenting. :)
I wish I had a birthday cake for today but all I have are these balls. Yup, more balls. After cleaning (er, shoving stuff into cabinets / closets) non-stop for a week and then planning Mr. Texanerin's surprise party, I'm exhausted. So no birthday cake today.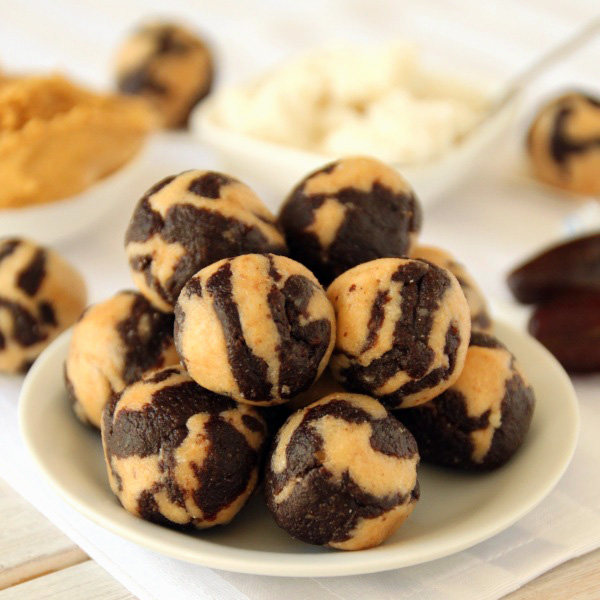 By the way, if you ever need a way to pull off a surprise party, just say that your colleague is paying you to make all the food for her husband's birthday party. This only works if you like to cook and bake. :) It was a nice plan because I didn't have time to do everything by myself so Mr. Texanerin unknowingly cleaned and helped cook and bake for his own party. And he didn't complain because, "Wow! You're going to get so much money for this!" Yeah! :D Then go to the movies, have the friends come over and pop everything in the oven, and return home on time so that the "colleague" can pick up the food. Easy! He was totally clueless.
Anyway, about these balls, there's no added sugar at all but they're still slightly sweet and they definitely satisfy my sweets cravings. You could add flax seeds, oats, peanuts, chocolate chips, or whatever else you want to add to these. They seem pretty flexible. If you're making these for the kids, I'm guessing they'd want a little added honey added in to the chocolate part. The chocolate part isn't super chocolately or sweet so add some chocolate chips if you want. These don't taste like peanut butter and chocolate fudge or anything like that. They're obviously healthy, but I still love them. Especially before my morning exercise.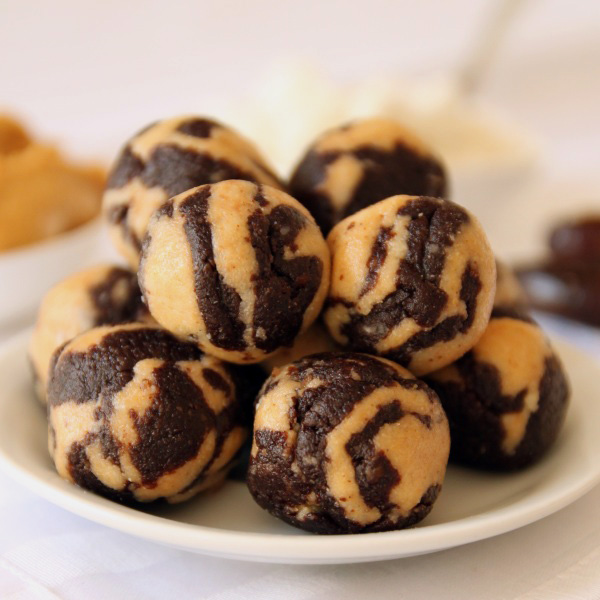 They stay soft at room temperature, but they're not gooey. Although if you live somewhere really warm, they might be gooey at room temperature. They get kind of crumbly in the fridge so I wouldn't recommend that.
You could also leave out the protein powder. I just added it for bulk. It's probably not necessary but they'll be a lot softer without it. Oh, and the predominant taste is coconut and peanut butter. The chocolate layer isn't all that strong.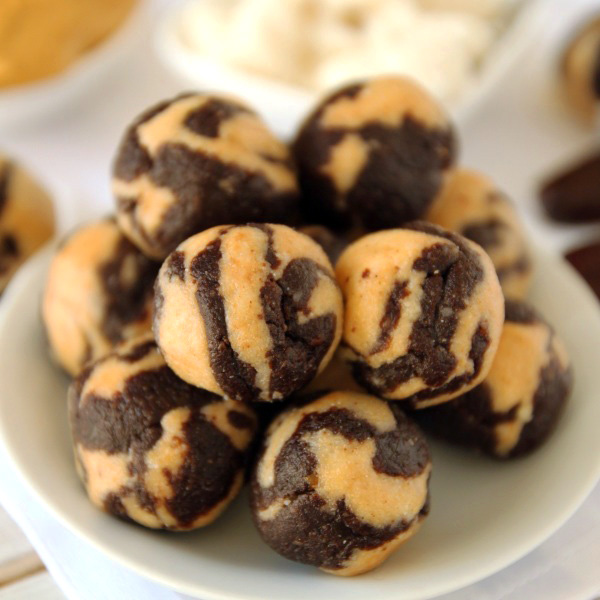 These were inspired by Sonia's peanut butter and chocolate energy squares (and my peanut butter layer is pretty much the same) and triple decker peanut butter squares. I wanted to make both of them but just got frustrated choosing between the two and just came up with something different. Thanks for the inspiration, Sonia! :)
❀
Grain-free Coconut Peanut Butter Chocolate Protein Balls
Prep Time:
Cook Time:
Ready in:
Yield:

16 one-inch balls
Ingredients
Chocolate layer:

1/2 cup (50 grams) walnuts
16 (100 grams) dates1
2 tablespoons natural peanut butter
2 tablespoons Dutch-process cocoa powder2
1/2 teaspoon vanilla

Peanut butter layer:

2 tablespoons unflavored protein powder
5 tablespoons natural peanut butter
5 tablespoons coconut butter
1/2 teaspoon vanilla
Directions
Grind the walnuts and dates in the bowl of your food processor until the walnuts are finely ground. Add the peanut butter, cocoa powder and vanilla and process until thoroughly combined and uniform. Take this out of the bowl and roll the dough out onto a Silpat or a piece of parchment paper like this. I rolled it over half of the Silpat, using the other half of the Silpat to cover the dough so that my pin wouldn't get dirty.


In a small or medium bowl, combine the protein powder, peanut butter, coconut butter and vanilla. I used my fingers to get it all combined but you could use an electric mixer if you like. Sprinkle this mixture on top of the chocolate layer.


Then roll this out. Cut into squares and stack two squares on top of each other, like this.


Roll into a ball or leave them as a square. It'll depend on how big you make them, but I got about 16 one-inch balls. Store at room temperature.
Notes
I used normal dates, if you use Medjool, you'd need less. Just go by weight.
The chocolate layer isn't really very chocolately. If you're looking for a strong chocolate taste, add some chopped chocolate or maybe just more cocoa powder and some honey.