These healthier Almond Joy cookies are grain-free, gluten-free, dairy-free and vegan, but despite all that, they taste amazing and are perfectly soft and chewy!
A few months ago, I created this coconut cookie recipe for a post on Food Fanatic. As soon as I pulled them out of the oven, I was kicking myself that I hadn't made them as Almond Joy cookies. So here we are! Finally. :)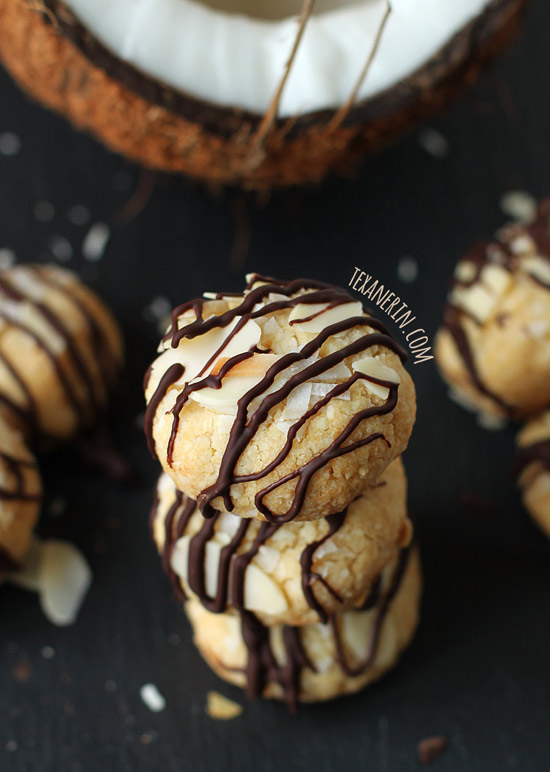 And as I'm writing this, I'm kicking myself again. You know what I should have done? Dip the bottom of the cookies in melted chocolate! They would have been so pretty.
But let's focus on the positive! Because there are no eggs in these cookies, you can easily halve or double the recipe. I forgot to write down the yield (again!) so I just remade them and only made a fourth of the batch. A lot of work for four little Almond Joy cookies but at least I can't overeat. ;) It also means that they're vegan. I don't have any difficulties making non-dairy based goodies dairy-free, but vegan? I need my eggs!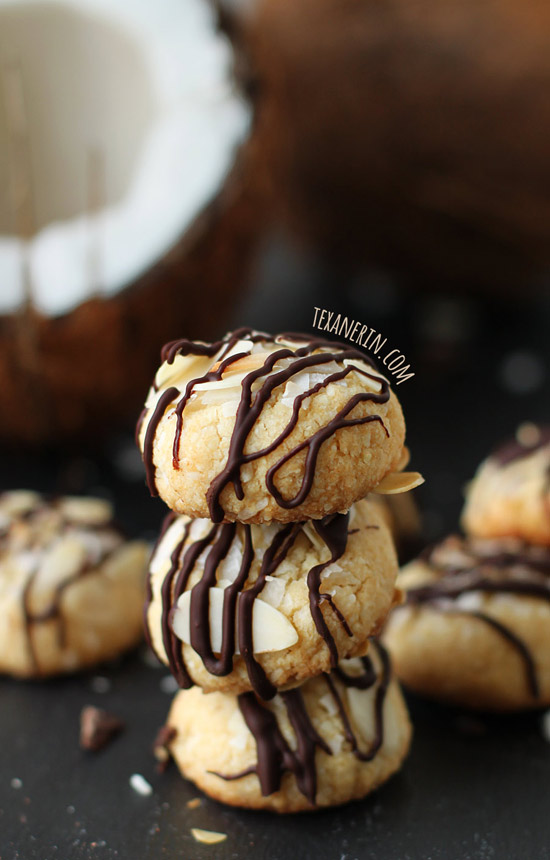 This should be really obvious but in case it's not, you really need to like coconut to enjoy these. There's coconut oil, which I use all the time so there's nothing new there (and this time you can use unrefined coconut oil without worrying about a funky coconut taste!) but there's also coconut butter. You can use homemade coconut butter, Artisana coconut butter, or my favorite alternative – get it from the Asian food shop! It's cheap and just as creamy as the Artisana stuff. This is the brand I get.
There'a also coconut extract, shredded coconut and toasted chips (or more shredded coconut!) If you don't have coconut extract, you can leave that out or add almond or vanilla extract. And as usual in my grain-free cookies, I used a mix of almond flour and coconut flour to get a nice chewy texture. I'm not a fan of coconut flour only goodies – it usually results in a weird texture (at least in my opinion, although maybe I've just used the wrong recipes ;))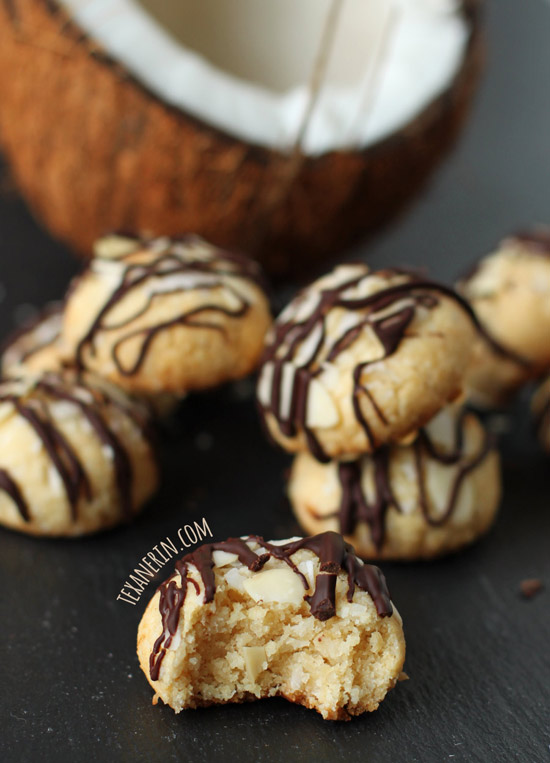 For another delicious almond + coconut + chocolate treat, try these Salted "Almond Joy" No Bake Bars from Food Faith Fitness!
❀
Almond Joy Cookies (grain-free, dairy-free, vegan)
Prep Time:
Cook Time:
Ready in:
Yield:

16 cookies
Ingredients
1/4 cup (56 grams) coconut oil, melted
1/3 cup (78ml) maple syrup
2 tablespoons coconut butter
1/2 teaspoon coconut extract
1 cup (100 grams) almond flour
1/4 cup (34 grams) sifted coconut flour
1/2 cup (46 grams) unsweetened shredded coconut
1/2 teaspoon baking soda
1/8 teaspoon salt
2 tablespoons sliced almonds
3 tablespoons coconut chips or shredded coconut
1/4 cup (45 grams) semi-sweet chocolate, melted (use Enjoy Life chocolate chips for dairy-free)
Directions
In a large bowl, mix together the melted coconut oil, maple syrup, coconut butter and coconut extract.
Add the almond flour, coconut flour, shredded coconut, baking soda and salt and stir until well combined.
Refrigerate the dough for 30 minutes.
Preheat your oven to 350°F (175°C) and line a baking sheet with a Silpat or a piece of parchment paper.
Roll the dough into 16 1" balls.
Press the sliced almonds and coconut on the cookies. Some of it will fall off – just press it back on.
Place the balls 1 1/2" apart on the prepared baking sheet.
Bake the cookies for 10 minutes or until the cookies have just lightly browned around the edges.
Let the cookies cool for 2 minutes on the baking sheet and then remove the cookies to a wire rack to cool completely.
When the cookies have completely cooled, drizzle the melted chocolate over the cookies using a fork.
Let the chocolate harden and then store the cookies in an airtight container at room temperature for up to one week.
Adapted from my own recipe I posted over at Food Fanatic for Gluten-free Coconut Cookies
This recipe was linked up to Allergy Free Wednesdays.
As an Amazon Associate, I earn from qualifying purchases. For more info, see my disclosure.