This 100% whole wheat loaf is inspired by the Swiss cereal, Müesli, and is full of cinnamon flavor and studded with raisins and walnuts!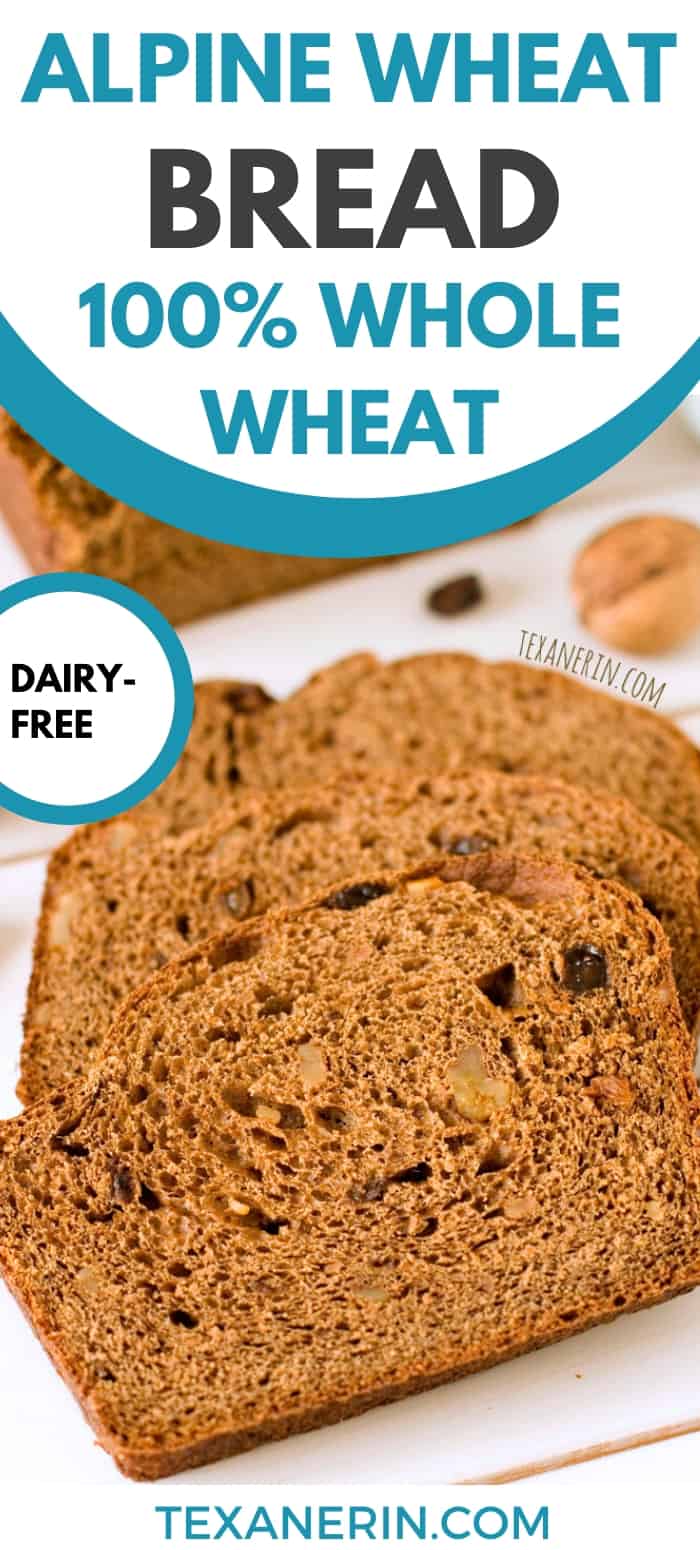 This is some good bread. Whole wheat bread often gets crumbly and dry on the second day, but I made this loaf days ago and it's still nice and soft!
The cinnamon helps cover up the whole grain "healthy" taste, but you can still tell it's whole wheat. But that's not a bad thing if you like whole grains. :)
I've made it as written below (which is also what's pictured) but I've also made it with double the raisins. I think we can all agree that more raisins is always better.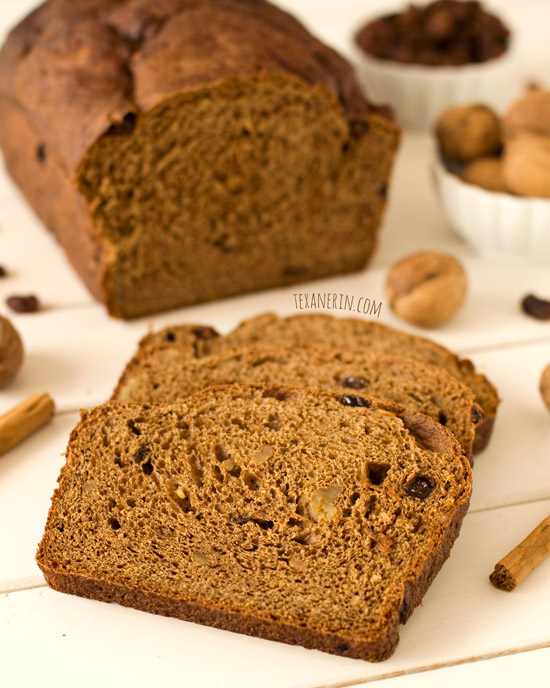 I have to admit that I chose to make this bread based on the name. I've made a lot of bread for Mr. T, trying to prepare him for the time when we're not living in Germany. The Germans love their whole grain bread. I'd say the most common or famous bread is whole rye bread – dark, dense, and sourdough-y. You just can't find bread like that in the US and it's incredibly hard to replicate – those bakeries must be adding some delicious chemicals or something to make the bread taste so good. ;)
This bread isn't at all like the loaves from over here, but it's not meant to be. Mr. T still loved it and he's incredibly difficult to please when it comes to bread. So at least there's that! This bread will definitely be on the rotation once we move back to the US (whenever that may be)!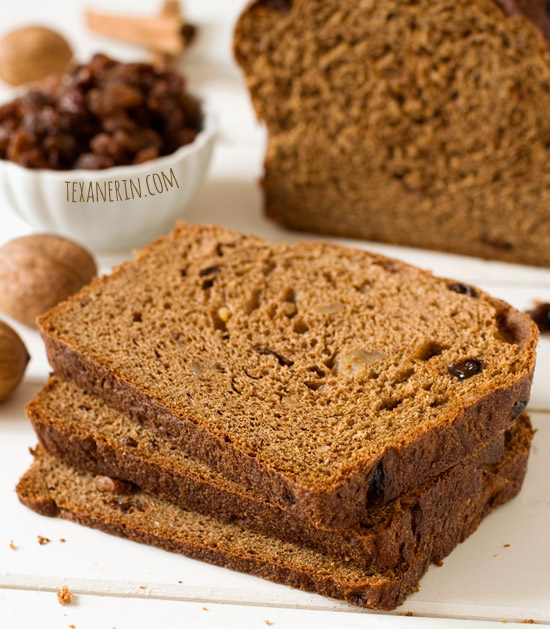 If you don't like walnuts or raisins, you can just leave them out entirely or replace them with other nuts and dried fruits. I haven't tried it but I'm thinking dried apples would go really well with the other flavors.
If you want to make this in a bread machine or use a food processor to prepare the dough, check out the recipe on the Red Star Yeast website.
❀
Alpine Wheat Bread (100% whole grain, dairy-free)
Prep Time:
Cook Time:
Ready in:
Yield:

12 – 16 slices
Ingredients
3 1/2 teaspoons active dry yeast
3 cups whole wheat flour
1 1/2 teaspoons salt
1 1/2 teaspoons cinnamon
3/4 cup + 3 tablespoons water
3 tablespoons canola oil
3 tablespoons molasses
1 1/2 teaspoons lemon juice
1 egg white
1/2 cup walnuts
1/2 cup raisins
Directions
Mix together the yeast, 1 cup whole wheat flour, salt, and cinnamon.
In a small saucepan, heat the water, oil, molasses and lemon juice to 120 – 130 degrees F.
In the bowl of your stand mixer fitted with the paddle, mix together the dry and liquid ingredients.
Beat on medium speed for 4 minutes.
Add the egg white and beat for another minute.
Gradually add the walnuts, raisins and remaining whole wheat flour and then switch to the dough hook.
Knead for 5 – 7 minutes until the dough is smooth and elastic.
Place the dough in a lightly oiled bowl and rotate it to make sure the top of the dough is greased.
Cover the bowl with plastic wrap and let the dough rise in a warm place until it tests ripe and has doubled. This took my dough about 1 hour.
Turn the dough out onto a lightly floured surface or a Silpat and punch down to remove any air bubbles.
Roll or pat the dough into a 14"x7" rectangle.
Roll the dough up tightly, starting with the shorter side, and pinch the edges to seal the loaf.
Place the dough in a greased 9"x5" loaf pan, cover, and let rise until an indentation in the side of the loaf remains after touching, about 1 hour.
Preheat the oven to 375 degrees F.
Bake the loaf for 30 to 40 minutes or until a thermometer inserted in the middle registers 190 degrees F.
Immediately remove from the pan and turn out onto a wire rack to cool.
Adapted from Alpine Wheat Bread from Red Star Yeast
Disclaimer: this post was sponsored by Red Star Yeast, but as always, all opinions are my own!