These apple cookies are made healthier with whole wheat flour, oats, applesauce and coconut oil!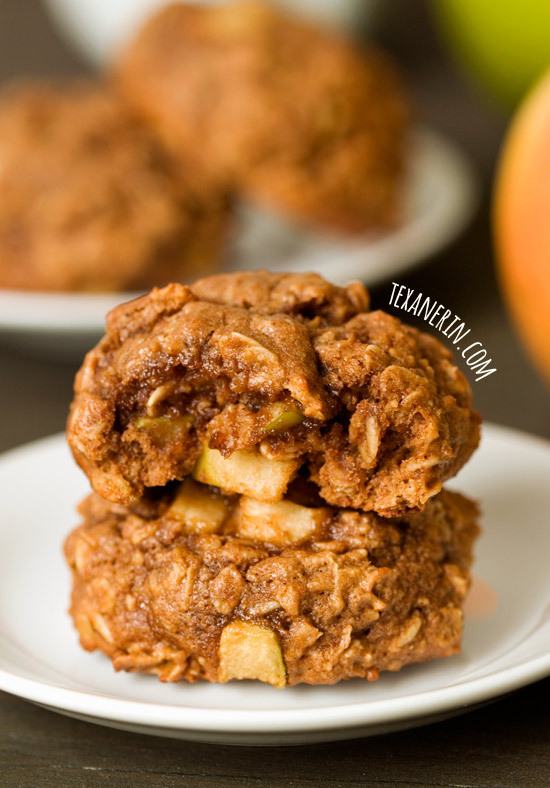 I am SO excited that apple season is here! I always look forward to this time of the year because it means the start of fall baking, which we all know is the best baking season. ;) That and it means I get to get out of the city and into the countryside for some apple picking. There's nothing I enjoy more than getting out of Berlin, even if it's just for half a day.
So you can expect to see loads more apple recipes until October 1. And then it'll be all pumpkin, all the time, until Thanksgiving! Or maybe not. I'll try to contain my pumpkin enthusiasm.
These apple cookies are based off of my 100% whole grain chewy oatmeal raisin cookies. I played around with the spices, added apples, and 1/2 cup of apple sauce. This made the cookies less chewy, but they're still not cakey (unless you overbake them!)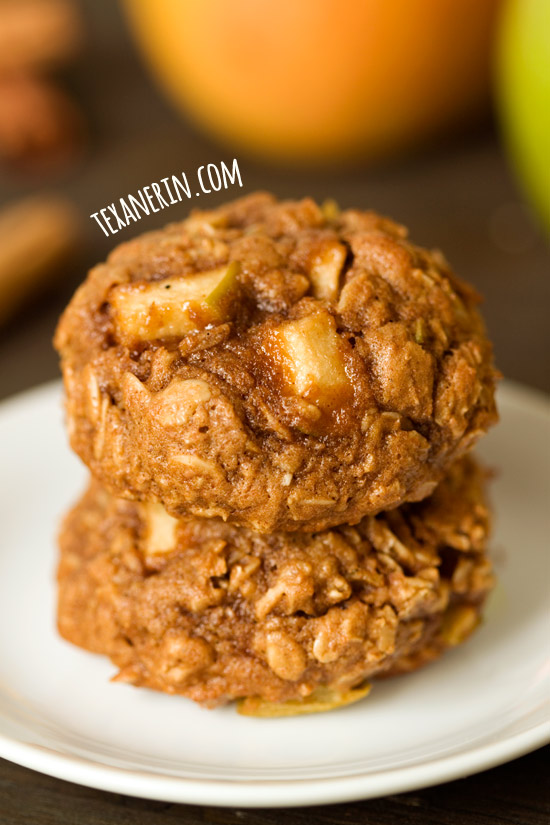 There are 1 1/3 cups coconut sugar in these apple cookies (you can also use unrefined sugar) but there's 4 1/4 cups of oats and flour so I don't think it's that bad. It yields a big batch! I really don't recommend reducing the sugar any more as that'll produce a more cakey cookie. And honestly, these aren't that sweet.
I used refined coconut oil because that's all we have over here (as far as I know) and refined coconut oil has no coconut taste. If you use unrefined coconut oil, these might have a slight coconut taste.
I haven't tried it but I bet dried apples would work well here. Just in case you have some dried apples you're trying to get rid of.
If you didn't see my post on Facebook about this yesterday, I'm now contributing to the Peanut Butter & Co recipe blog! You all know I love my cheese and carbs so I thought what better way to start with than peanut butter cheese cracker sandwiches. And they're gluten-free!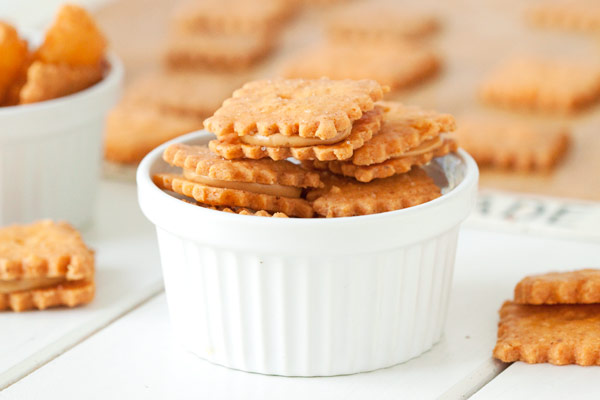 ❀
Apple Cookies (100% whole grain, dairy-free)
Prep Time:
Cook Time:
Ready in:
Yield:

20 medium cookies
Ingredients
1 1/2 cups (190 grams) whole spelt flour or whole wheat flour
2 teaspoons cornstarch
1 teaspoon baking soda
1 teaspoon baking powder
1/2 teaspoon salt
1 teaspoon cinnamon
1/4 teaspoon nutmeg
1/2 cup refined coconut oil
1/2 cup unsweetened applesauce
1 1/3 cup (3dl) coconut sugar or unrefined sugar
2 large eggs
1 tablespoon vanilla
2 3/4 cups (260 grams) traditional rolled oats
1 1/4 cups diced apples
Directions
Preheat the oven to 375°F (175°C) and line a baking sheet with parchment paper or a Silpat.
Whisk together the dry ingredients (flour through nutmeg) in a medium bowl and set aside.
In a large microwave safe bowl, melt the coconut oil in the microwave. Add the applesauce, sugar, eggs, and vanilla and stir. Let sit for 5 minutes to give the sugar a chance to dissolve, and then stir one more time.
Add the dry mix to the wet mix and stir just until combined. Stir in the oats and apples, again stirring just until combined.
Place the dough in the refrigerator for about 30 minutes or until it's firm enough to roll into balls.
Form the dough into balls, about three tablespoons in size (I used this large cookie scoop) and place about 1 1/2" apart on the lined baking sheet.
Bake for 10 - 12 minutes or until the middle appears to be set. These go from just done to overbaked very quickly. If you refrigerated the dough for longer than 30 minutes, you might need to add a minute or two to the baking time.
Let cool on the baking sheet for 3 minutes and then remove to a wire rack to cool completely.
Store in an airtight container for up to 3 days and place in the refrigerator after that for another 4 days.