Change things up with these Asian inspired drumsticks! Way more meaty than wings and so much more delicious and even a little healthier.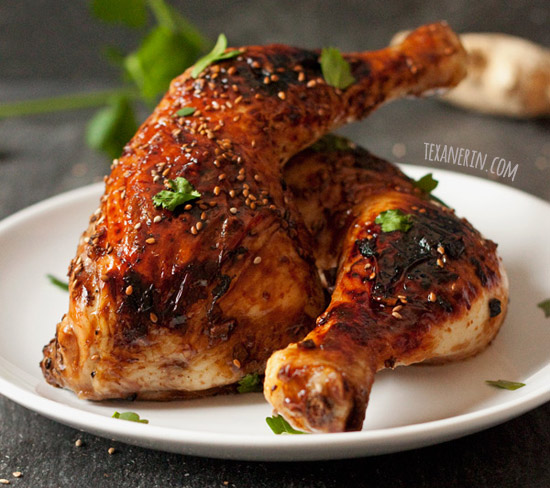 Let's be honest here. My interest in March Madness is solely in the food. I currently live in Germany and having a basketball viewing party just wouldn't fly. I can imagine it now: "March Madness? Who is mad and why? Why have a party for this?" But that's all right. I can make my party food and eat it myself! More for me.
It seems like most people like chicken wings, but those things have so little meat on them. They're mostly just skin and bones, you know. Not only that, but you have to eat a dozen just to feel the slightest bit full. That's where these Asian inspired drumsticks come in! Also, it's easy to rip off the skin. So if you have people like myself at your party who shudder at the thought of eating that part of the chicken, they can just take it off.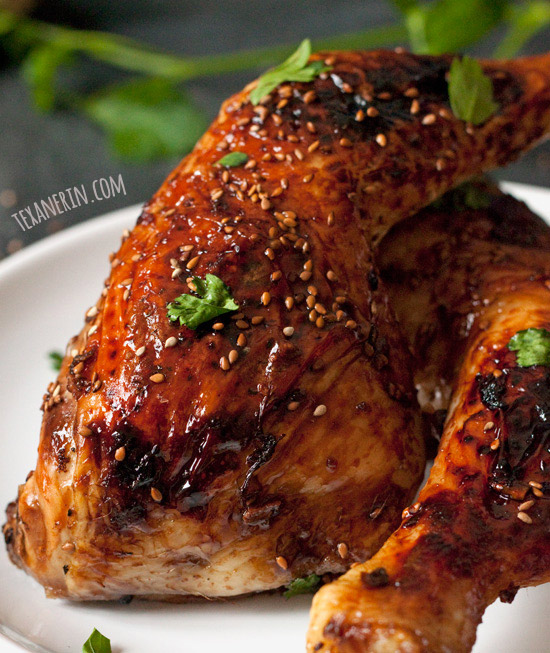 These leg and thigh pieces are meaty, and if you can find them, they're usually pretty cheap. When I'm entertaining a large group of people, I certainly appreciate being able to save a dollar or two here and there. When I make them for a party, people generally manage to eat one, or perhaps two if they've starved themselves in anticipation of the yummy party food. Yeah, it happens. And if you can't find this cut, normal drumsticks will do just fine!
Now I know people love Buffalo chicken, especially at game day parties, but I thought it'd be fun to change things up a little! So I went for something slightly Asian-inspired. There's honey, soy sauce and ginger in these, but the flavors are subtle. If someone doesn't like Asian food, I'm betting that they'd still love these.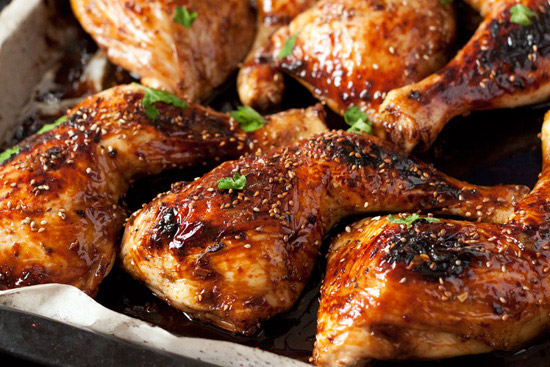 When I'm hosting a party, I'm usually a frantic mess. I rely on dishes like this one to help reduce the insanity. You let the chicken sit in the marinade overnight, and then pop them in the oven shortly before your guests arrive. Baste once, and that's it. I can easily fit 30 of these legs + thighs in a few pans in my oven at once, and that will keep a lot of people at bay for a while.
In the past, I'd make something like these spicy potato wedges thinking, "People LOVE wedges! Best idea ever." Literally five minutes out of the oven, the wedges would all be gone, then I'd sulk because I didn't get any. Definitely not a problem here!
As an added bonus, these drumsticks are great even at room temperature. Some dishes just need to be hot, and luckily this is not one of them.
I think these shirataki noodles would be great to go on the side. And for another great drumstick recipe, check out these Crispy Baked Chicken Drumsticks!
❀
Asian Inspired Drumsticks
Prep Time:
Cook Time:
Ready in:
Yield:

9 servings
Ingredients
1/2 cup dark balsamic vinegar
2/3 cup honey
1/4 cup + 1 tablespoon brown sugar, packed
1/3 cup soy sauce (make sure to get a GF sauce, if needed)
1 tablespoon minced garlic
1 teaspoon grated ginger
3/4 teaspoon red pepper flakes
9 chicken legs + thighs or 16 drumsticks
up to 2 teaspoons cornstarch, if needed

Optional garnish:

1 tablespoon sesame seeds
2-3 tablespoons chopped fresh parsley
Directions
For the marinade, combine all the ingredients (balsamic vinegar through red pepper flakes) in a large enough bag to fit the chicken pieces. Place the chicken in the bag, being careful not to poke any holes in the bag. Seal the bag and let the chicken marinade in the refrigerator overnight.
Thirty minutes before baking, remove the chicken from the refrigerator. Preheat the oven to 450 degrees F and line your largest baking tray with foil or a piece of parchment paper. Reserving the marinade, arrange the chicken, leaving a tiny bit of room between each piece to make sure you'll be able to baste them properly later on.
While the oven finishes preheating, prepare the glaze by boiling the marinade in a small pan or pot over medium heat until thickened. This should take 10 - 15 minutes. It if doesn't become thick enough for your liking, add 1/2 a teaspoon of cornstarch at a time, up to two teaspoons. Be careful not to add too much cornstarch as the glaze will thicken a little as it cools. Set the glaze aside until later.
Bake the chicken for 35 minutes (25 minutes for drumsticks) and then remove it from the oven. Spoon on or brush the marinade on the chicken and then return the chicken to the oven. Bake for another 10-15 minutes or until a nice, dark crust has formed and the internal temperature in the thickest part of the chicken piece has reached 165 degrees F.
Sprinkle the sesame seeds and parsley on the chicken just before serving.
Notes
This post is part of BlogHer's March Madness Game Day Eats editorial series, made possible by Kettle Brand Chips.