Hey everyone! Today I'm headed to Columbia, South Carolina to visit another blogger. I'll be there for 6 days and then I'll return to Texas. I hope y'all are enjoying the goodies that the guest posters have made you! And look at this. Carla made you something. And it's gluten-free. And pretty darn healthy! Don't like granola? Go check out her healthy 3 ingredient natural strawberry banana ice cream or her mixed fruit smoothie with kale and chia seeds. And I really want to make this whole wheat chicken and bacon mac & cheese. Cheese and carbs… YES! :D
Hi there! My name is Carla! You may or may not recognize my name from a couple weeks back when Erin guest posted over on my blog Carla's Confections. Since she was kind enough to help me out while I was over in the USA, I figured it was time I returned the favor for her. I was truly honored when Erin asked me to guest post for her (she actually asked me before I asked her to do one for me, so thank you for thinking of me Erin!!). I love Erin's blog, and I recently used some of her amazing tips on whole grain baking for my Baked Banana Bread Donuts. It was one of my first times baking with whole wheat flour, and now I am looking forward to using it more!
I am pretty jealous of her trip to the USA, but I really shouldn't be, since I was just over in Disney World not too long ago ;) But while she is having the time of her life at BlogHer Food conference, and hanging out with family and friends, I wanted to share one of my breakfast favorites with her readers!
I have a confession to make: breakfast is my least favorite meal of the day. If it were up to me, I would wake up in the morning (8am everyday if I had the choice), savor a cup of coffee while catching up on some social media, skip breakfast altogether and then eat an early lunch at about 11:30am.
Buuuuuuuuuut, since breakfast is the most important meal of the day and all… I know I have to have tasty breakfast treats in the house at all times in order for me to actually be diligent about eating in the morning.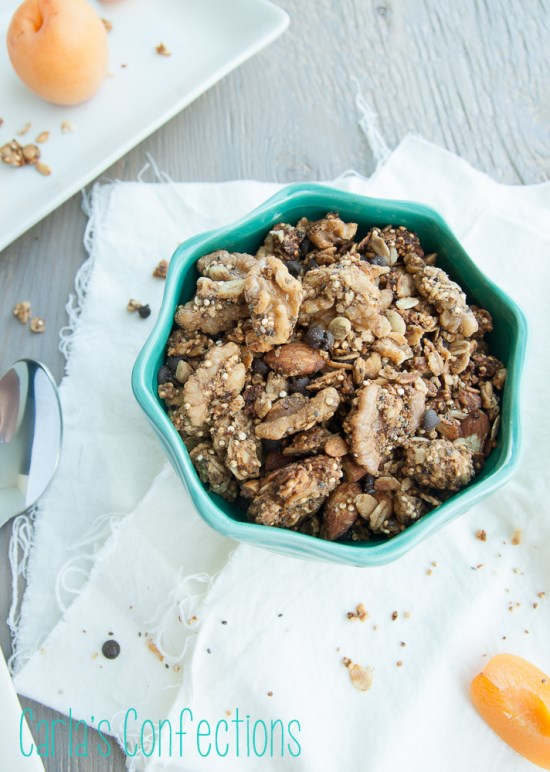 I also want to make sure the breakfasts I have on hand are healthy and filling, so we aren't stocking up on empty calories first thing in the morning (well except for Donut Fridays… but that can be our secret). ;)
Granola is the perfect way to have your breakfast and eat it too.
Let's pretend that phrase makes sense.
I had a REALLY hard time coming up with a name for this granola. At first I wanted Peanut Butter to be in the title, because that is one of the binding agents, but I also wanted it to be known that there were assorted nuts and various types of healthy seeds in there too. Goodness recipe naming is tough business LOL!! But Assorted Nuts and Seeds Healthy Quinoa Granola is good, as long as you imagine that the "nuts" is a broad term and also includes peanut butter.
Is your imagination feeling worked out this morning?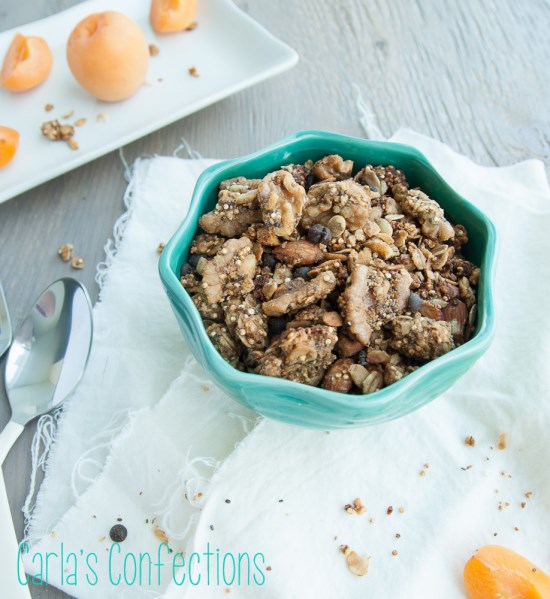 One of my favorite breakfasts to eat (when I do eat breakfast that is) is a small bowl of yogurt with fresh fruit and lots of granola on top. I love that granola is so customizable, and that it is easy to add flavor while still keeping it healthy and simple! And, as usually is the case, homemade is a thousand times better than store bought (except for where I contradict myself in the next paragraph).
In this granola you will find healthy alternatives such as honey to sweeten rather than sugar, as well as chia seeds and ground flaxseed. I used store bought crunchy peanut butter, but please feel free to use homemade peanut or any other nut butter you would prefer. I personally like store bought better than homemade, but I have also only tried it once, so I suppose I am not a good judge of the homemade stuff ;)
I also added quinoa, and I love this addition, because it is super simple to do (no cooking required) and adds a perfect crunch to your morning granola!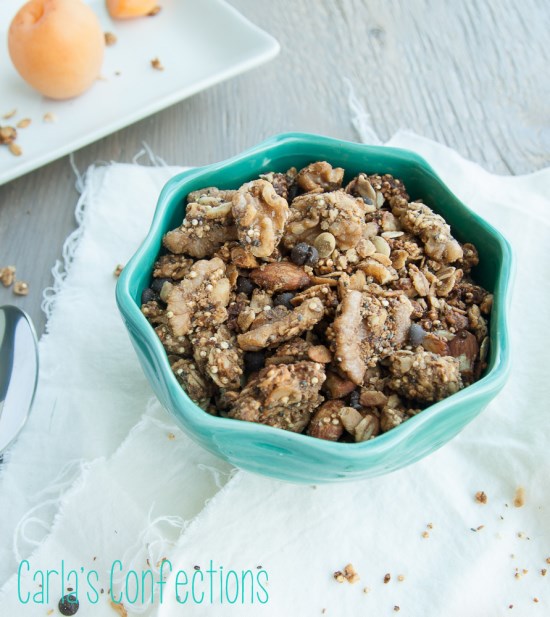 Thank you for allowing me to share this recipe with you!! If you like this granola, make sure to check out my Heart Healthy Quinoa Granola and also my Sunflower and Pumpkin Seed No-Bake Energy Balls for more healthy breakfast choices!
Thank you Erin so much for letting me share this granola with your readers and I hope you are having the time of your life in the USA!! Say hello to US soil for me!
❀
Gluten-free Assorted Nut and Seed Healthy Quinoa Granola
Prep Time:
Cook Time:
Ready in:
Yield:

9 cups prepared
Ingredients
2 cups old fashioned oats (non-contaminated for GF)
1/3 cup pumpkin seeds
1/2 cup uncooked quinoa, rinsed and drained
1/2 cup ground flaxseed
Scant 1/4 cup whole chia seeds
2 cups assorted nuts of choice, roughly chopped (I used walnuts and almonds)
1/2 cup peanut butter (I used crunchy)
1/2 cup honey
3 Tbsp. sunflower oil
1 tsp. vanilla
1/3 cup chocolate chips (optional)
Directions
Preheat the oven to 300°F/150°C and line a large baking tray with parchment paper or silpat.
In a large bowl, combine the oats, quinoa, various seeds and nuts and stir together well.
In a measuring bowl, combine peanut butter, honey, sunflower oil and vanilla and stir together well with a fork, until fully combined.
Pour the peanut butter mixture over the dry ingredients and toss together well.
Lay the granola out flat on the baking tray and bake in the preheated oven for 30-40 min, stirring around every 10 minutes, until golden brown and toasty.
Allow to cool slightly and stir in the chocolate chips.
Store in an airtight container. Will last at least a month. Serve as desired.
Recipe adapted from Carla's Confections