A simple and nutritious whole wheat raisin loaf!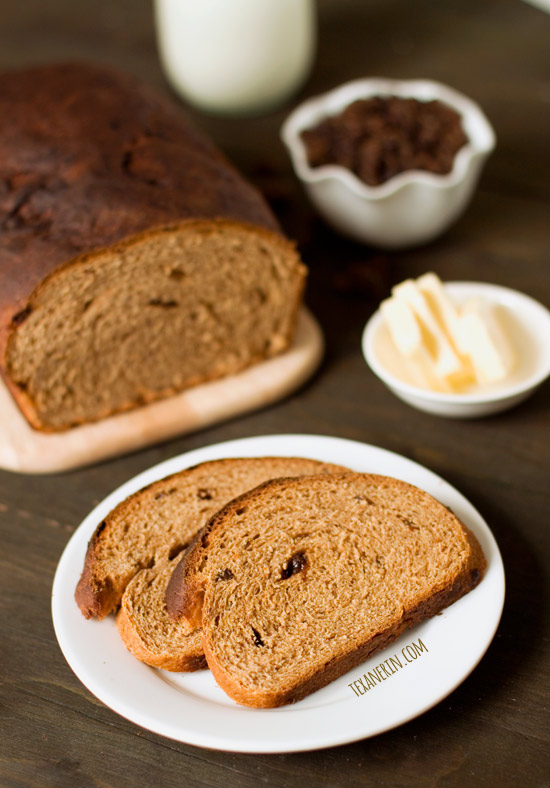 You could say that I love raisin bread. I've made whole spelt cinnamon raisin bread, which is nice but involves a swirl and is therefore more time consuming. And more sugary. I've also made whole wheat cinnamon raisin bagels, but that is probably the most time consuming recipe I have.
So I love that I found this whole wheat raisin bread recipe on the Red Star Yeast website! It doesn't require whole spelt like the other recipe does but still tastes just as good.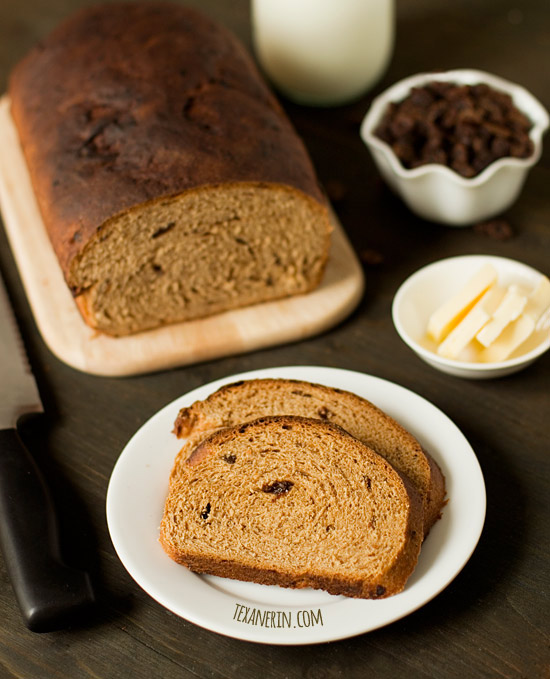 I've made this with and without cinnamon and love it both ways, but as a cinnamon addict, I prefer it with the cinnamon. And if you prefer a smaller or larger loaf or to use a bread machine, go check out the link to the original recipe.
I absolutely love this bread toasted. In comparison to some other whole wheat loaves I've tried, this stays fresh quite a bit longer. But there's just something about toasted raisin bread! Especially cinnamon raisin bread.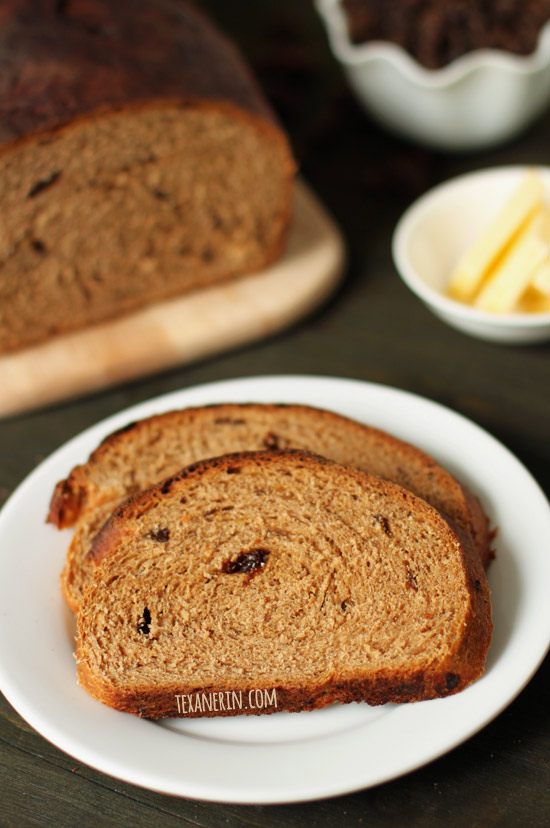 I don't like to put anything on my bread. I prefer it plain. And because of that, I think I'll double the raisins next time. More raisins = more fun. Right? ;)
I know a lot of people are afraid of working with yeast but honestly, it's nothing to be scared of! I admit that some yeasted recipes can be a bit fussy or even confusing, but this one is so simple. You really can't mess it up!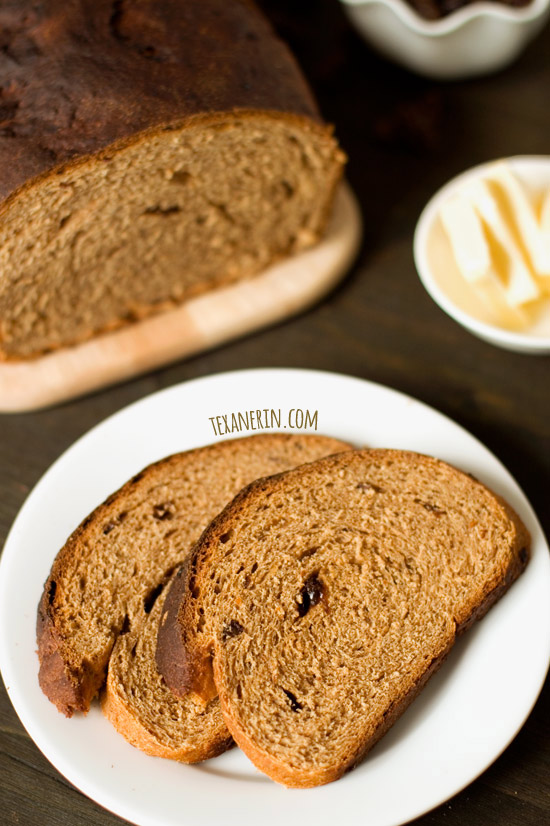 You can't tell that most of my recipes are whole grain, but you can in this one. It's not a bad thing at all but if you've got picky kids, it might be hard to fool them with this one!
Are there any yeasted goodies you'd like to see made in a healthier way? I tried whole wheat blueberry cream cheese Danishes on the weekend, but they didn't come out exactly as expected. Let me know in the comments if there's something you'd like to see and I'll see what I can do! :)
❀
Buttermilk Whole Wheat Raisin Bread
Prep Time:
Cook Time:
Ready in:
Yield:

one 9"x5" loaf
Ingredients
1 tablespoon active dry yeast
1 cup bread flour
1 1/2 teaspoons salt
3 tablespoons brown sugar or coconut sugar
3 tablespoons buttermilk powder
2 teaspoons cinnamon, optional
1 cup water
2 tablespoons canola oil
2 cups whole wheat flour
1/2 cup raisins
Directions
Mix together the yeast, bread flour, salt, brown sugar, buttermilk powder and cinnamon, if using.
In a small saucepan, heat the water and oil to 120 - 130 degrees F.
In the bowl of your stand mixer fitted with the paddle, mix together the dry and liquid ingredients.
Beat on medium speed for 4 minutes.
Gradually add the whole wheat flour and raisins and then switch to the dough hook.
Knead for 5 - 7 minutes until the dough is smooth and elastic.
Place the dough in a lightly oiled bowl and rotate it to make sure the top of the dough is greased.
Cover the bowl with plastic wrap and let the dough rise in a warm place until it tests ripe and has doubled. This took my dough about 1 hour.
Turn the dough out onto a lightly floured surface or a Silpat and punch down to remove any air bubbles.
Roll or pat the dough into a 14"x7" rectangle.
Roll the dough up tightly, starting with the shorter side, and pinch the edges to seal the loaf.
Place the dough in a greased 9"x5" loaf pan, cover, and let rise until an indentation in the side of the loaf remains about touching, about 1 hour.
Preheat the oven to 375 degrees F.
Bake the loaf for 30 to 40 minutes or until a thermometer inserted in the middle registers 190 degrees F.
Immediately remove from the pan and turn out onto a wire rack to cool.
Recipe source: Buttermilk Whole Wheat Raisin Bread - Red Star Yeast
Disclaimer: this post was sponsored by Red Star Yeast, but as always, all opinions are my own!