These 100% whole wheat and dairy-free pumpkin blondies are chewy and bursting with fall flavors and can be made with or without white chocolate!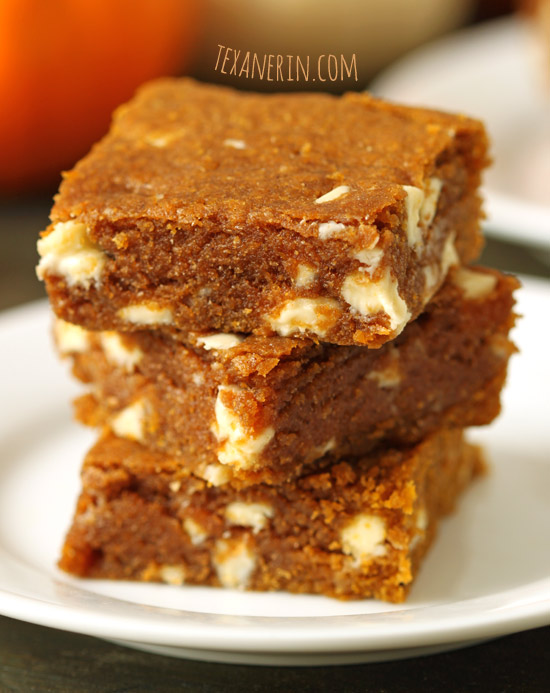 I've tried quite a few pumpkin blondie recipes but they were way too cakey for me. Then I came up with this recipe. Problem solved! I was really going for gooey and fudgy but I can live with chewy.
Pumpkin and white chocolate is one of my favorite combinations so I just couldn't resist! If you don't like white chocolate, you can simply leave it out or even add semi-sweet chocolate chips. And if you use white chocolate, remember to use the good stuff.
I made these once with white whole wheat flour and once with whole wheat flour. I preferred them with white whole wheat, but if you've just got whole wheat, go for it! I'm sure these would also be great with whole spelt flour.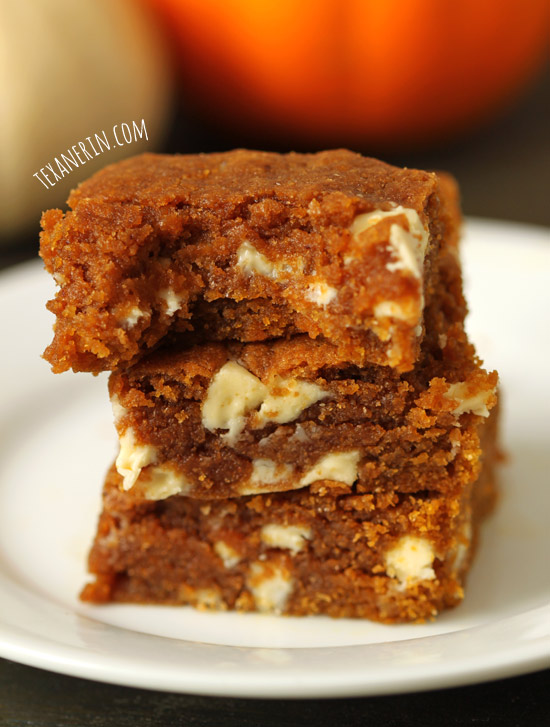 The baking time on these is only 10 minutes. When you spread the batter into the pan, it'll be quite thin. Hence the short baking time! If you overbake these pumpkin blondies, they will be cakey. So be really careful! They might appear underbaked when you take them out of the oven, but they'll continue to cook.
I used an 8″ x 8″ pan and because the batter was so thin already, I wouldn't recommend a 9″ x 9″. You could always double the recipe and put it in a 9″ x 13″ pan. Then your blondies would be just a little thicker than what you see in the pictures, and in my opinion, thicker blondies are always better. :)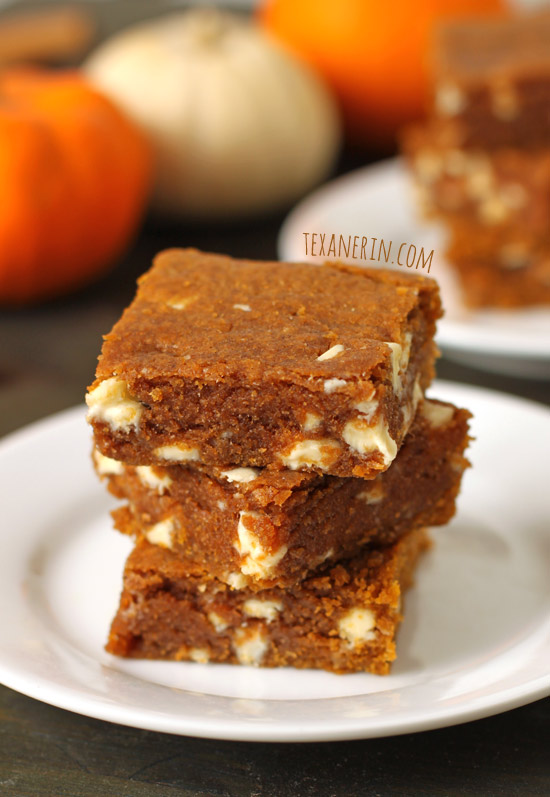 Another nice thing about this recipe is that it uses so little pumpkin. I really don't understand how these have such a great pumpkin taste when there's just a fourth cup of pumpkin, but fine with me since my canned pumpkin supply is limited. And I'm not nearly patient enough to make homemade pumpkin puree!
You can leave these at room temperature but they're even better refrigerated. For whatever reason, these nice and chewy pumpkin blondies seem to get even chewier when cold!
For a gluten-free treat, check out these sweet potato brownies. They look great!
❀
Chewy Pumpkin Blondies
Prep Time:
Cook Time:
Ready in:
Yield:

16 blondies
Ingredients
6 tablespoons (84 grams) coconut oil1, melted
1/4 cup (55 grams) pumpkin puree
1/2 cup (57 grams) coconut sugar or refined sugar
1 tablespoon vanilla extract
1 egg
1 egg yolk
1 1/2 cups (187 grams) white whole wheat flour
1/4 teaspoon baking soda
1/4 teaspoon salt
1/2 teaspoon cinnamon
1/4 teaspoon ginger
1/4 teaspoon nutmeg
1/4 teaspoon cloves
3/4 cup (105 grams) white chocolate chips or semi-sweet chocolate chips (if dairy-free, use Enjoy Life chocolate chips), optional
Directions
Preheat the oven to 350 degrees F (175 degrees C). Prepare an 8" x 8" baking pan (a 9" x 9" might be too big) with a piece of parchment paper for easy removal of blondies. You could also spray the pan with cooking spray.
In a medium bowl, mix together the coconut oil, pumpkin, coconut sugar, vanilla, egg, egg yolk and let this mixture sit for 10 minutes (to help dissolve the coconut sugar).
In another medium bowl, mix together the remaining ingredients (except for the white chocolate).
Add the dry mix to the wet mix and stir just until the batter comes together! If you over mix them, they will likely be cakey.
Fold in the white chocolate chips, if using, and pour the batter into the prepared pan.
Bake the blondies for 10 minutes or until the middle appears set.
Remove the blondies from the oven and serve immediately or let cool completely and cover.
The blondies can be stored at room temperature, but for even chewier blondies, store in an airtight container in the refrigerator for up to 5 days.
Notes
I only have access to refined coconut oil. If you use unrefined coconut oil, there might be a slight coconut taste to these.
As an Amazon Associate, I earn from qualifying purchases. For more info, see my disclosure.