I posted these gluten-free chocolate dipped cookies over on the Better Homes and Gardens blog yesterday. When they asked if I'd be interested in making one of their recipes gluten-free, I instantly knew I wanted to make something chocolatey for Valentine's Day.
I think I usually post holiday specific recipes just a few days before the actual holiday but this year, I'm prepared. I have chocolate raspberry recipes galore!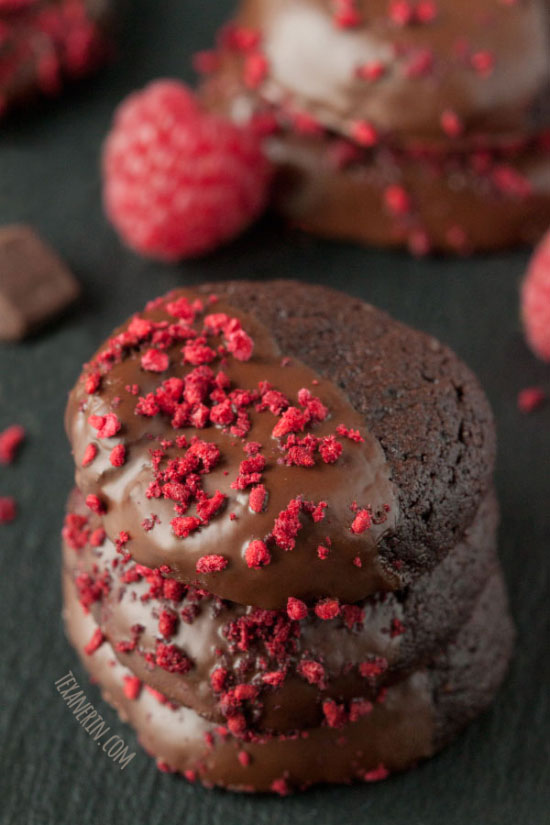 The recipe I adapted from BHG uses all-purpose flour, brown sugar, and the usual cookie ingredients. I made a whole bunch of changes! The result? They're grain-free, gluten-free, dairy-free, paleo-friendly and 100% whole grain! You can see the changes I made here.
When I first started using buckwheat, which is actually a pseudograin, I hated it. Haaated it. But I'm so in love with using it in chocolate treats! It's so easy to sub in for all-purpose and whole wheat flour (at least in the few things I've tried). If you don't have buckwheat on hand, you can use whole wheat for a version that's not gluten-free.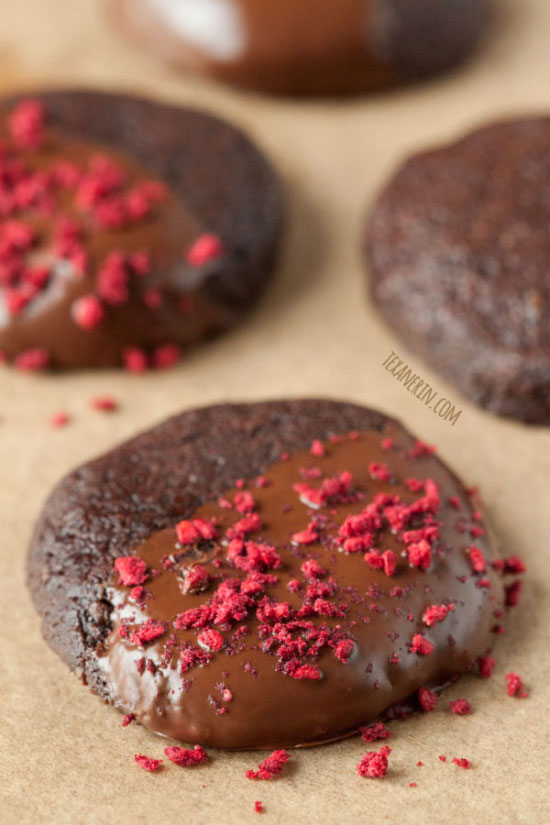 The original recipe calls for dipping the cookies in chocolate ganache, which I'm sure is delicious, but since I wanted to keep things dairy-free, I just melted a little coconut oil with some chocolate. It tasted just as good as ganache to me!
After dipping the cookies in chocolate, they tasted great but looked a little lacking in festiveness so I added some freeze-dried raspberries to the chocolate part. Not to gloat or anything but isn't that the best food coloring / sugar-free decoration?! The berries are so vibrant. And they actually add to the taste, unlike sprinkles. I thought for some reason that the berries may get soggy but that definitely wasn't a problem.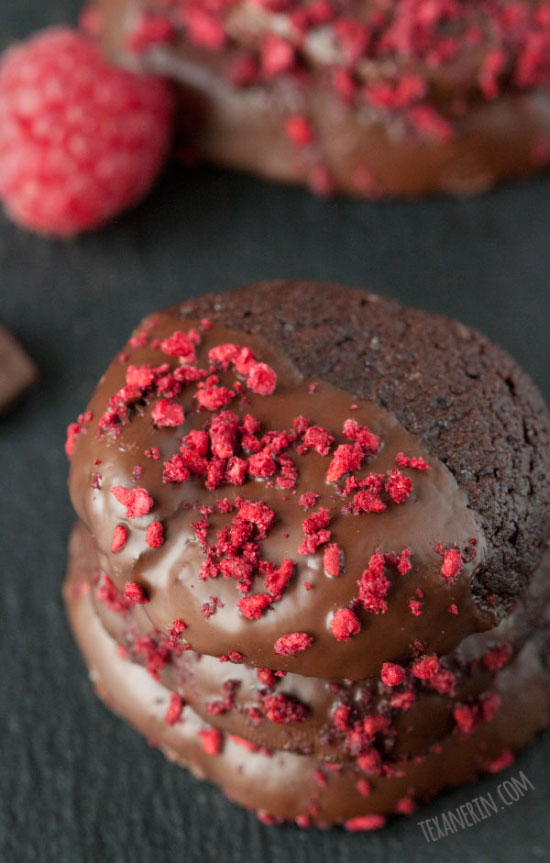 I tried using a heart-shaped cookie cutter to get some valentine cookies out of this, but I think all my changes made the dough a little too difficult to roll out. I really like the idea, though, so I'll try again next year with some different dough. :)
To check out my post, click on over here!
❀
Grain-free Double Chocolate Cookies
Prep Time:
Cook Time:
Ready in:
Ingredients
For the cookies:

1 1/2 cups (188 grams) buckwheat flour
1/2 cup (58 grams) Dutch-process cocoa powder
1 teaspoon baking powder
1 teaspoon salt
2 cups (340 grams) semi-sweet or dark chocolate chips (make sure to use DF chocolate, if necessary)
3/4 cup (168 grams) coconut oil, melted
1 1/2 cups (300 grams) coconut sugar
3 large eggs
1 teaspoon vanilla extract

To dip:

1 cup (170 grams) semi-sweet or dark chocolate chips (make sure to use DF chocolate, if necessary)
1 tablespoon (14 grams) coconut oil

For decoration:
Directions
Preheat oven to 350 °F (175 °C).
Click here for the rest of the recipe.