With both hazelnut meal and butter, these moist and chocolatey hazelnut cupcakes are for hazelnut lovers only! Grain-free, gluten-free, dairy-free and Paleo friendly.
I shared these gluten-free chocolate hazelnut cupcakes on Food Fanatic yesterday and wanted to share them over here, in case anyone is still looking for Christmas dessert recipes!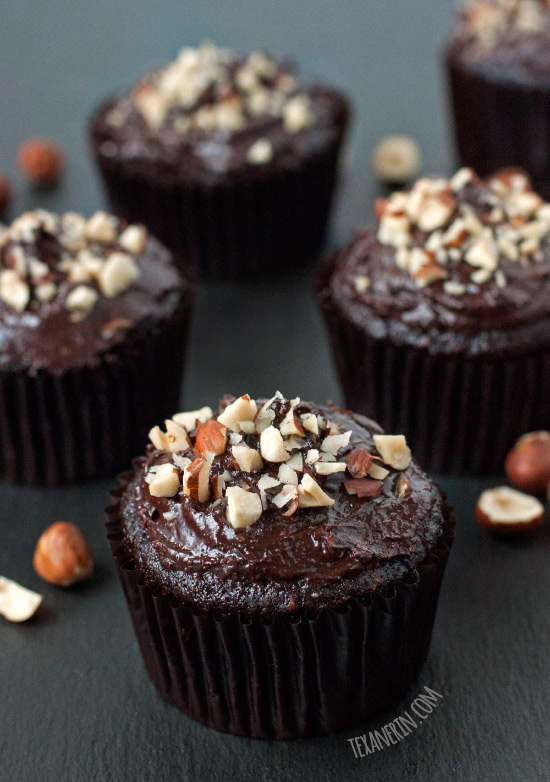 Now that it's winter, I want to make hazelnut everything. While I don't enjoy eating plain hazelnuts, once paired with chocolate or espresso, they become irresistible. And since I received that hazelnut meal I mentioned in my chocolate hazelnut cookie post, I've been using it in place of almond flour in oodles of things.
These cupcakes are kind of magical. When they first come out of the oven, they taste like chocolate mousse, which I admit sounds weird, but super delicious! But then you let them sit for a while and they firm up a little and have an amazing texture. If you want to get that chocolate mousse texture back, don't frost your cupcakes. Instead, reheat them in the microwave for about 15 seconds and then frost.
If you don't have time to make the frosting, a smear of Nutella would taste great! If you prefer to avoid processed foods, this homemade chocolate hazelnut butter is the way to go.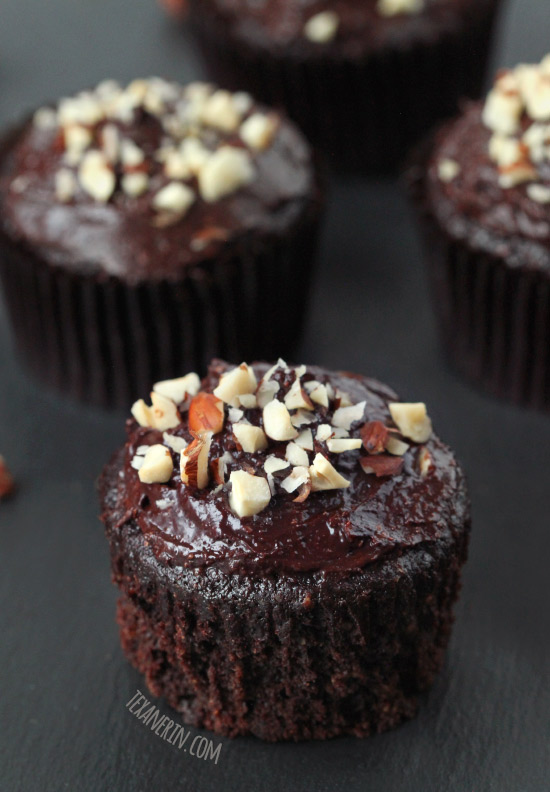 After frosting, these chocolate hazelnut cupcakes do well at room temperature, but only if your coconut oil is solid at room temperature, which it will be if it's under 76°F. If you're making these during the summer, definitely refrigerate them or your frosting will slide down the cupcakes. Once refrigerated, the frosting is like a firm refrigerated ganache.
Hazelnut butter is expensive so I like to make my own with blanched and roasted hazelnuts. Just process them in the food processor for about 5-10 minutes or until creamy. If that sounds like too much work, peanut butter or almond butter would work wonderfully, too. Note that the cupcakes get most of the hazelnut flavor from the frosting and not the cupcakes, so if you use another nut butter, your cupcakes most likely will taste like chocolate and the nut butter used.
Almond flour/meal or another nut flour/meal could be subbed for the hazelnut meal in this cupcake recipe. As for other flour subs, you'll have to experiment as I haven't had success with subbing other flours for nut flours. If you do try something else out, I'd love to hear how it goes!
This post first appeared on Food Fanatic: Gluten-free chocolate hazelnut cupcakes.