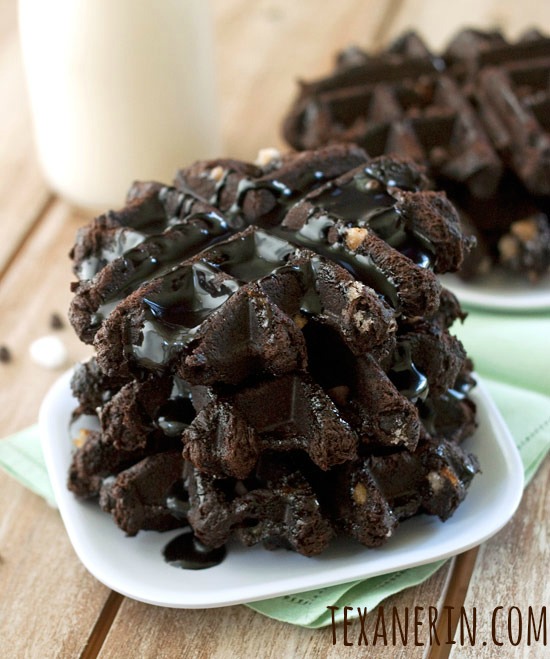 Can you imagine going to a pajama party and being treated to toast and cereal in the morning? Neither could we. So Caroline and I got all decadent. I had been eying her Liege waffles for a while now but could never try them out because I don't have a waffle iron. And I don't actually want one just because I'd blow my calorie intake for the day on waffles. It happens.
Has anyone had Liege waffles before? I've had them in Belgium and they were awesome. It's basically like a Belgian waffle, but you knead pearl sugar into the dough. So when it cooks, the sugar crystallizes and becomes… goodness. The only problem is that pearl sugar isn't easy to find. Caroline bought hers from Amazon.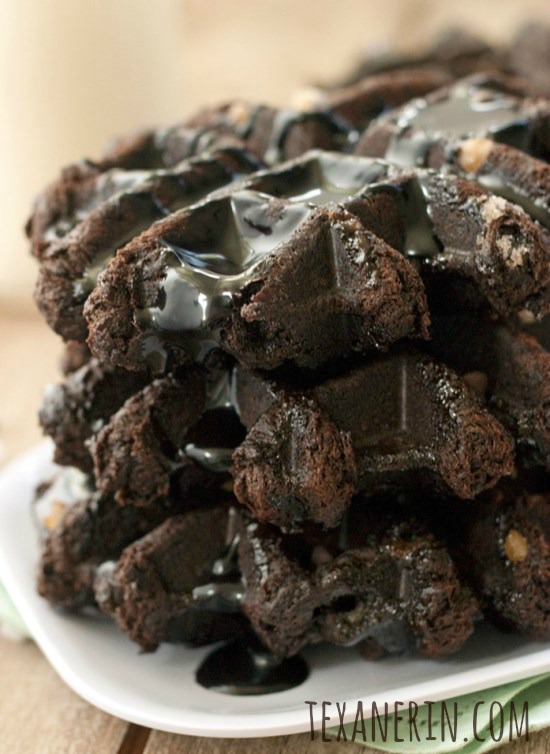 We used Darla's chocolate liege waffles recipe, which was meant to be topped with caramel sauce. I thought that the waffles were already sinful enough and that we should try to healthify the sauce a little so I tried this healthy vegan date "caramel" sauce I've seen around for a while. That was not a good idea. That stuff does not taste like caramel. It takes like watery dates. If you want caramel, just make caramel and save your dates for something else. ;)
For the pictures, I wanted to top the waffles with something so I used some chocolate sauce. But I really don't think that's necessary. My preferred way of eating these would be with maple syrup! Or nothing at all.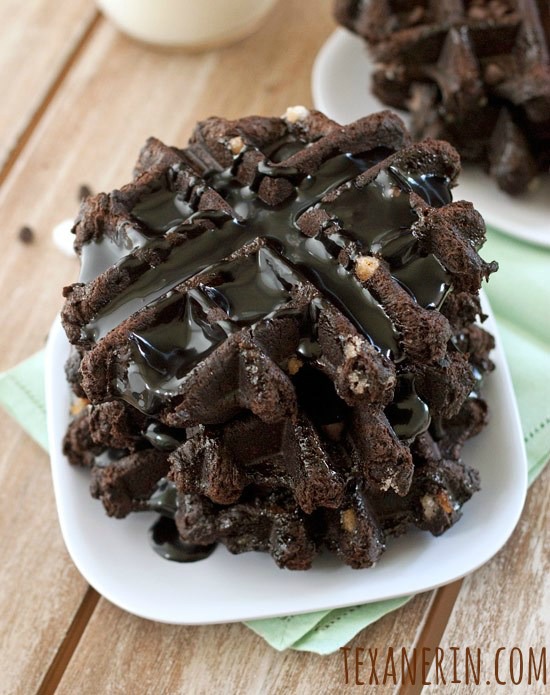 You'd think that these are overly sweet with all the sugar but they really weren't. I guess that's because of the cocoa powder. And I was really hesitant to put in all that sugar, but I did and I didn't regret it. Don't skimp on the sugar! If you want something super healthy, these aren't for you. I'll just point you in the direction of some healthier waffles down below.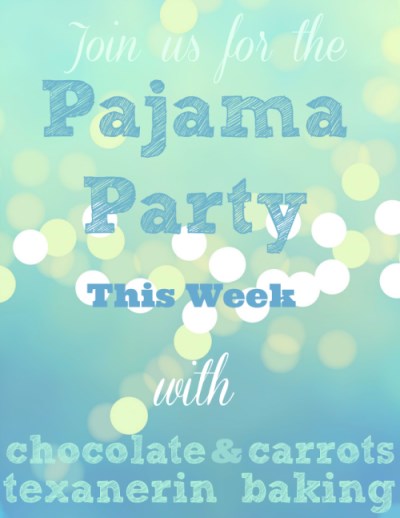 So that's it for pajama party week! I hope we've inspired you to have a healthier PJ party. Or a pajama party at all. :D And a big thanks to Caroline's husband, Logan, for taking care of everything baby and dish related while we had our little parties (yeah, we had two – the first one was kind of a sad attempt!)
And did you check out the brownies yesterday?! They're 100% whole grain and have a peanut buttery topping. They're gooey, too, if you can't tell. ;)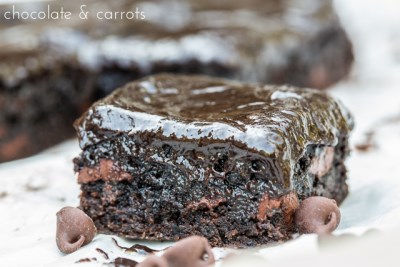 Some other healthier waffles

❀

Whole Grain Chocolate Liege Waffles

Prep Time:
Cook Time:
Ready in:
Yield:

6 waffles

Ingredients

1/3 cup (78l) warm milk
1 tablespoon honey
1 1/4 teaspoon (or 1 packet) active dry yeast
1 teaspoon vanilla extract
1/2 cup (113 grams) unsalted butter
2 eggs, room temperature
1/2 cup (42 grams) Dutch-process cocoa powder
2 tablespoons unrefined sugar
1/2 teaspoon salt
3/4 cup (95 grams) white whole wheat flour
3/4 cup (98 grams) bread flour
3/4 cup Belgian Pearl Sugar

Directions

In the bowl of a stand mixer, combine the warm milk, honey, and active dry yeast. Stir with a spatula and let sit for 10 minutes to proof.
Add the vanilla, butter, and eggs and stir with your spatula.
Then add the cocoa powder, unrefined sugar and salt. Give it another stir.
Add the the white whole wheat flour and the bread flour. Using the dough hook, knead on low for 7-8 minutes. At this point, the dough should barely stick to the bowl. Be careful not to add too much flour or your waffles won't turn out as well. You can add a tablespoon of flour at a time, if needed.
Cover the bowl with plastic wrap and put it in a warm place until the dough has doubled (about one hour).
Once the dough has doubled, turn the waffle iron on and knead the pearl sugar into the dough and set this aside until the waffle iron has preheated.
Divide the dough into 6 balls and one at a time, cook the waffles 2-3 minutes.
Best when fresh but they're also good the second day. Store covered at room temperature.

Recipe adapted from Chocolate Liege Waffles with Caramel – Bakingdom