Soft and fudgy chocolate zucchini cookies made with whole grain flour and which also happen to be dairy-free!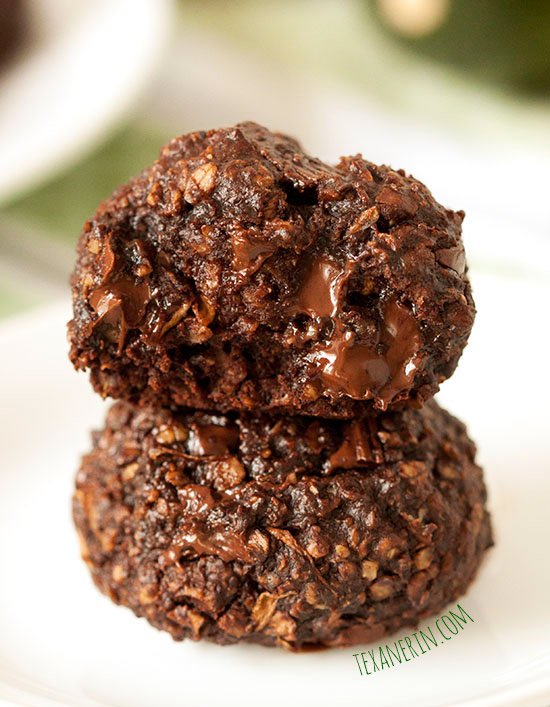 I was excited about baking with zucchini after I made this chocolate zucchini cake last year so I bought a few bags of zucchini, which was perhaps overkill for the one recipe I wanted to make. So I've been baking up zucchini everything.
First we have these cookies, which are super soft and chocolately and get most of their sweetness from the chocolate chips. I'm kind of surprised by the dough's lack of sweetness. There's quite a bit of coconut sugar in there already but I wouldn't reduce it. Not if you want these to be sweet, which is how I usually like my cookies. ;) And that would also make them more cakey and less fudgy.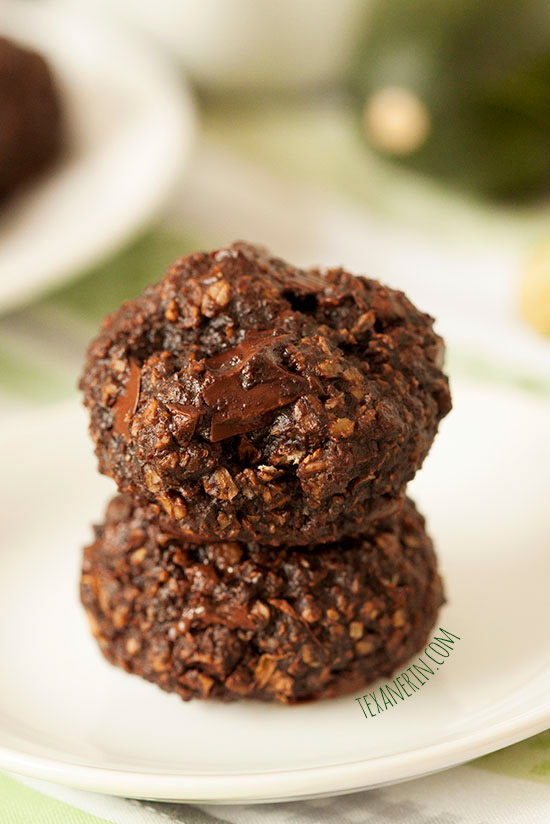 I have to admit that I'm kind of nervous posting recipes with zucchini. The water content seems to vary from zucchini to zucchini so I'm a little scared that the recipes will come out differently for other people. I used a medium Microplane grater and would recommend not using a fine or coarse grater because your cookies might come out differently.
You only bake these cookies for 6 minutes, but I did a lot of testing. In batch after batch, 7 minutes was already too long. These should be very soft and kind of fudgy but if you over bake them they will be cakey. And cakey cookies ain't cool. When you check them, be sure not to confuse melted chocolate chips with uncooked dough. You don't want the dough to be raw, but it goes from just perfect to overcooked quickly so don't leave them in much longer than 6 minutes if you're worried about the cookies being underdone.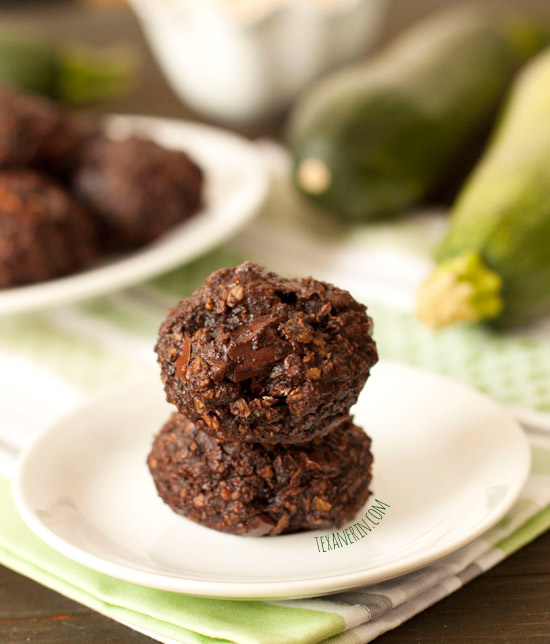 It's a simple recipe but you do have to chill the dough. If you don't, the dough will be more like a batter. After chilling it, the dough should be scoopable, like regular cookie dough. If you're in a hurry, flatten it into a disc, wrap in plastic wrap and stick it in the freezer.
And most importantly, these chocolate zucchini cookies do not taste like zucchini! I don't like zucchini so I wouldn't be eating these cookies if they did. ;)
❀
Chocolate Zucchini Cookies (100% whole grain, dairy-free)
Prep Time:
Cook Time:
Ready in:
Yield:

36 medium cookies
Ingredients
2/3 cup (175 grams) coconut oil, melted (refined for no coconut taste)
1/3 cup (3/4 dl) unsweetened apple sauce
3/4 cup (1 3/4 dl) coconut sugar / unrefined sugar / granulated sugar
1 egg
2 teaspoons vanilla
1 cup (2 1/3 dl) zucchini
3/4 cup (90 grams) whole wheat or whole spelt flour
1 teaspoon baking soda
1/3 cup Dutch-process cocoa powder
1 3/4 cup (146 grams) quick oats1
1/4 cup(22 grams) oat flour2
pinch of salt
1 cup (180 grams) semi-sweet chocolate chips (for dairy-free, use Enjoy Life chocolate chips)
Directions
In a large bowl, combine all the wet ingredients (coconut oil through zucchini) together and set this aside.
In a medium bowl, mix together the flour through salt.
Add the dry mix to the wet and stir, just until combined.
Stir in the chocolate chips.
Cover and refrigerate the dough for at least 2 hours. It should be scoopable and no longer runny.
Preheat the oven to 350 degrees F (176 degrees C). Line a baking sheet with a Silpat or piece of parchment paper.
Form the dough into 1 1/2" balls and place 2 inches apart on the baking sheet.
Bake for 6 minutes. They will still be very soft when you remove them from the often but they will continue to cook.
Immediately remove the cookies from the cookie sheet and let cool on a wire rack.
Store covered in the refrigerator for up to 1 week.
Notes
To make your own quick oats, pulse traditional rolled oats in a coffee grinder (once) or food processor (3-5 times) until the oats resemble quick oats.
To make your own oat flour, grind quick oats in the same way until they resemble flour. In my coffee grinder, this takes only 2-3 seconds but it'll take a little longer in a food processor.
As an Amazon Associate, I earn from qualifying purchases. For more info, see my disclosure.