This recipe is actually for a pie, but I only made half. If you follow the directions, it will come out like a regular pie and not a super thin tart. I used my leftover
Honey Sweetened Cranberry Sauce
to make this, but you could also use your favorite recipe or the one listed at the source.
Right after I finished making this I realized that I should have made this with white chocolate. This was fantastic as is, but I think it'd be even better with white chocolate.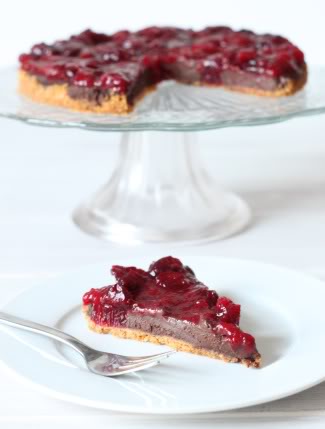 First you get yourself some cranberries.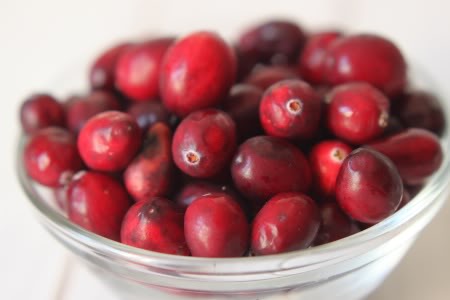 Make a graham cracker crust. Bake it. Make and add chocolate filling.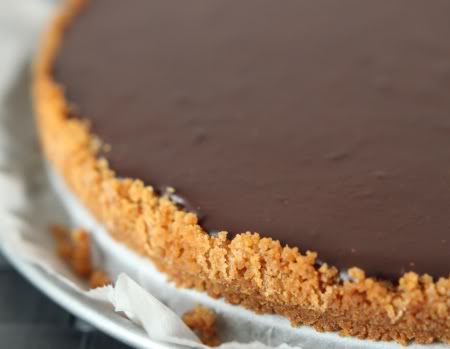 Make and spoon on cranberry sauce. Finished!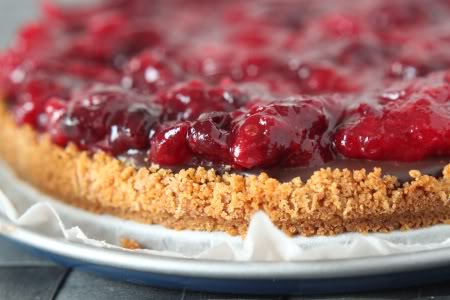 Crust:
1 3/4 cups (155 grams) graham cracker* crumbs (1 package / 11 crackers)
1/4 cup (32 grams) powdered sugar
6 tablespoons (85 grams) melted butter
* Digestives for the Europeans out there
Filling:
1 cup (180 grams) semisweet chocolate chips or chopped semisweet chocolate
2/3 cup (5 3/8 ounces or 152 grams) heavy cream
3/4 cup (87 grams) diced walnuts or pecans
1 cup (240ml) orange juice
1/2 cup (160 grams) honey*
1 12-ounce package (340 grams) of cranberries
You only need about 1 1/2 cups (425 grams) for the topping. The rest can be eaten plain. I would say make half of this recipe if you don't want any leftover, but it could be that you have slightly less than 1 1/2 cups.
Directions:
1. Toast the nuts at
350°F / 175°C
fo

r 8 – 10 minutes. Take them out and let cool.
2. Crust: turn up the oven to 375
°F
/ 190
°C
. Mix together the crust ingredients and pat into a standard 9-inch / 22-centimeter pie pan. Bake at 375 for 7 – 9 minutes. It should not be brown, but still set.
3.
F
illing: combine the chocolate and cream in a microwave safe bowl and heat at half power for 1 minute. Stir. Heat for another 30 second and stir until totally smooth. Pour into the cooled crust. Sprinkle nuts on top if using.
Let the pie sit in the fridge for about two hours until the chocolate filling is set.
4. Topping: while the pie is chilling, make the sauce. O
ver medium heat, dissolve the honey in the orange juice. Zest the oranges directly into the mixture. Add the cranberries and cook until most of them have popped. It takes about 10 – 15 minutes. You don't even have to stir them. Take off the heat and let cool while the pie is chilling in the fridge.
5. Spoon about 1 1/2 cups (425 grams) of the cranberry sauce onto the top of the chocolate filling and refrigerate until ready to serve.