Soft and moist, these whole grain cranberry, lemon and ginger muffins are a wonderfully festive way to start the day!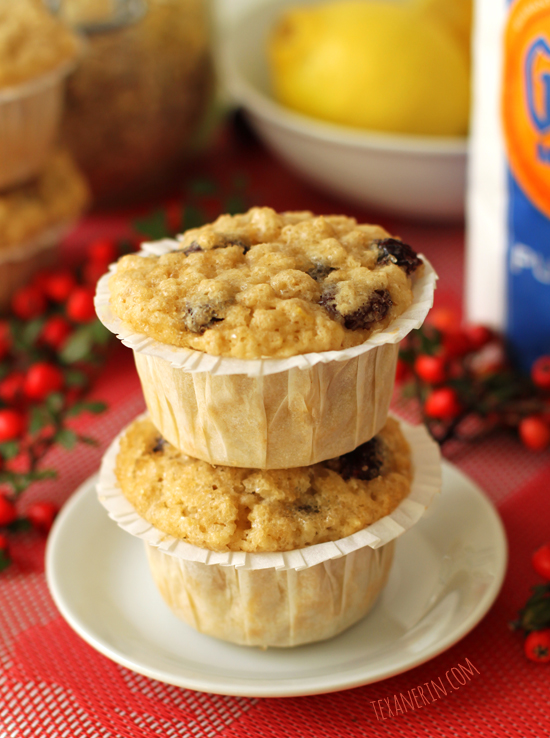 General Mills contacted a few bloggers last month, asking if we'd be interested in creating some new holiday recipes. Having always had great experiences with their products, I excitedly accepted. I hope you like what we came up with for this Virtual Bake Day!
I basically go on a cranberry and ginger baking bonanza starting December 1st, so it was just natural that I finally mix the two together. I added the lemon juice, zest and extract to the muffins just because it was an especially dreary month and lemon always cheers me up. Food has that kind of power over me.
That's one of the reasons why I love baking so much – creating something delicious, basically from nothing, always makes me happy. What I love even more than the actual baking part is giving whatever I've made away to friends! People are always thrilled when I give them a few cookies or brownies and that in turns makes me feel fantastic. I love making people happy and it seems like I'm best able to do this through baking. :)
What about you? Why do you like to bake? I doubt that most of us bake just because we have to have something to eat. That's how I feel about cooking! I do cook, but only because (sadly) I can't eat baked goods all day.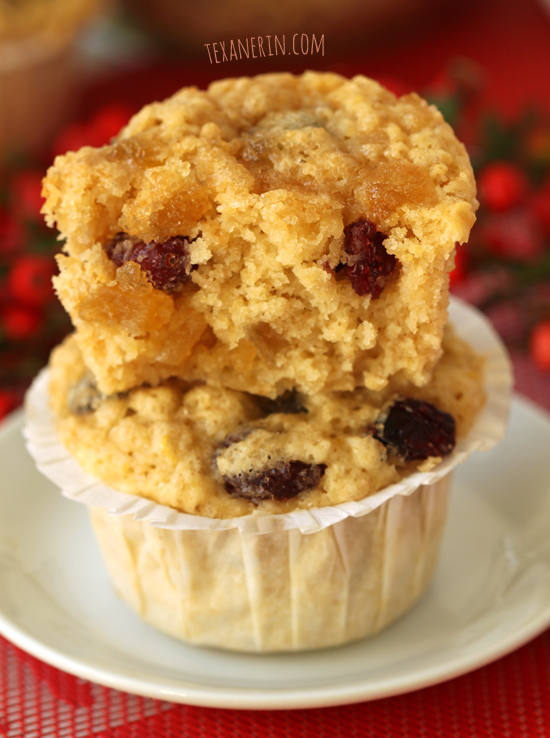 I have several grain-free lemon recipes on the blog but up until now, I've never posted any whole grain lemon goodies! I'm just not wild about lemon and whole wheat flour together. I knew I'd have to use some all-purpose flour to really get the flavor I wanted, but instead of using just white flour in these cranberry, lemon and ginger muffins, I used half oats and half all-purpose flour and voila! 50% whole grain muffins. :)
Weirdly enough, flour isn't the same country to country. I have to use a mix of different types of German flour to mimic American all-purpose, and even then, it's all a guessing game. I usually don't even bother making anything with white flour. I was so ridiculously excited to find Gold Medal Flour online from an American food importer!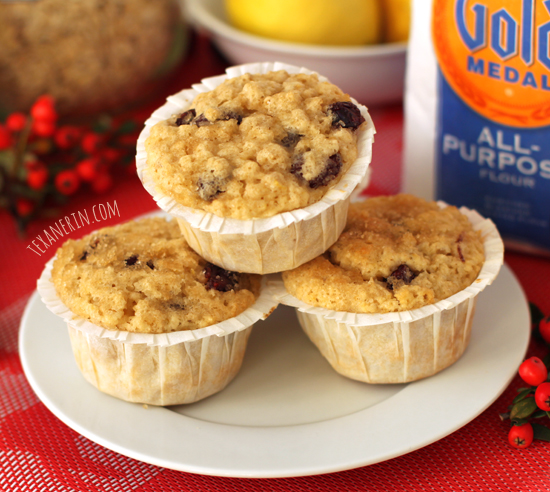 It had been so long since I had had anything with all-purpose flour, that on Thanksgiving, all I ate were these fluffy make-ahead dinner rolls. Honestly… the best yeasted food ever. Now I'm just hoping that this website will start carrying Gold Medal's white whole wheat flour! That would be glorious.
As written, these cranberry muffins don't taste the least bit whole grain (even if made with white whole wheat!)
Be sure to check out what the other bloggers have baked up! So many amazingly festive recipes right here. :) Thanks to Gold Medal Flour for hosting this fun Virtual Bake Day!
Follow Gold Medal Flour on Facebook, Twitter, Instagram, Youtube and Pinterest for great how-to recipes, videos and baking tips!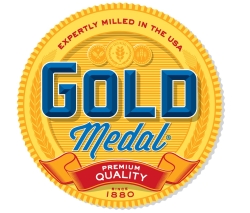 ❀
Cranberry, Lemon and Ginger Muffins
Prep Time:
Cook Time:
Ready in:
Yield:

12 muffins
Ingredients
1 cup quick oats
3/4 cup buttermilk
1 cup Gold Medal all-purpose flour or white whole wheat flour
1 teaspoon baking powder
1/2 teaspoon baking soda
1/4 teaspoon salt
1 egg
1/3 cup unrefined sugar or granulated sugar
1/3 cup melted refined coconut oil or butter
2 tablespoons lemon zest
1 teaspoon lemon extract
1/4 cup lemon juice
1/3 cup candied ginger, diced
1/3 cup dried cranberries
Unrefined sugar, optional
Directions
Preheat your oven to 350°F and line a muffin tin with 12 muffin liners.
In a large bowl, mix together the oats and buttermilk until well combined. Let this sit for 10 minutes.
Meanwhile, mix together the flour, baking powder, baking soda, and salt in a medium bowl. Set this aside.
After the 10 minutes of soaking are up, add the egg, sugar, coconut oil, lemon zest, lemon extract, and lemon juice to the soaked oats and stir until combined.
Add the dry mix to the wet mix and stir just until combined. Do not overmix!
Gently fold in the candied ginger and dried cranberries.
Divide the batter among the 12 muffin liners.
Sprinkle the muffin tops with unrefined sugar, if desired.
Bake for 18 - 21 minutes or until a toothpick inserted in the middle of a muffin comes out clean.
Let the muffins cool in their pan for 5 minutes and then turn out onto a wire rack to cool completely.
Store in an airtight container at room temperature for up to 4 days.
This post was brought to you by Gold Medal Flour.