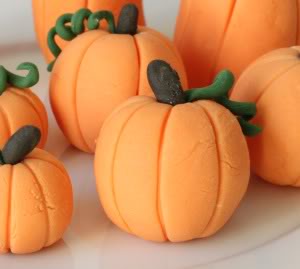 I used Wilton gum paste. I knew that these would just end up in the trash, so I didn't bother with making them edible (I know that gum paste is technically edible, but I could never eat it). Last year I used this
Marshmallow Fondant
for the pumpkins and although I didn't eat them, other people said they were good. All that I cared about was that it made nice pumpkins. The fondant is kind of a pain to make, but the results were really nice.
Please excuse the dirty hands below. It's just powdered sugar. If your fondant seems to wet at any point, you can just add a little powdered sugar. And I don't actually have great grandma hands. That's just how they look after an entire day of cake and pumpkin making followed by another two hours of dishes.
Color most your fondant or gum paste however orange you like. Be clever, unlike me, and color it the same color as your orange icing! If you have disposable gloves, you might want to use those, but I didn't and it was fine. You'll need some brown and green fondant later, so leave a little uncolored for now. Keep the fondant covered when not using it or it might dry out. Roll a chunk of the orange fondant into a little ball.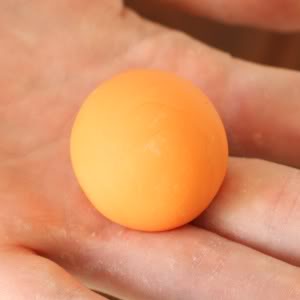 Press the pumpkin down a little bit so that it's not a perfect sphere. Make a small indentation for the stem. I don't know what that thing is I used. I know it's for doing stuff to fondant, but I don't use fondant, so I call it my pumpkin-indentation-maker.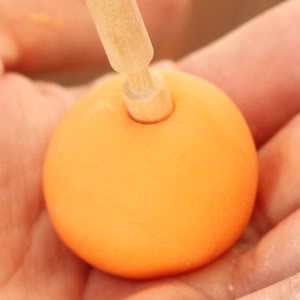 Using the back of a knife, make some lines so that your pumpkin actually looks like a pumpkin.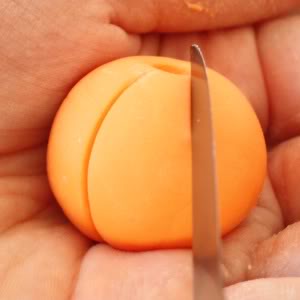 Don't worry if it looks uneven. People won't notice.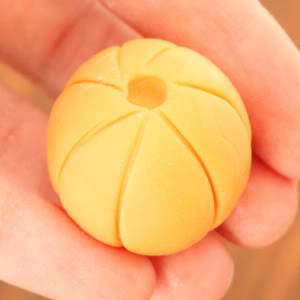 Color some of your leftover fondant green and roll it into a thin snake and swirl it around a toothpick.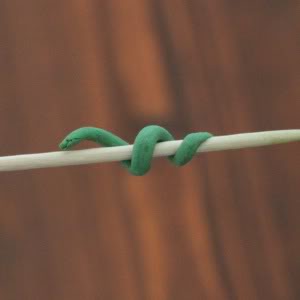 Very lightly wet the bottom of the vine and put it in the indentation on the top of the pumpkin. Color a little fondant brown and make a small stem that'll fit in your pumpkins. Then wet the brown stem (again very lightly!) and place on the vine. Make sure it's in there good! You don't want them falling out later.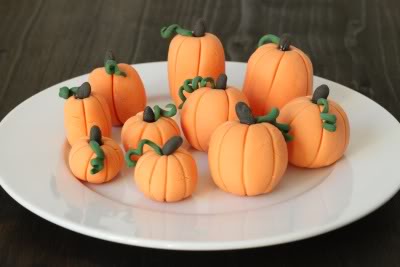 Mine were much too dry and cracked after a while. I didn't have this issue using the above marshmallow fondant recipe. You should also probably draw cute faces on them, but I have no drawing skills. I used a Wilton Foodwriter, which by the way, I just read should be refrigerated after opening. Mine's been open for two years… whoops.
These would be great to put on top of
pumpkin cupcakes
or other Halloween goodies. I hope this helps!