When Regan posted these donuts nine weeks ago, I asked my parents to send me some dried blueberries since they don't seem to exist in Germany.
I only received them yesterday, which happened to be days after finding Trader Joe's dried blueberries at Aldi. I bought 14 bags. Gosh darn you, German Aldi, for deciding to bring dried blueberries to Germany days before I received my package.
I mean, my package could have been filled with sprinkles or cupcake liners or Reese's or something and instead, I get a 15th bag of dried blueberries. Oh well. Too many blueberries is better than not enough. :)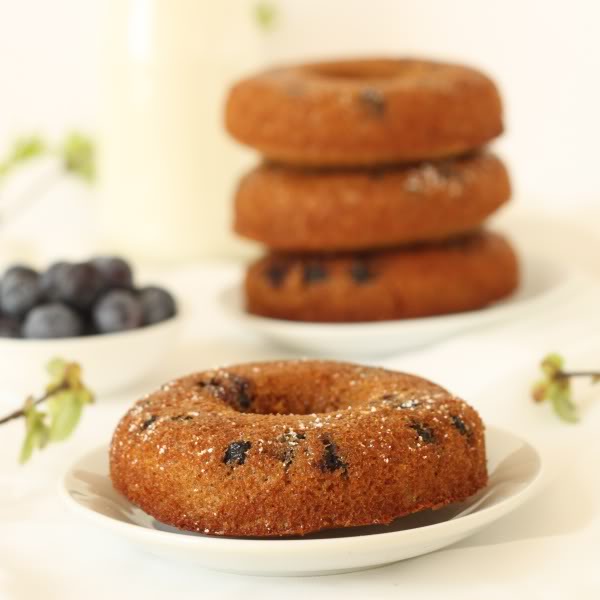 The first and only thing I've made so far with my collection are these donuts. They're fluffier than a normal cake donut and probably more muffin than donut, but that's okay. They're still awesome.
I normally glaze my donuts but I was feeling particularly lazy and just powdered them with a bit of powdered sugar. They were still sweet enough! And if you don't have dried blueberries, I'm sure fresh blueberries would work too. I'd use maybe 3/4 cup.
I changed a few things in the recipe. I normally end up eating my baked goods alone, so I only made 6 donuts instead of 12. And I made things a bit more lemony because, yeah, I just don't like the whole grain flavor too much. If you want to make 12, this recipe can be easily doubled.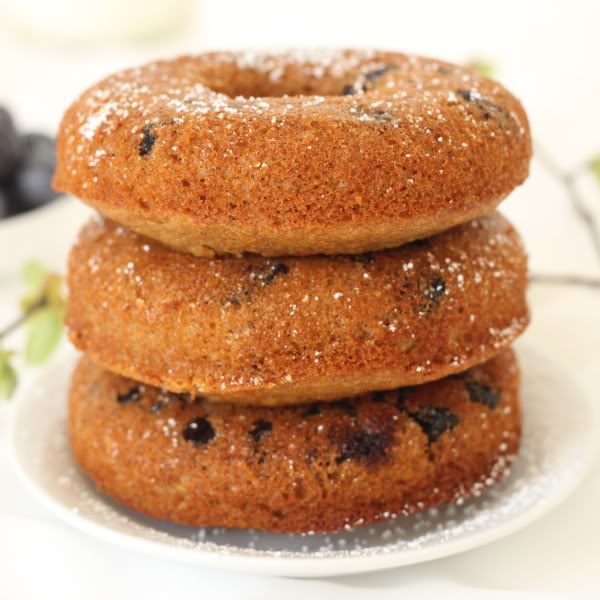 For a gluten-free summery donut, try these strawberry baked donuts!
❀
100% Whole Grain Lemon Blueberry Doughnuts
Prep Time:
Cook Time:
Ready in:
Yield:

6 donuts
Ingredients
Directions
Simmer the water and blueberries in a small saucepan until all the water has been absorbed by the blueberries, which will take about 15 – 20 minutes. Set aside and cool.
While the berries are cooling, preheat your oven to 350 ºF / 175 ºC and grease a donut pan.
In a small bowl combine the flour, baking soda, and salt.
In a medium bowl, combine the sugar, honey, lemon zest, egg, oil, buttermilk and lemon extract.
Add the dry mix to the wet mix and stir, but just until combined.
Fold in the blueberries. The mixture will be very runny!
Pour into the six donut molds. My mixture went almost all the way to the top.
Bake for 15 – 20 minutes or until a toothpick comes out clean.
Let the donuts cool for about five minutes in the pan and then turn out onto a wire rack.
Dust with powdered sugar if you like before serving.
Notes
My blueberries are sweetened. If you're using unsweetened blueberries, I suggest adding an extra 1 1/2 teaspoons of sugar.
Recipe adapted from Whole Wheat Blueberry Powdered Donuts – The Professional Palate