These gluten-free chewy pumpkin cookies have a little trick to getting them chewy!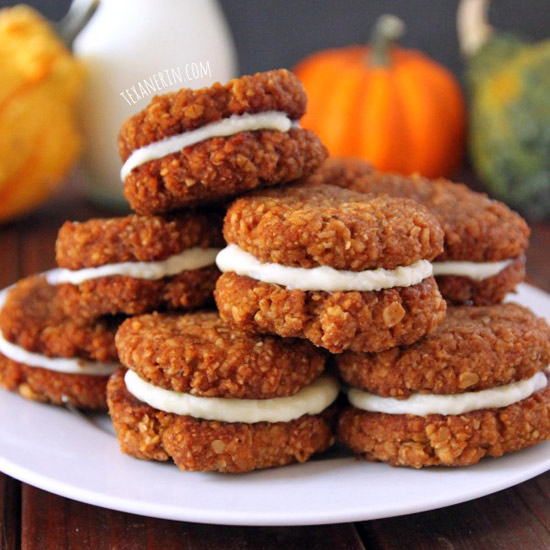 So I created a little food holiday in my head a few years ago. October 1. October 1 was to be the opening of the fall baking season and I'd bake up a storm and use lots of cinnamon, pumpkin and white chocolate. Now I start fall baking earlier because I can't wait (thanks to those of you who started pinning fall baked goods at the beginning of August ;)) but October 1 is still the start of pumpkin baking season to me. So let's have a pumpkin party! You can add links to your favorite pumpkin recipes below the recipe.
I made chewy pumpkin cookies for the party. I don't have nearly enough cookie recipes on here which is just silly because cookies are probably my favorite baked good. I'm just bad at creating cookie recipes. After many, many batches of these cookies, I finally have some chewy ones. That actually taste pumpkiny!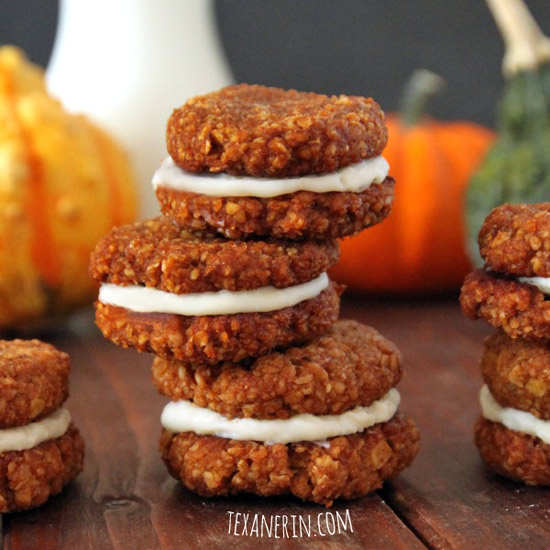 They weren't nearly pumpkiny enough the first few times. Then I got an idea. The cream cheese over here is filled with extra whey so I'm used to draining it with a kitchen towel so it's like the US stuff. And with the pumpkin? It worked! I got rid of half the water and that left me with some dense pumpkin puree. Less watery puree = chewier pumpkin cookies. Not that these cookies have the same texture of a normal flour containing cookie. Because they don't. But at least they're not cakey. These totally win over cakey pumpkin cookies.
By the way, they don't have canned pumpkin over here. I don't even think it exists outside of the US. And it's a pain in the butt. My parents brought me over a dozen cans last year and I have to carefully plan what to do with them until I can get a refill. So appreciate your canned pumpkin. :)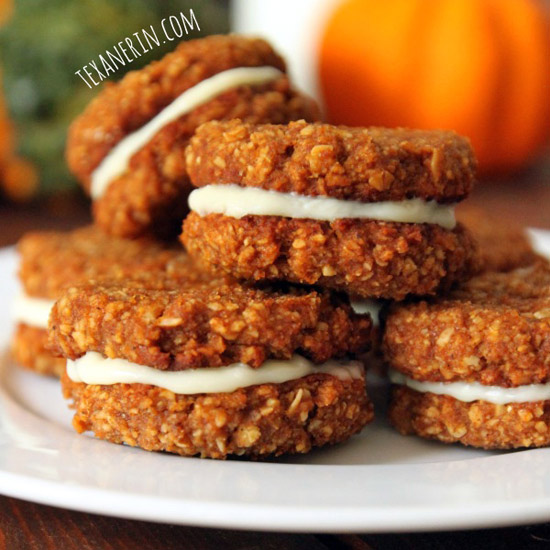 These pumpkin cookies are kind of ugly. And they make uglier cookie sandwiches so I recommend just drizzling them with some white chocolate. White chocolate + pumpkin is kind of the best thing ever. The filling in the cookies pictured is white chocolate, by the way.
I just realized I haven't posted a single non autumnal recipe since September 4. Sorry to any apple and pumpkin (because the fall madness will continue) dislikers out there! Five apple recipes in a row. What great variety I offer. ;)
For another fun fall treat, check out this great looking pumpkin spice mug cake!
❀
Gluten-free Chewy Pumpkin Cookies
Prep Time:
Cook Time:
Ready in:
Yield:

30 one-inch cookies
Ingredients
1 1/4 cup (133 grams) almond flour or almond meal
1 cup (93 grams) oats (gluten-free oats for gluten-free)
1 tablespoon cinnamon
1 1/2 teaspoons nutmeg
1/2 teaspoon allspice
1/2 teaspoon baking powder
1/4 teaspoon baking soda
1/4 teaspoon salt
1/2 cup (1.18dl) drained pumpkin (from 1 cup pumpkin)1
1/4 cup (56 grams) coconut oil2
2 tablespoons canola oil
1 egg
6 tablespoons (120 grams) honey
2 tablespoons maple syrup
2 tablespoons milk
2 teaspoons vanilla
Directions
Preheat your oven to 325°F / 162°C and line two cookie sheets with Silpats or pieces of parchment paper.
In a medium bowl, stir together the dry ingredients. Set aside.
In another medium bowl, mix together the wet ingredients. The drained pumpkin won't combine easily at first, but just keep stirring and it'll come together nicely.
Add the dry ingredients to the wet and mix just until combined.
Shape little balls, about 1" each. Flatten them to the exact size you want them because they don't spread while baking.
Bake for 17 minutes. The cookies will still appear soft and they will not brown around the edges. Let cool and then drizzle with melted white chocolate if desired.
Notes
Use a clean kitchen towel to drain the pumpkin. Measure out 1 cup of pumpkin, put it in the middle of the towel, and then squeeze it dry. Keep squeezing until it looks like it's about 1/2 cup. If you want to be exact, weigh the one cup of pumpkin. After draining it, it should be half of what it was originally. If you drain too much, just add a little water or more pumpkin puree.
I used refined coconut oil because that's all I have access to. Unrefined coconut oil might have a coconutty taste, but refined does not.