These gluten-free cinnamon sugar donuts, which are vegan and dairy-free, are easy to throw together and can also be made with white whole wheat or all-purpose flour for a non-gluten-free version. They're baked, not fried, which cuts down on the mess!
I've been posting an awful lot of chocolate goodies lately. I figured it was time for a change!
If you missed my recent chocolaty posts, check out my paleo chocolate cheesecake, this vegan chocolate pudding or these chocolate coconut flour cookies.
So here's something different! They're not really healthy or even made healthier but they are gluten-free, vegan and dairy-free. If that sounds good to you, also be sure to check out my vegan gluten-free blueberry coffee cake!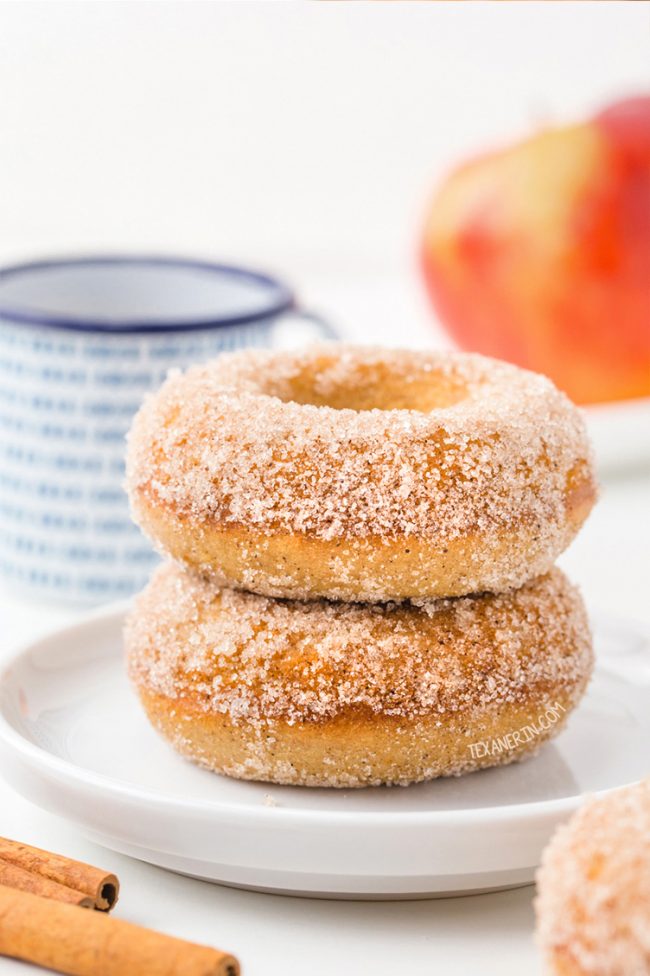 If you don't need these vegan cinnamon sugar donuts to be gluten-free, they don't have to be! White whole wheat and all-purpose flour work great.
I've tried making a number of other gluten-free donut recipes, but I didn't really like them. And the fried ones are generally so time-intensive!
This baked alternative is quick and easy to throw together and most importantly – super delicious. Just like these paleo gluten-free pumpkin donuts, which are also covered in cinnamon sugar!
On a random note – if you're like me and always taste the batter, don't panic when you taste the batter for these donuts. The batter is awful. Once baked, though?! SO good!
For another gluten-free breakfast recipe, try this gluten-free French toast.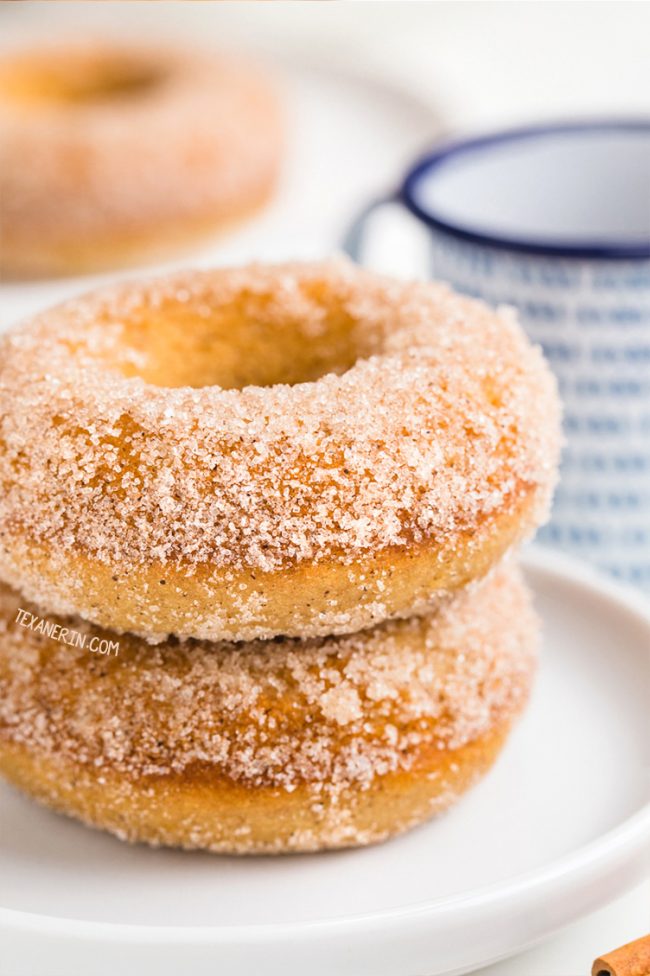 Questions about these gluten-free cinnamon sugar donuts?
Can you taste the olive oil? I used extra-virgin olive oil and you can taste it in the batter. The batter is actually pretty disgusting.

But once they're covered in cinnamon sugar, you don't taste it. If you're worried about it, use light olive oil (the light refers to the taste and not calories).

Can I use another oil other than olive? You can use canola oil, vegetable oil, grapeseed oil, etc. Anything neutral tasting. I haven't tried coconut oil but if you do, I'd recommend using refined coconut oil unless you want some coconut taste in your donuts.

Can I use butter? I'm guessing you could use butter in these donuts (for a non-vegan version) but they wouldn't be as moist because butter is 80-82% fat and oil is 100% fat.

Can I use a different gluten-free flour mix? I used Bob's Red Mill 1-to-1 gluten-free baking flour. It's my favorite! If you have another brand that works as a sub for all-purpose flour that you usually use, then you could probably use it here. I can't say the texture would be as great as with the flour mix I used.

Does they taste gluten-free? If you use the flour I did, these gluten-free donuts taste like they were made with all-purpose flour!

Can I use a non-gluten-free flour? White whole wheat or all-purpose flour work. I don't recommend regular whole wheat flour unless you're okay with the donuts tasting wheaty.

Can I use almond / coconut / other flours? Unfortunately not. Nut flours, coconut flour, etc. that aren't interchangeable with all-purpose flour won't work here.

Can I reduce the sugar? You could take it down to 6 tablespoons but I wouldn't reduce it by much more.

Do I have to coat them in butter / coconut oil? Nope! But if you don't, make sure that the donuts are still warm when you roll them in the cinnamon sugar. It helps the sugar stick.

I don't have a donut pan – what can I use?

You can use a regular muffin pan. I believe this recipe would yield 8 muffins and that you'd need to bake them for 15-20 minutes.

Click below for a how-to recipe video for these gluten-free donuts! (if you're reading this from the newsletter, you have to visit the blog post to see it)

❀

Gluten-free Cinnamon Sugar Donuts (vegan, dairy-free)

Prep Time:
Cook Time:
Ready in:
Yield:

6 donuts

Ingredients

For the donuts:

1 cup + 2 1/2 tablespoons (161 grams) Bob's Red Mill 1-to-1 Gluten-free Baking Flour or for a non-GF version, white whole wheat flour or all-purpose flour
1/2 cup (100 grams) granulated sugar
2 teaspoons baking powder
1/4 teaspoon salt
2 teaspoons ground cinnamon
2/3 cup (160 grams) unsweetened applesauce
1/3 cup (78 milliliters) milk of choice1 (but not canned coconut milk)
1/3 cup (78 milliliters) canola oil or another neutral tasting oil
4 teaspoons maple syrup

For the cinnamon sugar coating:

2 tablespoons (28 grams) melted refined coconut oil (or butter for a non-vegan and non-dairy-free version)
1/2 (100 grams) granulated sugar
1 teaspoon ground cinnamon

Directions

Preheat the oven to 375 °F (190° C) and grease a 6-cavity donut pan very well with baking spray or coconut oil.
In a medium mixing bowl, mix together the flour, sugar, baking powder, salt and cinnamon.
In a large mixing bowl, mix together the applesauce, milk, oil and maple syrup.
Add the dry mix to the wet and stir just until combined! Over stirring will result in tough donuts.
Fill the cavities completely full and bake for 12 minutes (if using wheat flour, you'll probably need a few fewer minutes) or until a toothpick inserted in the center of a donuts comes out clean.
While the donuts are baking, mix together the sugar and cinnamon in a small bowl.
Immediately turn the donuts out onto a wire rack (if you let them sit too long in the pan, the bottoms get soggy). If you have difficulties with this, use your hands to carefully remove each one from the pan. While the donuts are still warm, brush each donut with the melted coconut oil and then dip in the cinnamon sugar until well coated.
Serve immediately and refrigerate any leftovers in an airtight container for up to 5 days. Donuts that haven't been dipped in oil and cinnamon sugar can be stored at room temperature in an airtight container for a few days. If you want to make the donuts in advance, make them and then dip in the oil and cinnamon sugar before serving. Yields 6 donuts.

Notes

You can use almond, soy, oat, etc. milk but not canned coconut milk because it's too thick. For a non-vegan version, you could use cow milk.

As an Amazon Associate, I earn from qualifying purchases. For more info, see my disclosure.