These gluten-free, vegan, 100% whole grain and dairy-free coconut peanut butter chocolate bars are so simple to put together and taste unbelievably good!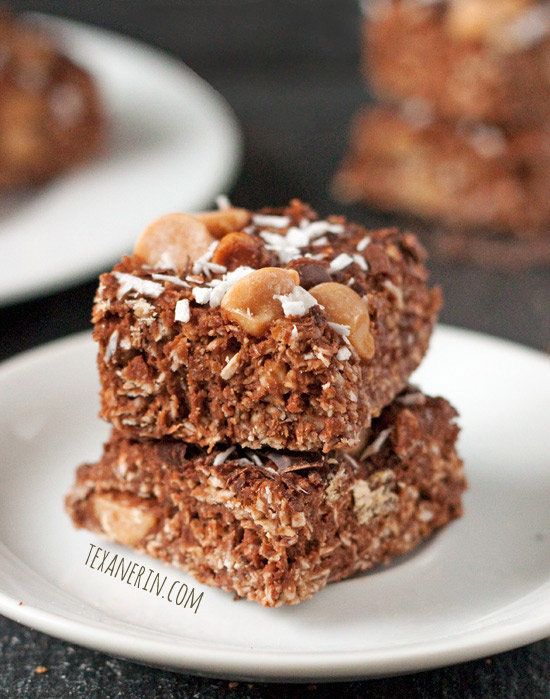 It's another one of my healthier, no-bake, just-melt-a-bunch-of-stuff-together recipes. It worked out wonderfully! These are basically candy bars using healthier ingredients. They also happen to be gluten-free and 100% whole grain. If you omit the peanut butter chips, they're also dairy-free and if you use brown rice syrup instead of honey – vegan!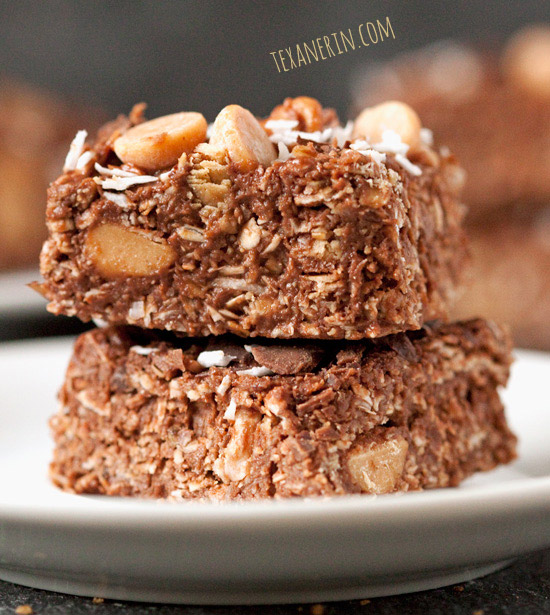 You can leave out the peanut butter chips if you like and use peanuts instead. The peanut butter chips make these more peanut butter-y and that's a good thing. You can taste the peanut butter in the bars, but I'd say the dominant flavors are chocolate and coconut.
You can also use more or less oats or coconut depending on what you want. You could also add in other healthy stuff like nuts or dried berries but I really don't like those kind of add-ins so I kept it at peanut butter chips. :)
❀
Gluten-Free Coconut Peanut Butter Chocolate Bars (vegan, 100% whole grain, dairy-free)
Prep Time:
Cook Time:
Ready in:
Yield:

24 bars
Ingredients
1/4 cup (56 grams) coconut oil
3/4 cup + 2 tablespoons (234 grams) natural peanut butter
3 tablespoons (60 grams) honey or brown rice syrup for a vegan version
1 cup (180 grams) dark chocolate chips (use Enjoy Life chocolate chips for dairy-free)
1 cup (2.4dl) shredded coconut
1 3/4 cups (164 grams) rolled oats (non-contaminated for gluten-free)
1/2 cup (1.2dl) peanut butter chips (or peanuts for dairy-free / vegan)

To sprinkle over the top:

3 tablespoons peanut butter chips (or peanuts for dairy-free / vegan)
2+ tablespoons shredded coconut
Directions
Melt the coconut oil in a medium pan or pot over medium-low heat. Add in the peanut butter and honey and when thoroughly combined, add in the chocolate chips.
When melted, add in the coconut and oats. Let cool for 5 minutes and then stir in the peanut butter chips or peanuts.
Line an 8" x 8" pan with a piece of parchment paper or wax paper. Press the candy into the pan and top with the extra peanut butter chips and coconut, if desired.
Store in an airtight container in the refrigerator. The bars will stay good for several weeks.