June 24, 2012 update: I now make this grain-free sandwich bread from Against All Grain and really prefer it. All of that stuff I say in the second paragraph about the texture being really different is still true and I will only eat it toasted, but I like it better. Slice it really thin, toast it, and then let it sit in the toaster for a few minutes. It'll get crispy and then it's almost as good as the "real" stuff. :)
First of all, congratulations to
Dawn
who won the giveaway! Thanks to everyone who entered. I'm just sorry that I don't have more pans to give away!
When I started baking with almond flour, I thought most things came out a bit… nasty. This bread is not nasty. Although I'd prefer to stuff my face with croissants (yes, they count as bread) or a nice white sourdough, I'll stick with this bread for now. It's texture is incredibly difficult to describe, but I can say this: don't expect fluffy. Don't even expect typical bread. It's different. If you haven't baked with almond flour before, I recommend starting with another recipe to see if you even like almond flour baked goods. I'll be posting some almond flour blueberry lemon muffins soon which I think will be a good intro to almond flour! Something else I'd like to try is this
90 second keto bread,
.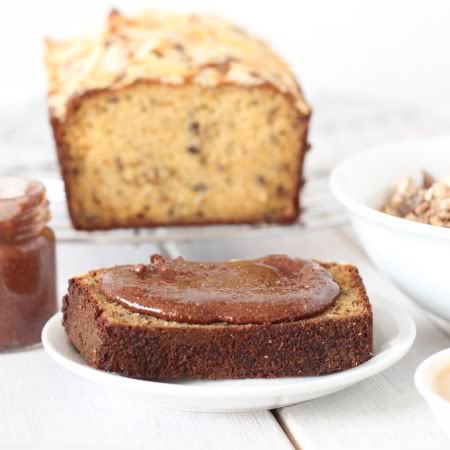 I think it's way better toasted. But then the almonds fall down into the toaster and then start burning and then you have a little brown burned area on the cabinet above your toaster.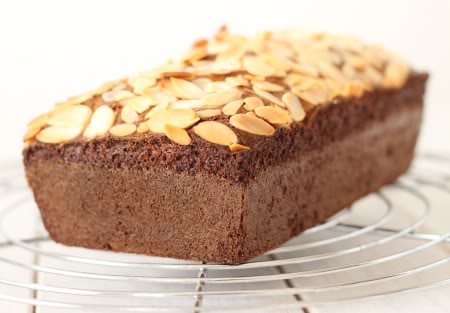 Or just don't be stupid like I was. You should slightly press the almonds into the batter. I was so worried about them being pretty, I just sprinkled them on and left it at that.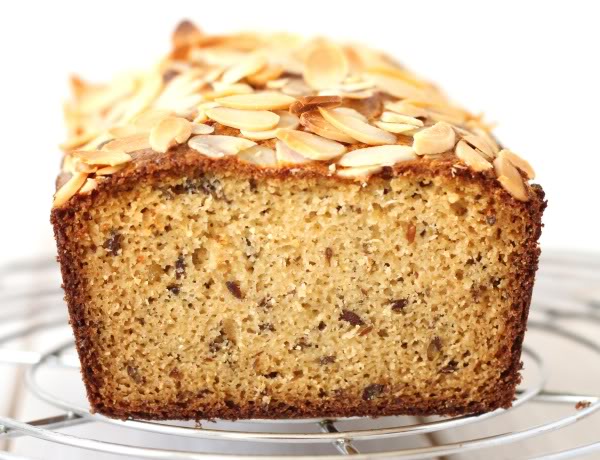 Don't like flax? Neither do I. You can leave out the flax and just use more almond flour.
What I like about this bread compared to normal bread is that it's super quick. Before I started making this, I was making German Vollkornbrot, which is dark, heavy and dense whole rye sourdough. I thought about sharing that recipe but I doubt anyone would make it because whole rye and rye chops are so expensive in most countries. In Germany, whole rye, whole spelt and whole wheat are all the same price (.89/kg at Kaufland, Germans!) which makes it reasonable.
And it's such a long process. You have to make a sourdough starter and keep it going until you want to actually make the bread and that process is spread out over two days. And the Vollkornbrot from bakeries, which are everywhere around here, is only 1.99 per kilo and tastes better than homemade, making it nonsensical to make. So no Vollkornbrot for you. Unless someone's interested!
205 grams (~2 1/4 cups) blanched almond flour* (the brand Honeyville is recommended)
1/4 cup (40 grams) ground flax seed
1/8 teaspoon salt
1/2 teaspoon baking soda
3 large eggs
1 tablespoon honey
1/2 teaspoon apple cider vinegar
sliced almonds, optional
*To measure almond flour, I pour the flour into the measuring cup (or spoon it in) and then level it with a spoon.
Directions:
Preheat your oven to 300°F / 150°C and grease a 6.5 x 4″ pan. Combine the almond flour, flax seed, salt and baking soda in a large bowl. In a separate medium bowl, whisk the eggs, and then add the honey and apple cider vinegar. Stir the wet ingredients into dry and mix only until combined. Scoop batter into the pan and bake for about 20 – 25 minutes (the original recipe says 45-55 minutes, but mine takes about 20 for some reason – if you're nervous about it being done, don't hesitate to cut into the middle) or until a knife comes out clean. Yields about
12 small slices
.
German bakers: I use Suntree gemahlen Kalifornische Mandelkern from Kaufland. They come in little 59 cent 100 gram bags. I've seen this brand elsewhere. I don't know if other brands work so I'm sticking with this one!