Mr. Texanerin is coming back today after being gone for two months and I still have a LOT of cleaning to do. I've just been throwing stuff on the floor since he left as well as using his office as a storage room for… everything. And so I've been cleaning for days. And days. But I thought I'd quickly share these with you since it's been a while since my last post. That and peach season is coming to and end! You'll also want to try these
gluten-free peach hand pies
.
Like I mentioned in my
raspberry crisps
post, I don't like eating leftover crumbles and crisp. They just get mushy and nasty. Not a problem when you only have four servings! The topping in these was actually pretty nice. I didn't know to expect with a grain-free crisp, but I was happily surprised. Kind of chewy / crispy. This definitely won't be the last time I make these! And the ginger makes them so much more interesting than plain old peach.
I didn't have any ice cream when I made these but ice cream would most definitely make these even more of a treat. But then again, ice cream always improves everything. All the time.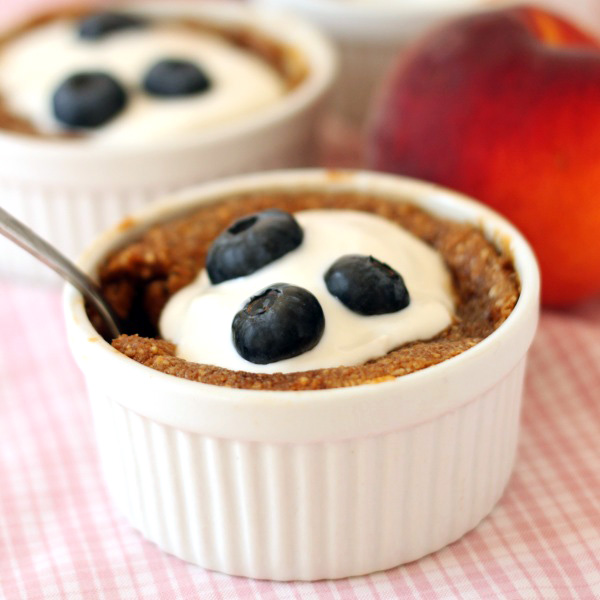 I used Greek yogurt instead. And those blueberries don't even belong there… I just ran out of peaches.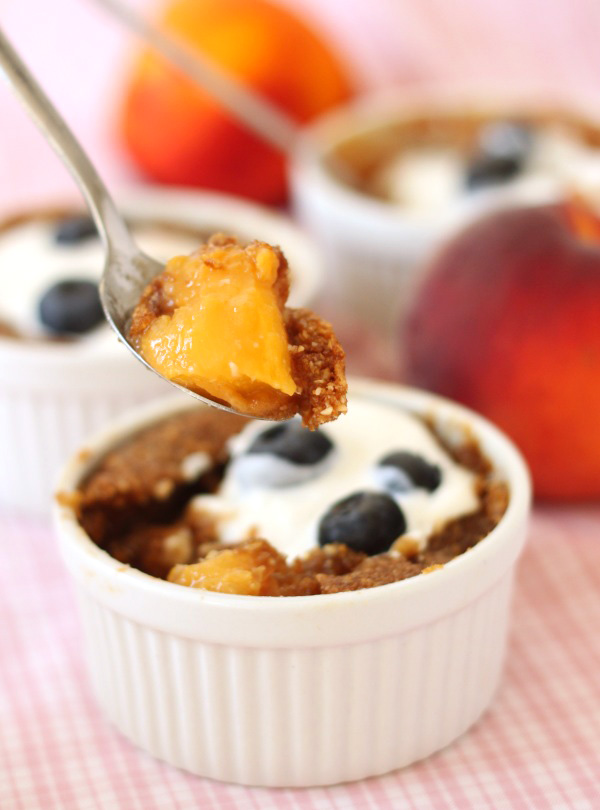 Back to cleaning. :(
❀
Grain-free Individual Ginger Peach Crisps
Prep Time:
Cook Time:
Ready in:
Yield:

4 crisps
Ingredients
For the peaches:

1/2 teaspoon powdered ginger
2 teaspoons cornstarch or arrowroot for grain-free
2 teaspoons coconut sugar or white sugar (I've also tried with maple syrup and it was too runny)
4 peaches (mine were 150 grams each), sliced into 1/4" slices

For the topping:

2 teaspoons powdered ginger
7 tablespoons blanched almond flour (I'm assuming almond meal would work too)
a pinch of salt
1/8 teaspoon baking soda
1 tablespoon coconut flour
2 tablespoons coconut oil, melted
2 tablespoons maple syrup
Directions
Preheat your to 350°F / 175°C. Spray four 1/2 cup ramekins with non-stick cooking spray or butter them.
In a medium bowl, combine the first three ingredients and then add the peaches. Set aside. In another medium bowl, combine the dry topping ingredients, and then add the wet. Stir until combined.
Divide the peach mixture among the four ramekins, and then do the same with the topping. Bake for 25 - 28 minutes until bubbling and lightly browned.
As they cool, the bottom will set a little more. They are a bit runny if you dig into them right away, but I certainly didn't mind. :)