These healthier gluten-free, grain-free and dairy-free Italian hazelnut cookies are easy to make and so delicious!
It's been a little while since my last post because I've started taking Italian lessons and I'm such a poor planner that I didn't think of writing a post beforehand. I've wanted to take Italian classes since our visit to Tuscany last May so I decided it was time! I've already started planning a new trip to Italy and noting which bakeries and gelaterias to go to. Being as Mr. Texanerin never reads guidebooks and such things until we're actually in the place we're visiting, our plans always consist of where to get sweets and nothing else. Maybe that's why I gained seven pounds in the 11 days we were there. But it was so worth it and I don't regret those pounds at all. :)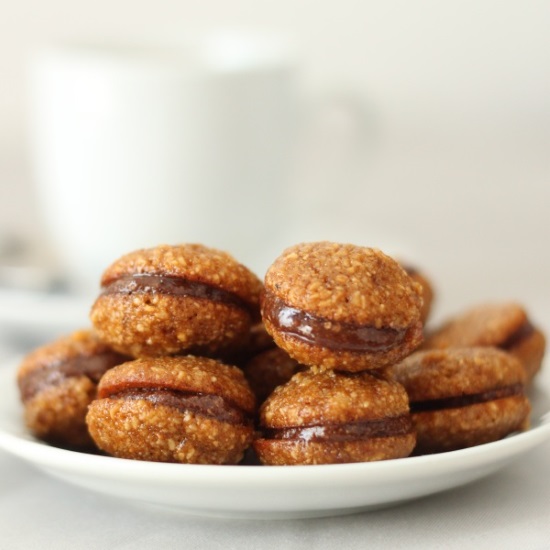 We only ate out once and the rest of the time, we bought ham and cheese and slapped it on a baguette and called it lunch and dinner. And the Provolone! Wow. We don't have Provolone in Germany, and it's not normally a cheese I really go for when I am in the US, but I got a store brand (Coop) Provolone and it was the best cheese ever. And being as I couldn't bring any back with me due to our super clever planning, which included lounging about on the airport floor until our 7:00am flight, I couldn't bring any back. So I had to eat a lot to get my fill and I might have eaten a few pounds. Again, I don't regret it at all. It was awesome!
So the last month or so, I've gone crazy baking lots of Italian stuff, both sweet and savory, which I'll be sharing with you over the next few weeks. And even if you think you don't like Italian food, you like cookies and cake, don't you? Sure you do! There will be cookies, cake and candy and then some pasta and bread. All of it healthified in some way!
So now we have some cookies. I don't know if they're actually authentic but they are delicious so I'm not too picky.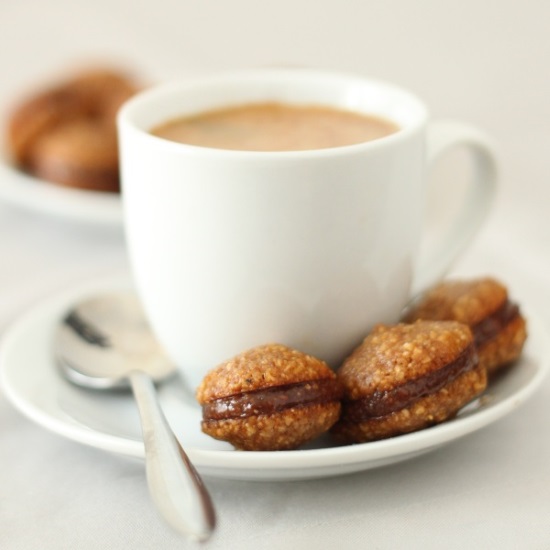 I made these Italian hazelnut cookies twice and they didn't come out either time how they're "supposed" to. The recipe says that they're crispy, but mine were nice and chewy. Maybe it was because I used coconut sugar instead of granulated sugar. Or maybe I just messed them up. But I've made them twice. Perhaps the issue is that I don't know what "stiff peaks" are or maybe I blended them too long in the coffee grinder and they released too much oil. They were also sticky. I don't know what's up with that but I liked it! I have nothing against sticky cookies. So if you make these, they might be chewy. Or they might be crunchy. It's a surprise cookie! Weeee.
I put some homemade chocolate hazelnut spread between them. They're sweet enough without, but I thought that they were kind of boring and ugly. They needed a little lift and my fake Nutella was just the right fit. You can also easily make 1/2 of even 1/4 of this recipe. 1/4 was enough for me!
❀
Grain-free Italian Hazelnut Cookies
Prep Time:
Cook Time:
Ready in:
Yield:

80 mini cookies or 40 mini cookie sandwiches
Ingredients
2 cups (270 grams) hazelnuts, toasted and blanched1
1 cup coconut sugar (you can definitely use granulated sugar but they might come out differently – be sure to read the first paragraph after the second picture!)
4 large egg whites
1/2 teaspoon salt
1 teaspoon vanilla extract
Nutella or chocolate hazelnut spread, optional
Directions
Toast the whole hazelnuts on a baking sheet for 8 minutes, or until fragrant at 350°F / 175°C. Stir halfway through. Let them cool for a few minutes, and then rub the nuts together in a clean and dry kitchen towel to remove the skins.
Preheat your oven to 325°F / 162°C. Prepare two cookie sheets with Silpats or parchment paper and position two racks in the two middle positions of your oven.
Pulse the hazelnuts and coconut sugar together in a food processor or a coffee grinder (you might have to do a few batches with a grinder) until finely ground. Be careful not to process too much or it'll turn into nut butter. This is especially true of the coffee grinder!
In a large bowl, mix the egg whites and salt on high until stiff peaks form. Fold the eggs into the nut mixture, and then very gently mix in the vanilla.
I wanted to make them cute, so I made them really tiny. You can follow the original recipe and drop two tablespoons of batter for each cookie (that'll yield 30) onto Silpats or pieces of parchment paper. They won't expand very much, if at all, but still leave about a centimeter between them. My cookies were about 3/4″ – 1″ and that yielded about 80. I just used a spoon to drop the batter on the Silpats and then used my finger to make them perfect circles. You could also use a piping bag if you like (although I have no idea which tip to use). Bake the 1″ cookies for 6 minutes and the big cookies for 25 – 30 minutes, moving the bottom pan to the upper position and the upper pan to the lower position halfway through. Let the cookies cool on the pan for 5 minutes, and only 5 minutes. I let a batch sit longer and it was impossible to get them off without squishing them! Repeat with the rest of the batter. Store in an airtight container, but don't let them touch. They're sticky and you don't want them to all stick together.
Notes
I think hazelnuts are a huge pain to blanch. I'd definitely buy them blanched if I could and then toast them myself.
Adapted from Italian hazelnut cookies on Eating Well