Back in October, I got an email from a reader asking for camera and photography advice. We emailed back and forth and months later… this reader, Rose, started her own blog: The Clean Dish! You know how most people start off blogging with some pretty bad pictures? Rose's aren't. I kind of feel like a proud mama. ;) Rose's posts are usually grain-free, vegan, and refined sugar free. And she makes it look good! Just look at these coconut surprise bars and this chocolate mousse. They look incredible! Now over to Rose. :)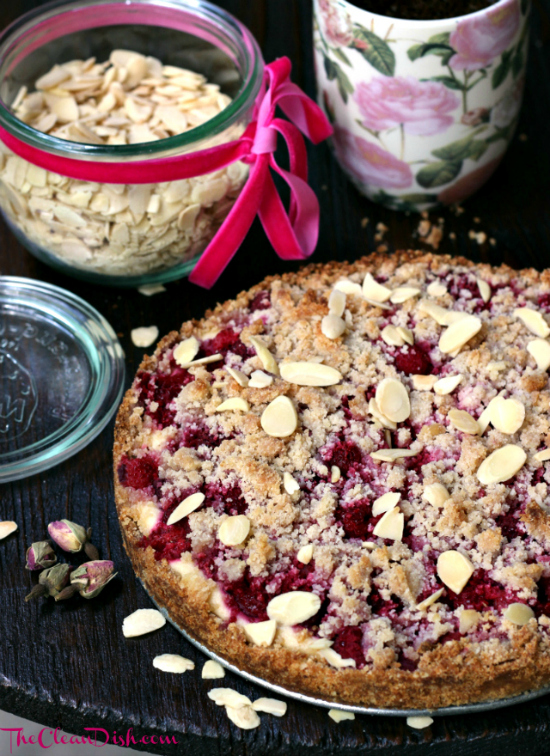 Hi! My name is Rose – author of The Clean Dish! I started my blog earlier this year; food blogging had been on my mind ever since I found Erin's blog. That's right; looking at her stunning food photography and trying her cleverly worked out recipes inspired me to start my own page. Thanks to Erin, I followed through with it; she pointed me in the right direction and was generous enough to share her expertise with me – so, thank you Erin! You're invaluable to the food blogging community.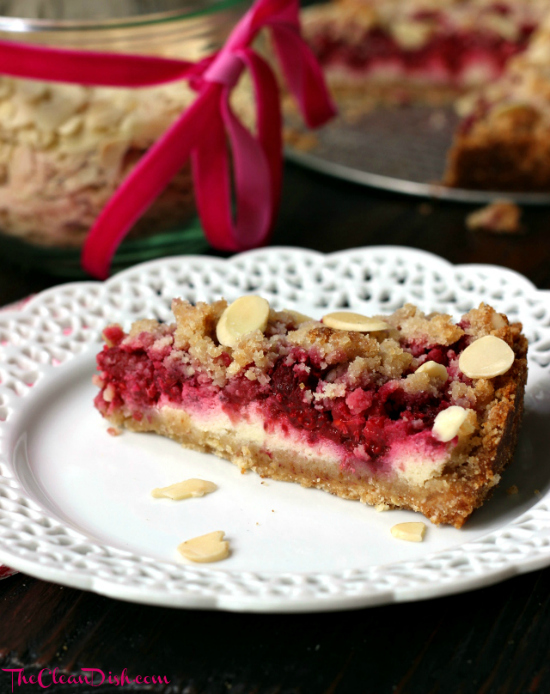 I am both excited and a little nervous about posting for Erin – the Texan Meister baker! Excited because, well, it is a great big honor for a newbie blogger to be invited to guest post at a well established blog and nervous because … I knew I just had to produce a quality recipe for Erin! Luckily, I think I was able to concoct something that you all will enjoy: A Raspberry Sour Cream Crumble Cake!
It's easy to make; it tastes wonderfully fresh and light and above all, it is a healthy treat. I used almond slices and coconut flour instead of grain flour (so it's gluten free, y'all!), there is no processed sugar in this cake (it's sweet, though, I promise!) and it's free of any chemically processed or artificial ingredients.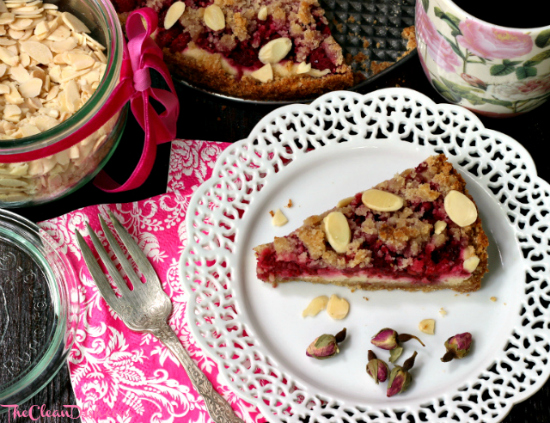 If you enjoy grain free and processed sugar free recipes, come visit me at The Clean Dish! I cook as much as I bake so perhaps you will find other recipes that are of interest. :)
❀
Grain-free Raspberry Sour Cream Crumble Cake
Prep Time:
Cook Time:
Ready in:
Yield:

one 8 1/2" cake
Ingredients
Crust and crumbles:

1/4 cup + 1 tablespoon raw coconut oil
6 large medjool dates
1 cup toasted almond slices (I buy them at Trader Joe's)
1 cup coconut flour
1/4 teaspoon sea salt
1 teaspoon vanilla extract

Filling / topping:

1/2 cup sour cream
2 tablespoons coconut flour
1 egg
1 teaspoon vanilla extract
3/4 bag of frozen raspberries (1 bag = 12oz / 340g)
Directions
Defrost raspberries.
Preheat oven to 325F and grease the bottom of an 8 1/2" spring form or line with parchment paper.
In a small saucepan, slowly melt coconut oil on low heat.
Chop dates into small pieces and process in blender or food processor.
Add almond slices and process again.
Add coconut flour, coconut oil, sea salt and vanilla extract and process until you have a sticky-wet, crumbly consistency. If you pinch it, it should hold together.
Set 1/4 of the crust aside and press the remainder into the bottom of the spring form and up to about 1 inch on the side.
For the filling, beat egg and add sour cream, maple syrup, coconut flour and vanilla extract; mix well. It should be a thick, creamy consistency – if it is too runny, add another tablespoon of coconut flour.
Pour your filling over your crust and spread out evenly.
Cover with raspberries and add crumbles on top.
Place the cake on a rimmed baking sheet, just in case the coconut oil leaks out.
Bake for 28 - 33 minutes. Make sure the center is cooked through.
Allow to cool down before serving.
Enjoy!